In October 2013 we wrote here about a little experiment comparing the end-of-year price targets of two baskets of stocks recommended by GS and JPM, with the equivalent price targets obtained from our flagship OddsTrader app. At the end of that article we promised to follow up with an analysis of the results.
Since Goldman Sachs has released a new list of 40 stocks with most upside potential, we decided to review the outcome of our 2013 study and begin another one.
To say that we are pleased with the results would be an understatement. In summary, only 4 out of 41 price targets supplied by GS and JPM (less than 10%) were more accurate than the OddsTrader targets. In fact, our targets for the JPM portfolio differed from the actual year-end prices by an average of .25 cents (compared to $3.25 for JPM's targets), and by $3 for the GS portfolio (compared to $11 for GS's targets).
Which brings us to the current GS list of undervalued stocks. Below we repeat our experiment from last year by comparing GS's targets derived from their fundamental analysis of these stocks, to our technical analysis targets based on Hurst channels. Our only guiding principle in selecting the channels is that they obey Hurst's main rule that a properly drawn channel should contain all but a few extreme data points. We should also note that the targets we provide are for the first half of 2014, and that we changed the inaccurate prices reported by BI for PVH, BTU and APA.
Here is the list: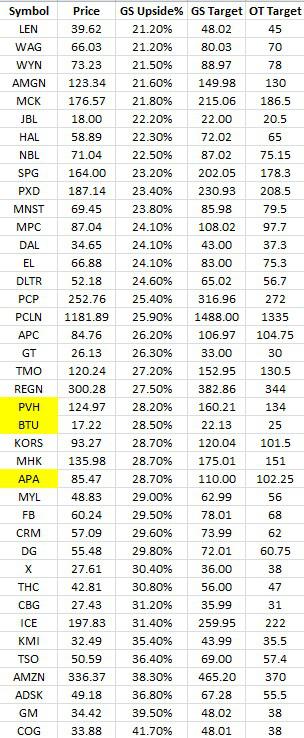 As usual, we'll follow up with the results in the second half of 2014.
If you are concerned that the US stock market may be ready for a pull-back which will drag all stocks down irrespective of their strong fundamentals, keep in mind that OddsTrader also contains tools for position sizing and risk and portfolio management. The app provides both upside and downside targets (a rarity for Wall Street research), along with stop/loss and entry/exit levels, risk/reward ratios, volatility measures, bullish and bearish swing targets, cycles, and more.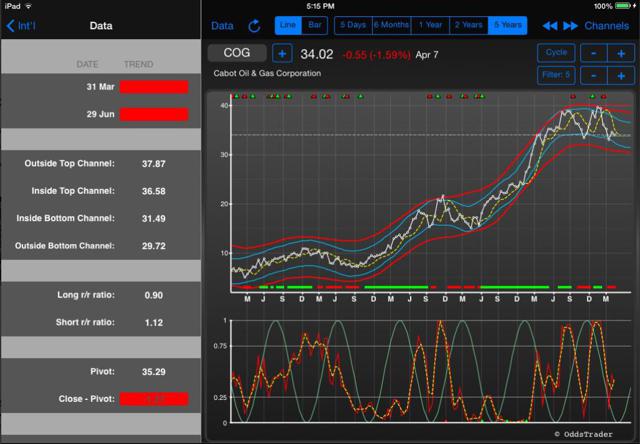 In summary, our app provided a lot more realistic price targets than those of JPM and GS. It also allowed us to estimate with ease the quality of their recommendations and determine, well in advance, which one is more speculative, and which one is more likely to meet its targets.
Disclosure: I have no positions in any stocks mentioned, and no plans to initiate any positions within the next 72 hours.