BI just did us all a huge favor by publishing the forecasts of 18 Wall Street strategists representing some of the most prominent investment banks. And it should come as no surprise to anyone that, even after adjusting their year-end forecasts slightly lower, following the dismal start of the year, they all have a rosy, positive outlook for the SP500. So much so that only UBS has dared to publish a downside target.
As usual for these series, we'll compare the guru's targets to our own, and will check out the results at the end of 2016. For those unfamiliar with our approach, we use OddsTrader's channels to obtain forward looking price targets. The channels are built on sound mathematical principles inspired by the pioneering work of J.M. Hurst, and since 2013 have proven to outperform Wall Street targets time and again (as you can ascertain by reading all articles in the series).
We'll follow the usual approach, by building a spreadsheet with all the targets, ours at the bottom: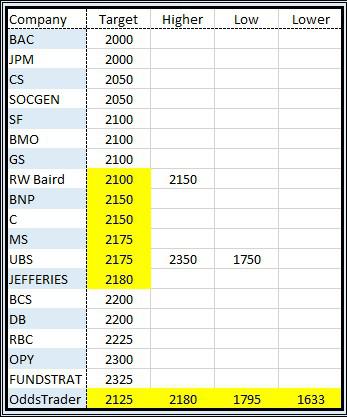 The spreadsheet is pretty straightforward, but there are a few things we want to point out. We publish both our upside and downside targets, based on the two sets of channels with different duration which we use for this type of analysis. And, for easy comparison, we've highlighted in yellow our targets and those of the other analysts which coincide with them.
The follow-up will be published in early 2017.