For 2012 one of the most FX moves that has fascinated me was the British Pound. Unlike the Euro, For most the year GBPUSD was either range bound to say the least, while EURUSD declined for the most part. I attribute the resilience and price stability of the Pound to the dual approach exhibited through the Monetary Policies of the BOE and the fiscal policies of the Cameron administration. The Cameron administration took the harsh steps to place the UK in a position to strive in the medium term while the BOE took short term measures to ease these austerity measures and stimulate the economy, preventing any severe collapse in the UK economy. Sadly enough measures like these are not being implemented as quickly or easily enough in other developed states/regions such as the EU and the US when compared to the UK. In the medium term the UK seems, at the point, in a position of growth and prosperity and I eagerly await another entry point in GBPUSD and FXB.
Over the past couple of months EURGBP was rallying. This can be attributed to the measures taken by the ECB to prevent Europe from an all-out collapse in its economy. This rally in the Euro cannot be sustained as the approach taken is only for the short term. Medium term fiscal measures need to be done and adhered to in order to see signs of stability and growth in the Eurozone.
As such, knowing this, I patiently anticipated the end of the EURGBP rally. Earlier this week the opportunity arose as I risked a 0.97% loss for gains of over 1.32% during the course of the next couple of days to weeks. The RSI signaled to me that EURGBP was in oversold sold territory and some sort of pull back is expected. Furthermore the 200 DMA on EURGBP failed to give EURGBP support to continue its rally. The medium term downtrend in EURGBP has been maintained despite its 2 month rally. My expectation over the medium for EURGBP is for the pair to fall to 0.77.
The chart below illustrates my view on EURGBP over the next couple of months.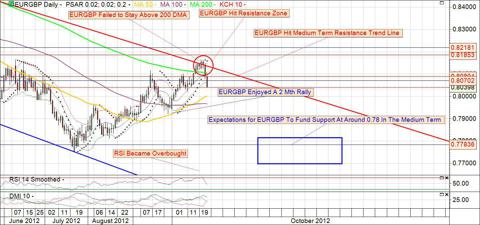 Disclosure: I have no positions in any stocks mentioned, and no plans to initiate any positions within the next 72 hours.
Additional disclosure: I am currently short EURGBP. I wrote this myself, and it expresses my own opinions. I am not receiving compensation for it. I have no business relationship with any company whose security is mentioned in this article. The views expressed in this article are my own and are not necessarily the views of any companies or organizations I am affiliated. I expressly disclaim all liability in respect to actions taken based on any or all of the information in this writing.