As the polls in the US near closing time, risk has been surprisingly positive across asset classes, including in the forex markets. To put things in perspective the S&P is up so far over 1% and EURUSD is back above 1.28 despite poor PMI data in Europe. Investors/traders seem to be positioning themselves to benefit from a decline in the level uncertainty as US elections will draw to a close tomorrow morning and the world will once again know who is the US president for the next 4 years (along with Congress for the next 2). Hopefully, with the campaigning coming to a close, the fiscal cliff in the US will be addressed before it occurs (I assume this is what everyone elese is thinking as well).
Late last week I positioned myself in USDMXN as it rallied towards resistance at its 200 DMA. As suspected it was unable to even break above it and now the FX cross may find support at around 12.80, 1.08% lower from current price levels. I risked 1.05% for an initial target price of 0.18% and a final price move of 1.93%. The final price move seems unlikely in this trade as initial support is only 1.08% lower from current price levels but we will see as time goes by. Please see below the daily chart of USDMXN.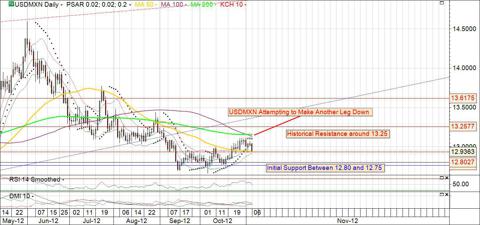 Disclosure: I have no positions in any stocks mentioned, and no plans to initiate any positions within the next 72 hours.
Additional disclosure: I am currently short USDMXN. I wrote this myself, and it expresses my own opinions. I am not receiving compensation for it. I have no business relationship with any company whose security is mentioned in this article. The views expressed in this article are my own and are not necessarily the views of any companies or organizations I am affiliated. I expressly disclaim all liability in respect to actions taken based on any or all of the information in this writing.