Apparently I wasn't the only one playing draughts (or checkers) over the weekend and noticed this Huf on CHFJPY. Earlier this week I published an article,Huf On Yen, where I explained why the Yen was going to strengthen versus the US Dollar in the short term (ineffective BOJ policies, weakening Japanese economy, etc). To compound the Yen strength, there also seems to be Euro weakness, where I took advantage of this with a short CHFJPY (Swiss France is pegged to the Euro and the CHFJPY looked better than the EURJPY from a momentum perspective). The weakness in the euro may be attributed to Greek aid payment awaiting Troika report. This is expected by Nov. 26. In the meantime CHFJPY is falling.
CHFJPY enjoyed a 3 month rally from mid July. The FX pair's price movement then became exhausted as exhibited by it's RSI going over 70. Putting this and my fundamental view on the yen together I took the position of shorting CHFJPY a couple hours ago. With my initial price move of 26 bps set, judging by how long the draughts game go, CHFJPY may fall another 2.70%. If things get really bad we may be back down to 78.25, a 6.75% move lower from current levels.
Please see the daily chart of CHFJPY below: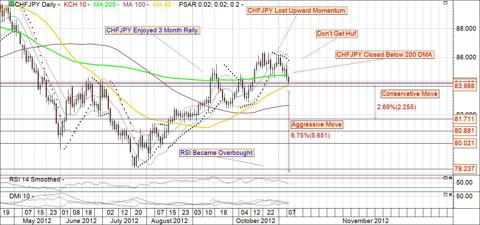 Disclosure: I have no positions in any stocks mentioned, and no plans to initiate any positions within the next 72 hours.
Additional disclosure: I am currently short CHFJPY. I wrote this myself, and it expresses my own opinions. I am not receiving compensation for it. I have no business relationship with any company whose security is mentioned in this article. The views expressed in this article are my own and are not necessarily the views of any companies or organizations I am affiliated. I expressly disclaim all liability in respect to actions taken based on any or all of the information in this writing.