Earlier this morning my 2nd tier price move target of 1.33% was hit on my short USDJPY trade. A couple days prior to this I was playing some draughts (something like checkers) with a friend and coincidentally the Yen was on my mind. Like my opponent, investors were refraining to take action on taking a long position on the yen, both were huffed (see my article Huf On Yen). Now as the lead has been taken on the short USDJPY, the next move for the FX pair needs to be determined.
USDJPY is in a major consolidation process, where over the past 2 years it has been between 85.50 and 76.248. This cannot last forever and I estimate that it will end in 2015, when the Fed is expected to raise rates. In the shorter term the USDJPY upward price move became exhausted. The FX cross fell over 1% and support needs to be determined. 2 Estimates have been derived utilizing historical support levels.
Estimate 1- A further 1.42% fall from current levels to 78
Estimate 2 - A further 3.62% fall from current levels to 76.25
Please see USDJPY Daily chart below: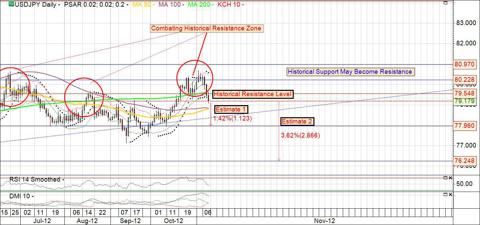 As data continues to improve in China I believe support will be found at the 78 price level,however, in the event my prognosis is incorrect USDJPY may continue to 76.25. Thus hold the short USDJPY for those who were not huffed and monitor the movements of USDJPY between 78-76.25 to enjoy some sort of bounce.
Disclosure: I have no positions in any stocks mentioned, and no plans to initiate any positions within the next 72 hours.
Additional disclosure: I am currently short USDJPY. I wrote this myself, and it expresses my own opinions. I am not receiving compensation for it. I have no business relationship with any company whose security is mentioned in this article. The views expressed in this article are my own and are not necessarily the views of any companies or organizations I am affiliated. I expressly disclaim all liability in respect to actions taken based on any or all of the information in this writing.