Everyone knows I am engrossed in technical analysis, that is, the study of historical market prices, particularly Forex. One of the first books I read on Forex was Forex Analysis and Trading by T.J. Marta and Joseph Brusuelas. The book was divided into 3 parts, Fundamental Analysis, Market Sentiment and Positioning, and Technical Analysis. It fuelled my interest in Forex and technical analysis and I would suggest anyone interested in both to have a look. One excerpt from the book which I keep with me was the jab of both the Fundamental Analysts and the Technical Analysts. Please see below:
"Detractors liken technical analysis to tea leaf or entrails reading and complain bitterly that technicians are often chameleon-like in nature, rabidly declaring price action should hold a particular level or maintain some trend, but then switching their view 180 degrees in the course of a day when the price level or trend is broken."
"Technical analysts strike back against "fundamentalists," denigrating economic models as naive and simplistic attempts to hang a paradigmatic frame on a market of immeasurable complexity and nuance. Going further, they argue that fundamental valuation analysis constitutes nothing more than one additional voice to the cacophony if the marketplace, and that if the fundamentalist is not trading, it's not even a voting voice!"
-- Forex Analysis & Trading
T.J. Marta Joseph Brusuelas
While I liken myself to being a technical analyst (or a candidate for the CMT programme) it is prudent to take a balanced approach (as seen in my article Staying Ahead of the Curve: Where the S&P 500 Goes From Here) ; fundamental and technical. With that being said the S&P 500 looks relatively cheap, trading around 14 times while its 52-week high is closer to 15 times. Also the S&P 500 was also on a 3 month downtrend but it seems a reversal is near as I received my 1st buy signal last Friday. I took a position the minute I received the signal and it hit my first tier price target. For those looking for a longer term view I expect the S&P 500 to touch 1425 over the next couple of months. At least there is some light at the end of this downward tunnel. Please see my chart below: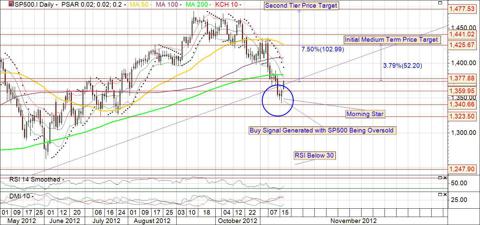 Disclosure: I have no positions in any stocks mentioned, and no plans to initiate any positions within the next 72 hours.
Additional disclosure: I am currently long the S&P 500 Index. I wrote this myself, and it expresses my own opinions. I am not receiving compensation for it. I have no business relationship with any company whose security is mentioned in this article. The views expressed in this article are my own and are not necessarily the views of any companies or organizations I am affiliated. I expressly disclaim all liability in respect to actions taken based on any or all of the information in this writing.