"Risk is Opportunity" is the Society of Actuaries' slogan. I have perused their website from time to time as I attempt to complete one of their designations. The slogan is embedded in my decision making mantra and it emboldens me, a reminder, that although the probability of loss is there, it also presents a chance to capitalize. It resonates Warren Buffet's quote "Be greedy when others are fearful".
Although the markets declined over the past couple of months, the risks involved right now is not the probability of them declining further but the probability of investors not benefiting from the upcoming rallies. While I was going through my daily routine of monitoring the FX markets I came across the daily soybean chart. Like the S&P 500 soybean prices had a 2-month correction and became oversold. This presents an opportunity to re-enter, with the possibility of the commodity returning to its September highs, a little over 25% return from current levels. Investors can take advantage of this by either taking a position in soybean futures or soybean CFDs. I took a position this morning and my initial price targets were hit (approximately 32 bps for me to move my stops to B/E). The Chart below exhibits the 1-year daily movements of soybeans.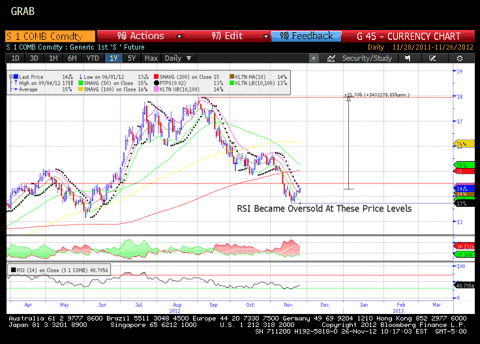 Disclosure: I have no positions in any stocks mentioned, and no plans to initiate any positions within the next 72 hours.
Additional disclosure: I am currently long a Soybean CFD. I wrote this myself, and it expresses my own opinions. I am not receiving compensation for it. I have no business relationship with any company whose security is mentioned in this article. The views expressed in this article are my own and are not necessarily the views of any companies or organizations I am affiliated. I expressly disclaim all liability in respect to actions taken based on any or all of the information in this writing.