This morning gold had a huge sell-off. It was over 1% in just a couple of minutes. That is not a good sign for financial markets. Something is up. These were the things that passed though my mind when it occurred.
People are seriously worried about the fiscal cliff and going into cash
People are taking gains on the little up move in gold since November
Some Hedge Fund or large holder of Gold has a margin call and is liquidating their positions in the metal
The best thing to do right now if you are not short Gold is to wait for the dust to settle and make a decision whether you want to go long the metal or not. If you are short gold (I'm currently short XAUAUD) my best advice is to keep those stops tight because it looks like its going to be a bumpy ride. If you are long gold hats off to you! I wish you all the best and I pray that you have enough margin to stay afloat. Please see below the chart of my short position in XAUAUD.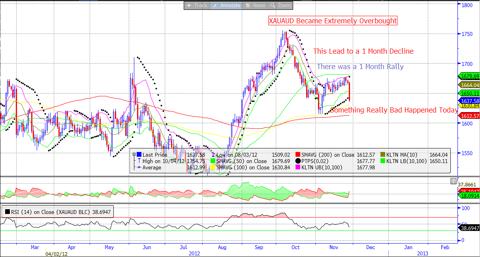 Disclosure: I have no positions in any stocks mentioned, and no plans to initiate any positions within the next 72 hours.
Additional disclosure: I am currently short XAUAUD. I wrote this myself, and it expresses my own opinions. I am not receiving compensation for it. I have no business relationship with any company whose security is mentioned in this article. The views expressed in this article are my own and are not necessarily the views of any companies or organizations I am affiliated. I expressly disclaim all liability in respect to actions taken based on any or all of the information in this writing.