The Christmas season is here again, the season of gifts and celebration. One token of appreciation which I received was a fruit basket, filled with grapes, oranges, strawberries, pineapples, peaches, and of course, the kiwi.
While munching on a kiwi this morning I recognized that the NZDUSD, familiar to most as the "kiwi", was a bit too sweet. Kiwi is enjoying a wonderful 4th quarter rally and has verged into both a historical resistance zone and overbought territory, based on the RSI going over 70. Thus I checked what was my risk to reward of taking a short position on NZDUSD. I was willing to risk 70 bps for a 1.16% gain in NZDUSD, which to me was worth the risk. In the medium term NZDUSD has the potential to fall 5% from current levels, making the short trade much sweeter.
Please see chart below for the Daily NZDUSD.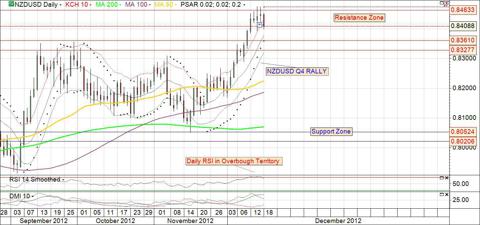 Disclosure: I have no positions in any stocks mentioned, and no plans to initiate any positions within the next 72 hours.
Additional disclosure: I am currently short NZDUSD. I wrote this myself, and it expresses my own opinions. I am not receiving compensation for it. I have no business relationship with any company whose security is mentioned in this article. The views expressed in this article are my own and are not necessarily the views of any companies or organizations I am affiliated. I expressly disclaim all liability in respect to actions taken based on any or all of the information in this writing.