AUDCAD falls in the theme 'Winter Is Coming'.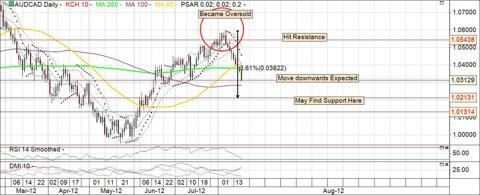 However this is peculiar to me because AUDCAD is declining not as a result of AUD declining at a faster rate against most currency pairs than CAD but CAD is strengthening at a faster pace than AUD. Nonetheless Winter is here and it seems harsh. AUDCAD fell through most of my target levels. Ideally I expect it to settle around the 1.021 price level, approximately 3.61% from its high.3.61% doesn't seem much but when you leverage the trade 50-100x, it is a different story.
Disclosure: I have a position in AUDCAD.
Disclaimer: The views expressed in this article are my own and is not necessarily the views of any companies or organizations I am affiliated. I expressly disclaim all liability in respect to actions taken based on any or all of the information in this writing.