I love being contrarian…
One of my favorite quotes is from John Templeton. He was one of the greatest investors ever.
He said, "invest at the point of maximum pessimism."
Because the odds are if you're buying the same thing everyone else is buying you're overpaying for it. You're buying high and will more than likely end up selling low.
As I said yesterday, it's not easy to go against the crowd. It takes courage and a strong stomach.
We're fast approaching the second longest economic expansion since the mid-1800's. The S&P 500 recently hit 2,600 for the first time ever.
Sure, it could go up another year or two. But how much? Is it worth the risk to buy the market that's been going up for almost a decade?
I don't think so. You need to be picky about what you buy.
You need to start your research with markets and stocks that are "at the point of maximum pessimism."
One market is the commodity market. Investors won't touch most of the commodities with a ten-foot pole.
Because prices have been declining in most commodities for years. That's the kind of opportunity that interests me.
Today, there's one commodity that's one of the most hated out there. It's "at the point of maximum pessimism."
It's something that most people need to get their day going… Coffee.
Since mid-2011, the price of coffee has crashed. It's down about 50%. (Compared to the S&P 500 which is up just over 100%.)
Based on the Commitment of Traders Report, it's clear that investors hate coffee right now. The COT shows us whether investors love or hate an asset.
It's a great tool for contrarian investors.
Here's the strategy… When traders hate an asset it's time to buy. When they love an asset, it's time to sell.
Look at this chart…

                         Source: Movement Capital – freecotdata.com
The shaded area at the top shows the price of coffee crashing.
The bottom area shows the net short and long positions of commercials (producers and users like a coffee grower) and speculators (like hedge funds and commodity trading advisories).
Movement Capital looks at these net short and long positions (contracts) as a percentage of open interest (total number of open contracts).
For example, a percentile of zero percent would mean that speculators are more net short than they've ever been in the past five years.
As you can see, that's the setup we have in coffee right now.  
This is important because when speculators reach extreme levels, it tells us there's potential for less buying or selling pressure. Today, speculators have an extreme short position in coffee.
Who else can they sell too?
Coffee prices had double-digit gains the two previous times they had an extreme short position.
The first period when it hit zero percent was late 2012 when the price was $152.50. By the fall of 2014, the price rose 32% to $201.20.
(Here's an important side note... The price did continue dropping once it hit the extreme level and then bounced around. No one can time the markets perfectly. The key is sticking to your strategy. A good rule of thumb based on this data is buying when speculators are at low levels of extreme (net-short 0-5%) and selling at high levels (net-long 95-100%).
The second period was late 2015 to late 2016. The price went from $124.40 to $155.40 for an increase of 25%.
At the end of both periods, speculators had a 100% net long position. Who else could they buy from?
As you can see from the chart above, now is another opportunity to profit from the extremes.
An easy way to own coffee is the iPath Bloomberg Coffee Subindex Total Return ETN (ticker JO). (For more on ETFs and ETNs read here and here.)
Here's a chart of JO (black line) compared to the S&P 500 (gold line) since 2008.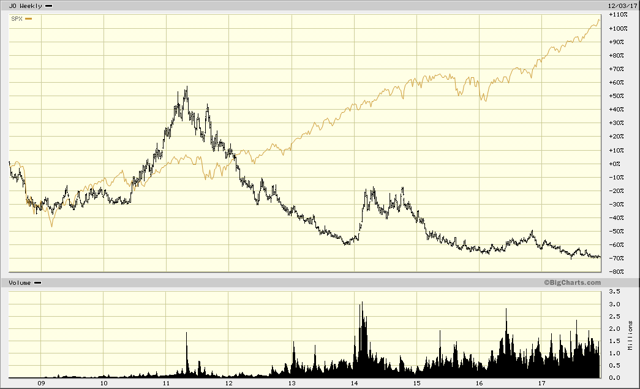 Source: Big Charts
Again, it's another way to see how hated coffee is and how loved the stock market is right now.
JO is down almost 70% since 2008. The S&P 500 is up over 100%.
JO has been trading sideways for most of the year. But history tells us double-digit gains are possible in coffee over the next year.
This is a classic hated investment. Shares of JO is a simple way to invest in coffee.
If you're looking to put money somewhere other than the S&P 500, this is worth putting on your radar.
Disclosure: I/we have no positions in any stocks mentioned, and no plans to initiate any positions within the next 72 hours.