Platinum & Palladium - A Nice Addition to Your Precious Metals Portfolio
Yesterday was a good day for the whole precious metals sector - all important assets rallied sizably with the USD Index declining 0.38 (0.47%). It seems that the brief consolidation that we saw in the last couple of days is either over or almost over and the whole sector is poised to move higher.
In our last essay we wrote a lot about the importance of diversification and we believe it is a good idea to continue this thread a bit more in today's essay as well. And this is why we would like to draw your attention to two precious metals that seem to be in gold and silver's shadow, as we think they provide good investment opportunities. So, in order not to put all our eggs in one basket, let us move on to the technical part of today's essay and have a look at platinum and palladium that didn't lag behind the more renowned precious metals yesterday - we'll start with platinum's short-term chart (charts courtesy of http://stockcharts.com.)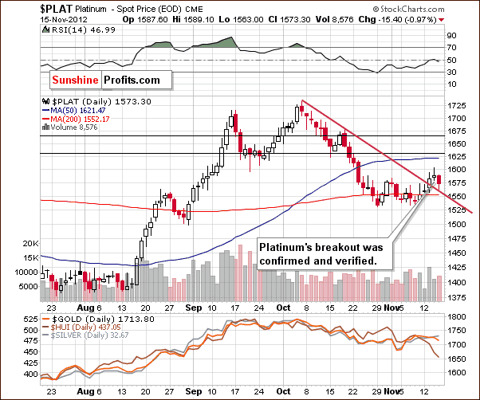 In the chart, we see that prices have broken above the declining resistance line. We saw three consecutive closings followed by a move back to this line, which was immediately followed by a pullback. And yesterday's price action is reassuring with platinum closing at almost $1584. At this time, the breakout has been confirmed and higher prices should now be expected.
Let us now move on to the second hero of today's essay - palladium.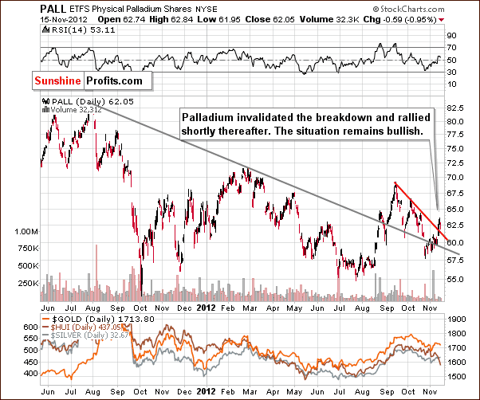 In this chart the situation looks promising as well. Prices not only moved back above the declining long-term resistance line but also moved above the short-term declining resistance line. Therefore, the short-term implications are also bullish here which was further confirmed yesterday, as the ETF closed at over $63.
Summing up, both platinum and palladium can be seen as a decent addition to a precious metals investor's portfolio, as their upside potential is tempting and they are good for diversification purposes. Moreover, these metals suggest higher prices across the precious metals sector. In case you were wondering how you can invest in platinum, palladium, gold, silver and mining stocks via ETFs, we invite you to check out our just-released Precious Metals ETF & ETN Ranking that includes over 100 funds. We scored individual investment vehicles according to their usefulness for long-term investors and short-term traders & we included practically all characteristics that matter when it comes to finding an ETF or ETN that fits you best. It's reserved to our premium subscribers, but if you sign up for a risk-free 7-day trial you'll be able to enjoy it right away. All we will ask is your first name and e-mail. Sign up now.
Thank you for reading. Have a great and profitable week!
Przemyslaw Radomski, CFA
Founder, Editor-in-chief
Gold & Silver Investment & Trading Website - SunshineProfits.com