While most apparel retailers are focused on just surviving the toughest selling environment in a generation, fast-fashion chain Forever 21 has been aggressively expanding throughout the recession, and in the process has created a business model which is redefining retail.
For most high-end fashion designers, it takes 18-24 months to get from initial design to merchandise into the stores, while department stores need 4-6 months to get from the design room to the sales floor. The key to Forever 21's success is their ability to spot the hot styles and trends, reproduce them, and bring them to market in six weeks or less. No longer tied down by the notion of "spring" or "fall" season, the customer can visit the same store every week and see the newest fashions, with each store carrying different fashions. And perhaps most important of all, they are able to offer well-made merchandise at prices that rival those of discount chains Target and Wal-Mart, with most items in the $5-$30 range.
Although originally catered to mostly young men and women, the fast-fashion model which transports current trends from the runway to the rack in record time has garnered mass appeal among both the young and young at heart. The concept's broad appeal across generations is apparent within my own family. While my sister, 28, and my mom, 56, might not share the same tastes in fashion, they both list Forever 21 as their favorite shopping destination.
Among the reasons: 1) cute, trendy, well-made garments; 2) affordable prices; 3) constantly updated inventory; My sister put it best when she said "I could spend $300 at Forever 21 and walk out with a whole wardrobe – even if I only wear each item a few times and it's not fashionable in a few months, I can go back and buy the newest trends, and I don't feel like I spent a lot of money."
Started by Korean immigrants Do Won and Jin Chang as a single 900 sq. ft. clothing store in L.A. 25 years ago, the closely-held company now operates more than 460 stores in 13 countries, with over 20,000 employees and estimated sales of $1.7 Billion for the fiscal year ended February 2009. They are expected to grow sales to around $2.5 Billion in fiscal 2009, which would represent 5-year CAGR in sales of 47.5%.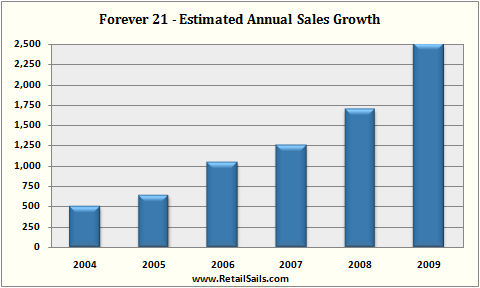 That would make them the 2nd largest private apparel retailer in the U.S., surpassing sales at Claire's Stores and only trailing Burlington Coat Factory.  Both of those companies were taken private at the top of the market (in 2006 & 2007) and are struggling to survive under mountains of debt. Forever 21 has matured from a mall-based retailer, competing with names such as Charlotte Russe and Wet Seal, to a major national chain rivaling H&M in terms of fashion and pricing power.
Not content to rest on their laurels, the company has been expanding from the average 9,000 sq ft mall-based store into 30,000-50,000 sq ft department-store sized locations bought from bankrupt retailers including Gottschalks and Mervyn's.  They are even taking over the Virgin Megastore location in Times Square and expanding it to 90,000 sq ft, which would be triple the size of its other current Manhattan stores. They added another cheap asset by picking up struggling rival Gadzooks for $33 million in 2005, which now makes up a little less than a third of their store base.
As brand recognition has increased and with larger store layouts coming online, Forever 21 has also taken the opportunity to expand store concepts and introduce new merchandise categories. They launched a plus-size store format this May called Faith 21, and the new department store-sized stores will feature home goods, swimwear, beauty and cosmetics, as well as expanded menswear, lingerie, and shoe collections. Having already taken market share away from department stores in apparel and accessories, this will enable the company to give shoppers a more complete shopping experience.
Success has not come without controversy and obstacles. There have been over 50 lawsuits filed against the company over claims of copyright infringement from designers and labels including Anthropologie, Diane Von Furstenberg, Anna Sui, Trovata, Express, and Gwen Stephani. They also faced a suit in 2001 from factory workers over unsafe conditions and claims of unpaid overtime and sub-minimum wage pay, which was settled out of court when the workers were paid back wages. In addition, they were pressured by PETA in 2004 to stop manufacturing clothing made with animal fur.
With the exception of the Trovata suit, which ended in a mistrial, all of the lawsuits have been settled out of court. The company publicly insists that the fashions you see in the stores are "designer-inspired", but not intended to be knockoffs. Forever 21's Executive Vice President Larry Meyer said "We've gotten better at ensuring our vendors are more compliant. That has done well for us. We're confident over time we will reduce the amount of claims." Since only brand names, and not designs, are protected by U.S. copyright laws, the constant barrage of lawsuits can just be considered the cost of doing business until they lose a case.
Perhaps the most intriguing aspect of the company is its message. On the bottom of every shopping bag is the inscription of John 3:16, reading : "For God so loved the world, that He gave His only begotten son, that whosoever believeth in Him should not perish, but have everlasting life." While the copy-cat accusations get all the attention, the strong message of faith from the company founders gets surprisingly little attention.
Forever 21 has helped redefine fashion retailing in the U.S., but they are not the only name making waves in the fast-fashion apparel sector. Rivals H&M (Sweden) and Zara (Spain) have been around longer and have more than triple the store base worldwide, with the same strategy of delivering the latest fashions at affordable prices, with a turnaround time of weeks instead of months. Off-price stores such as TJX and Ross Stores and discount chains like Target have also been able to take market share away from traditional retailers such as department and mall-based stores.  Forever 21 has so far been able to differentiate itself from rivals, but with the growth and expansion track they are on, the competition will certainly become more intense.
In the past few years, Forever 21 has experienced extremely rapid growth and really hit their stride in an environment where no growth is considered success. They have taken the opportunity to aggressively expand, and have become a major player in fashion retail. There will be major challenges in the future in increased competition, more lawsuits, and trying to fill larger spaces while trying to preserve quick turnaround time. However, the company has shown they have a very good understanding of their customers and have been able to deliver consistent performance. There has been talk of an IPO for several years, so it wouldn't be surprising to see a public offering when the markets improve, which would provide investors the opportunity to own a piece of a true American growth story.
Disclosure: No Positions