Introduction
TJX Companies, Inc. (NYSE: TJX) is the largest market-cap company in its industry, discount retailing. With the current market trends in the United States, TJX falls in line and will provide steady numbers through its growing revenue, accurate intrinsic value, efficient operating strategies, and flourishing international exposure.
We believe that the market widely undervalues discount retailers. The S&P 500 is made up of thirteen large retailers and only two discount retailers. The S&P 500 has excluded the emerging and quickly growing industry of discount retailing, as shown by our numbers in our Economic Drivers section. Larger retailers with higher quality brands have decreased in sales in the past fiscal year. Consumer spending habits are changing and the market is seeing a large increase in the U.S national savings rate. At the end of each calendar season, large retailers such as Macy's and Nordstrom sell their merchandise to smaller discount retailers, such as TJX. What makes or breaks these discount retailers is their capital structure, as well as their business strategy.
We recommend TJX as a buy as of the closing price on 02/03/2016. Our thesis is based on the immense growth potential, the economic drivers that support our forecasted surge of revenue, and the undervalued intrinsic price.
Business Strategy
TJX is a major off-price retailer, within the US and internationally, that uses deep discounts on designer and brand name merchandise to appeal to customers looking to save money on clothing and home décor. By pricing a constantly changing selection of products at 20%-60% below their original prices, TJX can attract customers whether the market is up or down. TJX operates online as well as in brick and mortar stores. The company has lower costs of operation than traditional retailers because the stores do not rely on employees to assist customers as they shop, and unlike some full-price retailers, TJX does not require in-house designers to produce the product. TJX enjoys some insulation from issues that any of their individual suppliers face because of the enormous quantity of brands that the TJX stores sell, and TJX buyers can observe what has and has not sold in full-price stores when picking out product. This reduces risk and often decreases the need for further markdowns.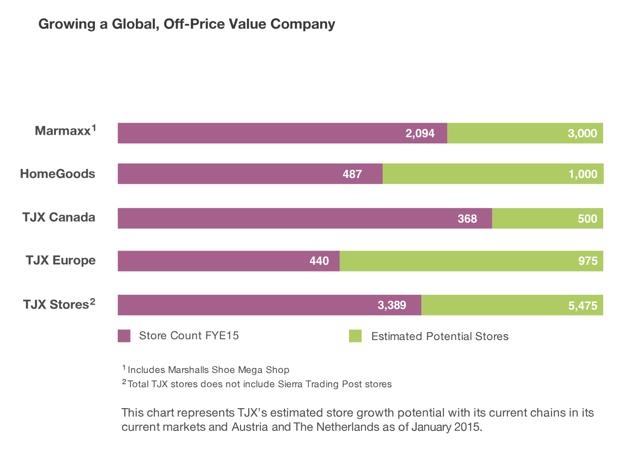 Economic Drivers
The investment thesis comes from the fact that the market undervalues the business strategy of discount retailing, as stated in the introduction. On average, the last trailing twelve months for the two discount retailers has a higher revenue growth of 7.5%, while the thirteen large retailers' last twelve months has a revenue growth of 2%. A further analysis from Bloomberg data shows that the estimate for fiscal year 2016 for the discount retailers is 6.7%, and for the large retailers it is only 1.9%. As reported by Bloomberg, large apparel retailers as a whole decreased in sales by 0.1%. As a result, inventory levels are immensely overstocked. This is a positive metric for discount retailers. Not only do these large retailers sell their "out of season" merchandise to discount retailers such as TJX, but also they will have to sell it at a heavy discount, a clear-cut buying opportunity for TJX.
One of the most important metrics is consumer confidence, which has been at a high as the economy expanded modestly in 2015. This high consumer confidence manifested itself in a steady increase in consumer demand. Increases in personal consumption expenditures, residential fixed investment, and federal government spending can be seen in the GDP. Upon release of the fourth quarter GDP, 0.7%, we reflect on the significance of this number. Although the economy shows growth, it represents a slower growth amid this period of volatility and uncertainty in the market.
To comment on consumer spending habits, 2015 had the largest savings rate in three years. We can infer from this that consumers are less likely to spend extra income on expensive apparel, which is reflected in the average revenue growth numbers. Even if the consumer wanted quality brands, they most likely shop at discount retailers, such as TJX, who then sells the high quality brands at 20-60% discounted from the original price.
Market Dominance
Already one of the strongest companies in off-price retail, TJX still has opportunity to increase the number of stores by 60%. TJX operates brick and mortar stores in seven countries as well as online in the US and UK. After an unsuccessful attempt at e-commerce in 2004, TJX launched sierratradingpost.com, tjmaxx.com and tkmaxx.com for a second attempt that has proven more successful because of website designs intended to imitate the satisfactory experience of finding deeply discounted items in a store. TJX's biggest competitor, Ross Stores, does not have as developed an e-commerce site as TJX, and Ross Stores' (NASDAQ:ROST) overall market cap at 21.85B is less than half of TJX's, 46.46B. TJX sources its products from a much larger number of vendors than Ross, giving TJX customers more merchandise diversity. Off-price retailers in general have better than expected growth rates than the retail sector as a whole, at 6-8% for off-price compared to 4% for general retail.
Recalling the market cap difference between TJX and ROST, TJX is twice as large. This particular retailer went through $3.217 billion units of inventory in 2015, while ROST had only 1,372.7 billion units. While this makes sense because of the prominent difference in physical size, it is worth noting that TJX has a better Inventory to Cash Days cycle. This ratio reflects on the number of days that it takes for a company to acquire their inventory, sell the merchandise, and liquidate that revenue into cash. TJX is six days faster than ROST. Echoing again on the sizes, would it not make more sense for ROST to sell their lesser amount of inventory quicker? This shows that TJX sells has more merchandise go in and out through their doors, insinuating that yes, they have the more popular brand name, an intangible asset that has the potential to be a significant factor of further growth.
Growth Prospect
TJX is not just a play on the markets in the United States. They have increasingly expanded internationally not only in Canada and the United Kingdom but across Europe and Australia as well. Within the last six months they added their first store in the Netherlands (during the third quarter) as well as adding a Trade Secret in Australia. Their operations are developing and growing across nine countries. Moreover, their projected growth in number of stores in the next three to four years has only increased. (Bloomberg)
As they continue to increase their brand globally they are trying to expand their market share within apparel, accessory, and home categories. Increasing this market share has allowed their sales growth to rise which is shown by their twenty seven consecutive quarters of consolidated comp store sales growth. So far they have successfully applied their flexible business model to international markets throughout Canada, Europe, Australia, and the United States with profits increasing with each quarter on average of 1.7%.
Their largest potential for sales revenue lies within their e-commerce sector. Since its debut in 2013 it has slowly gained popularity, however within increasing operating margin, more action will be taken into order to improve. The company has shown its flexibility and ability to develop strong business plans and strategies to overcome issues with foreign currency and transactional foreign exchange. Overall, they are focused on increasing market share and expanding internationally and as long as they continue to reinvest in the company and make timely strategic decisions when it comes to currency and the dollar when it is strong with foreign investment they will continue to be successful financially and globally.
A Look From Simple Moving Averages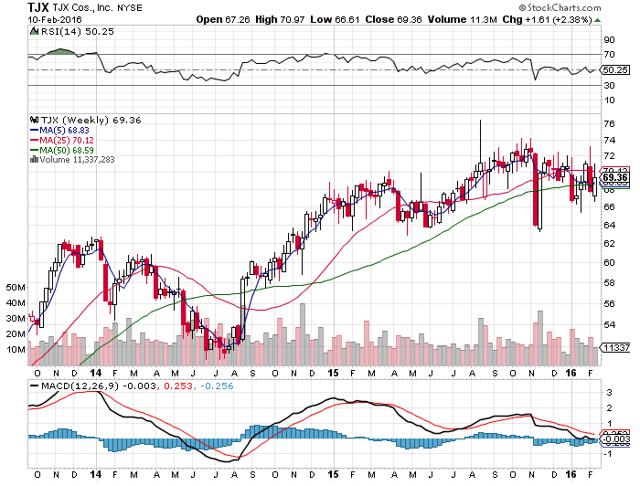 Ever since the 5 day simple moving average's strong crossover of the 25 day, and shortly after the 50 day simple moving average, TJX's stock price has spiked. Since this happened in September of 2014, the 50 day simple moving average line has been holding as a solid support for the price. Even when the 5 day crossed the 25 and got close to 50 it always seemed to bounce back up. Given TJX's strong growth momentum and promising business strategy, we can assume the price will continue to go up even if it's not at a strong incline as before.
Valuation
Starting out with revenue, we applied a conservative growth rate of 7% in forecasting future revenues. This puts next year's revenue at a 6.8% increase. With market current market trends that were discussed in Economic Drivers, this is an attainable goal. Implementing the same concept to free cash flow, this allows the firm to reallocate back into the company. Back in 2013, TJX took out a large amount of debt in order to increase their operating margin. That transaction resulted in an 11.6% increase in revenue. Using this logic, if TJX plowed this extra free cash flow back into operations, there is a likelihood that there would be a repeating circumstance of 2013 and thus, driving up their stock price and overall value. Increasing revenue as well as free cash flow is a prominent approach to reach their full growth potential. We believe that TJX is capable of securing this within the next fiscal year.
Valuing these metrics into our current scenario, TJX would have the capability of purchasing products from "higher end retailers," thus driving consumer demand. In order to reach these numbers, we took the average of revenue growth from the past 5 years and applied it to the specified metrics previously stated. Exercising an 8.2% discount rate, we arrive at an intrinsic value of $88.74, a 23% upside from their current price, $72.00, and well past their consensual target price.
Outlook
Highlighting on the fact that more and more consumer are saving their discretionary income, larger retailer will most likely see a large dip in revenue this year. TJX's business model works in all business cycles; at this present business cycle in the expansionary phase, consumer have extra income and consumers typically view clothing as durable, especially at a 20-60% discount. During 2016-2017, we should see the prospective numbers in Economic Drivers reported on the financial statements. Looking at their fast pace of growth, accompanied by their business stratedy, the possibility of hitting our proposed target price is feasible. It is the right time in the economic cycle, market share is exploding, and the numbers in revenue growth and popularity speak for themselves.
Disclaimer: We stand bullish on TJX. We wrote this article ourselves, and it expresses our own opinions. We are not receiving compensation for it. We have no business relationship with any company whose stock is mentioned in this article.
Disclosure: I/we have no positions in any stocks mentioned, but may initiate a long position in TJX over the next 72 hours.