Yesterday ADM posted Q4 results and market reaction was at least strange. At the beginning share price dropped by more than 5% and then… went up to more than 2% profits. Such strange reaction made me think whether results were good or bad. Intuitively results were bad at first sight, but after deeper analysis by investment professionals they found some positives and market corrected reaction. Let's see what I find keeping in mind that I am not biased by any models/expectations etc., but I am long, so I might be a little bit too optimistic.
To make a context to presented numbers: market cap $25.7b, net debt $6b.

Big snapshot: EPS is growing in double digit pace, OK. Especially if we take into account that management is quite optimistic when it comes to 2017: With expected improvements across all of our businesses throughout the year and additional contributions from recent projects and new facilities as they ramp up, we are optimistic about improving results throughout 2017.
If we look on ROIC (return on invested capital), which is presented by company we can see that from historical perspective there is still some space for improvement: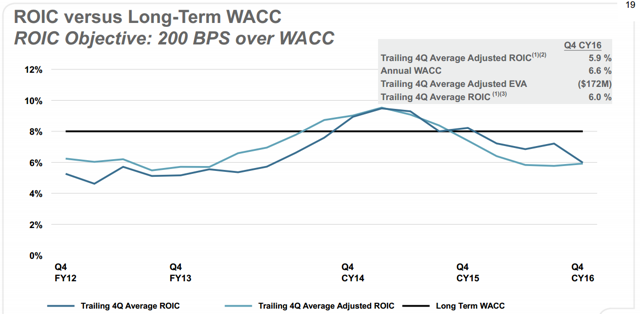 As it comes to capital allocation: Returned $1.7 billion to shareholders in dividends and share buybacks during the year. - return yield with current market cap around 6.6%, not bad. Keep in mind that I was investing when share price was around $33…
Quarterly dividend increase of approximately 7 percent, to $0.32 per share. Increase by 6.7%, dividend yield 2.8%. Looking at historical dividend yield it is still attractive.

Valuation:
P/E = 20
EV/EBITDA = 10.4
Well, for me valuation is neutral. It is not a super strong buying opportunity, but as I am long I think I can be a shareholder a little bit longer, as 2017 is expected to be a good year.
Summing up, for me results were OK. Dividend is growing, 2017 should be a good year. On the other hand valuation is not super attractive nowadays and shares are not far from all-time-highs. I keep my take profit level unchanged at $50.
Disclosure: I am/we are long ADM.