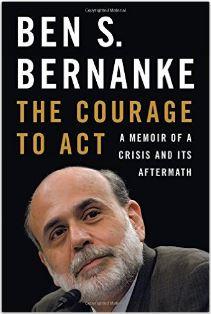 As a financial advisor who worked with clients throughout the 2008 market meltdown, I was particularly interested in understanding the Chairman of Federal Reserve Bank's perspective of that period. Ben Bernanke's book The Courage to Act: A Memoir of a Crisis and Its Aftermath is an exceptionally well-written autobiography that explains the background of the banking crisis, the crisis itself, and its aftermath. The perspective that Bernanke shares, however, does more than put another page in the history textbook of the world economy; it raises a number of fundamental questions about how the mess began, why many innocent bystanders were injured, and whether we have made appropriate structural changes to avoid such catastrophes in the future.
Who's in Charge?
By learning about the inner workings of the Fed's decision-making system, I couldn't help but wonder: Is it smart to have the largest and most influential economy in the free world dependent on one man? The Chairperson of the Fed wields incredible influence over money supply and employment levels that even if it's run by the sharpest mind, it might be better to have the free market control the level of interest rates and employment. The central bank and other government offices should enforce transparency and encourage better financial education, but ultimately the combined interests and wisdom of the millions of market participants would ultimately dictate the rate at which money is lent as well as the regulations that could promote full employment. Why should the law of supply and demand that governs all other commerce be suspended for money supply?
To read the rest of this book review, click here.