Recommendation & Return Profile:
Rating: Long
Price Target: $103.40 (+20.0%)
Time Horizon: 1-2 years
Proprietary Credit Program Overview:
Because of laxer lending standards, SIG has been able to increase sales at the cost of giving loans to people who can't necessarily pay it back
Day Sales Outstanding 10x longer than Tiffany's
Credit sales are 61.5% of Sterling's total sales, approval rates ~50%
Zale's (with an outsourced credit facility) credit approval rate ~30%,
SIG's FICO score average: 662 (for FY 2016)
Net charge-offs as % of accounts receivables increased from 9.3% in 2013 to 9.9% in 2016
Thesis
Our thesis has two parts:
1. In-house credit book concerns are overblown as both of Signet's choices will drive shareholder value
a. Credit book sale
b. Optimizing credit book
2. Underlying business will remain solid despite recent brand weakness from bad news headlines (i.e. Kay diamond swap, gender-discrimination in employment
a. Recovery of sales
b. Margin expansion from synergies from Zale acquisition
Thesis 1a: Selling Credit Book Is Best Option
Sale of credit book monetizes the portfolio immediately without largely hurting future free cash flows while outsourcing credit risk
Loss in revenue (from higher credit approval rate) and interest income is largely offset by decrease in bad debt expenses and capital inefficiencies associated with running the credit book
Thus, changes in future FCF ≈ 0 between selling credit book and optimizing credit book
Monetization of portfolio results in additional immediate ~$20/share value increase over optimizing credit book
Comp: CONN's sale of $1.4bn of receivables for $1.1bn (22.5% discount)
If SIG sells credit book in Q4, projected receivables is $1.9bn
Assuming sale of credit book in Q4 at 20% discount, proceeds of $1.6bn
Divided by 77m shares yields roughly $20 / share
| | | | | |
| --- | --- | --- | --- | --- |
|   | Net Charge-Off as % of Average Gross AR | FICO Score Average | Bad Debt Allowance as % of AR | AR 60+ Days Late |
| CONN | 13.5% | 608 | 13.0% | 9.6% |
| SIG | 9.9% | 662 | 7.4% | 7.4% |
Source: Company filings
Thesis 1b: Optimizing Credit Book Still Creates Shareholder Value
Keeping the credit book allows current business model to remain intact
Higher credit-driven sales along with high interest income (33% of operating income)
Increased transparency will ease default concerns and catalyze value
Historical analysis to last credit cycle shows discrepancy between reality and market expectations of SIG's credit book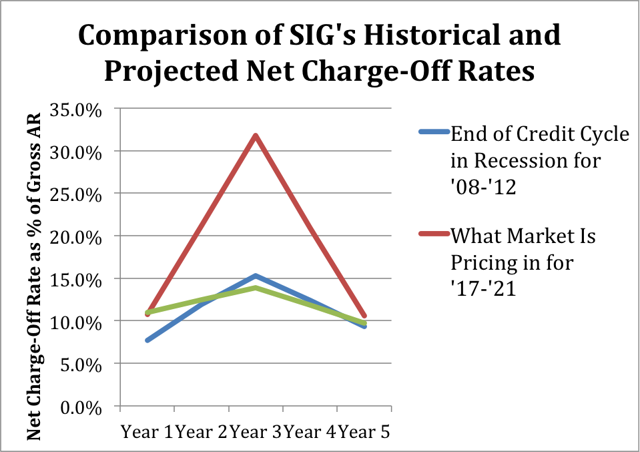 Source: Company filings and own projections
Thesis 2: Underlying Business Will Remain Solid
2a: Sales over the mid-term will recover to due to capital investments in its stores, proven quality and size
Record capex in new stores and remodeling
Opening high growth stores (Piercing Pagoda, Zale's, Kay)
Closing lagging regional brand stores
Expanding to out-of-mall locations with expanded square footage (short term by Kay's, medium-term by Zale's)
SIG owns #1, 3, and 4 largest diamond retailers in North America in an industry where familiarity and presence is important for customers
2b: Zale integration will improve margins
Centralizing diamond buying - became DeBeers sightholder
Zale's compressed margins leave room for expansion
SIG has already integrated ~30% of Zale synergies in 2016, actually surpassing its previous targets
Nearly all projected synergies are cost-based, not revenue-based, allowing for more accurate projections
Valuation
We used a 5-year DCF model with a bull, base, and bear case to arrive at our weighted price target of $103.40, with an upside of 20% as of last market close of $86.12.
| | | | | |
| --- | --- | --- | --- | --- |
|   | Price Target | Probability | WPP | $103.40 (+20.0%) |
| Bull | $147.92 | 20% | Upside | +71.8% |
| Base | $98.28 | 60% | Downside | -28.2% |
| Bear | $74.25 | 20% | Reward/Risk | 2.5x |
Key Assumptions
 
Assumption 1
Assumption 2
Bull

Credit book sale with 20% discount

2016-2021 Revenue CAGR of 3.7%
Midpoint of synergies guidance from Zale acquisition integration

Base

Optimize credit book
Net charge-offs as a % of accounts receivables increase from 9.9% in 2016 to 15.4% in 2019, then tapers down to 2016 levels

2016-2021 Revenue CAGR of 3.0%

Midpoint of synergies guidance from Zale acquisition integration
Bear

Optimize credit book
Net charge-offs as a % of accounts receivables increase more than base case, including a one-time 20% charge-off of very low-quality receivables in 2019

2016-2021 Revenue CAGR of 1.0%
Only 75% of midpoint of synergies guidance from Zale acquisition integration
Assumption #1:
Credit book sale: CONN, an appliance retailer, has a large credit book similar to SIG except with much worse quality (lower average credit score and higher net charge-off rate). Was able to securitize ~75% of credit book three separate times over the last year, while keeping the remaining ~25% that were lower quality as equity. Thus, we assume that SIG will be able to sell its higher-quality credit book at a 20% discount, especially if SIG agrees to a partnership with a third-party creditor to handle all credit financing in SIG going forward
Optimize credit book: Net charge-offs as a % of accounts receivables increased from 9.3% in 2013 to 9.9% in 2016. Since we are nearing the end of the credit cycle, we conservatively assume a large increase in net charge-offs to 13.9% in 2019 (which is worse than CONN's rate of 13.5% in FY 2016 but lower than SIG's rate of 15.4% in FY 2010 during last year's credit cycle) for the base case, which then tapers down. For the bear case, we assume a one-time 20% net charge-off in 2019 to reflect if 20% of SIG's total credit book was so low in quality that it was virtually uncollectible
Assumption #2:
Global diamond retail revenue CAGR is 4% according to IBISWorld. SIG's historical CAGR for the last 10 years is 7.6%
SIG has already integrated ~30% of Zale synergies in 2016, actually surpassing its previous targets
Nearly all projected synergies are cost-based, not revenue-based, allowing for more accurate projections
All other assumptions:
Perpetuity growth rate of 2% for all cases
Hard Catalysts
Decision on credit book (over the next few months)
Q4/Annual call/Guidance (March 9, 2017)
Investment Risks
Kay's diamond swapping impact on brand and sales
Signet's exposure to oil-producing regions
Demand for diamonds outstripping supply
Luxury goods are most severely impacted in economic downturn
Credit book
FX risk