Stocks I Own: RINO, BWLD and GMCR and AFFX.  All are CANSLIM type stocks except AFFX, which was a speculative technical play on a breakout. 
STATUS

RINO On 10/7/09, Wednesday after the close reported filing for Shelf Offering.  Thursday opened gap down on heavy volume bounced a little then sold off hard then recovered on progressively lighter volume back up to the VWAP (volume weighted average price) and held above the rest of the day.  Basically what this boiled down to was a nice bounce off the 10 day moving average with a close in the upper 1/3 of the range - which is technically positive.  Friday RINO climbed back up to $23.60 and almost hit $24.  So RINO is still acting resilient with no sell signals in terms of CANSLIM rules that i can think of.  I'm planning on selling when it hits $25, as indicated in my StockTwits post comparing it to TZOO. $25 is the Fibonacci 200% extension line from the last base.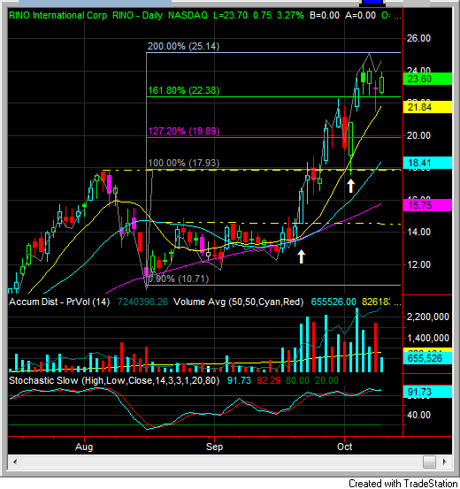 GMCR  Slight divergence in the RS line but certainly still worth holding for now. Volume as been below average for the most part and the price action has been up over the last week.  Not a thrilling breakout, but I don't see a reason to bail as of yet.
BWLD  Last two weeks saw a modest rebound from a flop that took it below the 50 day moving average on slightly elevated volume down near support at $38.19. RS is 54. I've decided to move on and am attempting to sell at breakeven at $41.50.