Shares of Pozen Inc. (POZN), a developer of novel pharmacologic agents primarily for pain and pain-related conditions, have been rising since the firm reported positive results from two Phase 3 clinical trials of PA32540, a coordinated-delivery tablet of immediate-release omeprazole and delayed release aspirin.
We wondered if shares would continue higher based on fundamentals and new upcoming catalysts and it now appears the markets not only appreciate these fundamental developments, but may actually realize that there is still value to be realized here.
Even as the overall markets have seen sessions with sizeable losses this past week, Pozen's shares have been showing strength. Technically, however, we may be getting ready for some healthy consolidation.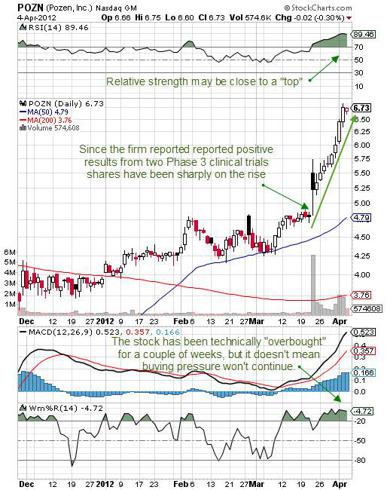 In January, when shares were trading near the $4 level, we told readers that Pozen's management team was extra focused and driven to perform well for its investors. We continue to believe this, particularly since the more Pozen's CEO is able to create shareholder value, the more he will personally ensure his own compensation and benefits as the firm's largest investor. If only every publicly traded company had that type of accountability set in place.
The Chapel Hill, North Carolina based firm said the newly release information from the studies is essential to progress their drug candidate's (PA32540) partnership discussions in the United States, and that it will allow them to continue to move forward with preparations for a third quarter NDA submission with the FDA.
John R. Plachetka, Pharm.D., the Company's Chairman, President and Chief Executive Officer responded to some of our questions regarding the key news developments.
His answers regarding the PA32540 Phase 3 results are compiled below:
What do you feel investors need to know now about this news from a POZEN perspective?
John R. Plachetka, President and CEO: These positive Phase 3 results for PA32540 are critical in moving forward with our preparations for a third quarter New Drug Application submission (NDA) as well as progressing our PA32540 partnership discussions. PA32540 is a component of our pipeline of cost-effective, integrated aspirin therapies that are designed to enable the full power of aspirin by reducing its gastrointestinal damage with the potential to benefit the millions of Americans who use aspirin for cardiovascular disease prevention.
What is the market potential for a therapy like PA32540?
John R. Plachetka, President and CEO: Our preliminary forecasts suggest a substantial market opportunity for PA32540. While the cardiovascular disease benefits of aspirin are well established, the use of aspirin is associated with risk of gastrointestinal bleeding in certain patients. Low-dose aspirin, even at doses of 75 mg, is associated with a significant risk for developing serious gastrointestinal complications such as bleeding.
· 25 percent discontinue or reduce their aspirin use due to gastrointestinal side effects
· Low-dose aspirin discontinuation leads to three times increased risk of potentially fatal cardiovascular event
· Serious ulcer complications are about two to four fold higher in patients taking daily aspirin
What's next for PA32540?
John R. Plachetka, President and CEO: These data will be included in the PA32540 NDA, which we plan to submit in the third quarter of this year. If approved, we expect PA32540 to launch in the United States in late 2013 or early 2014. The full Phase 3 data will be presented at a future medical meeting. In addition to the NDA filing and potential launch of PA32540, we also are focusing on securing the right strategic licensing partnership deal for PA32540 in the United States by the end of this year.
POZEN is focused on the following therapeutic areas that include: migraine, arthritis, cardiovascular, other therapeutic areas. The company's product portfolio includes: Treximet® (sumatriptan and naproxen sodium) for the acute treatment of migraine attacks, with or without aura, in adults; VIMOVO(NYSE:TM) (naproxen and esomeprazole magnesium) for the relief of signs and symptoms of osteoarthritis (NYSE:OA), rheumatoid arthritis (RA), and ankylosing spondylitis (AS) and to decrease the risk of developing gastric ulcers in patients at risk of developing NSAID associated gastric ulcers; and PA32540 for the secondary prevention of cardiovascular disease.