With this years summer Olympics, many of us watched athletes from all over the world compete for gold. In tennis the Brits followed Andy Murray take down No. 1 ranked Roger Federer. Sisters Serena and Venus Williams won a historic third doubles gold medal. Usain Bolt from Jamaica defend his title as the fastest man in the world. Michael Phelps in the 4 x 100-meter medley relay in London - possibly Michael Phelps very last race ever in his Olympics career - took the gold. This was the 27-year-old swimming legend 18th gold medal. An Olympic record they may never be broken.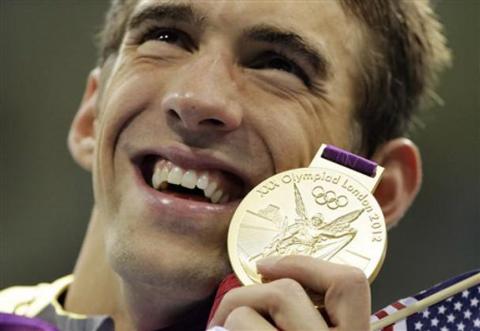 Michael Phelps
Much like Michael Phelps who has - 3.5 billion Google image search hits -, Apple Inc. (NASDAQ:AAPL), maker of the soon to be released Apple iPhone 5 -- 5 billion Google image search hits - has reached cult status. Day and night Apple stores are always bustling. People all over the world pull all-nighters to receive the newest whatever version iProduct. Apple product speculation is plastered all over the internet. Apple stock and market currents are sent out to thousands of registered emails. -And- Apple stock message boards are like an out of control drunken block party. There's more to Apples sex appeal than just these measurements
Both Apple stock and company products are exhibiting irrational exuberant behaviors. However, I do not think we have even come close to reaching Apple's pinnacle of exuberance. For that reason Apple stock upside momentum will continue. Worldwide Apple consumer brand fever could very well go into the next decade. How do I know that?
Image And Video
Let's be honest, there is clearly a reason why Michael Phelps has 3.5 billion image hits and 26k Google's (NASDAQ:GOOG) YouTube search hits. Women and Men, find Phelps incredible attractive - AND - he's the greatest Olympian ever. Teenage Girls plaster his image all over Facebook (NASDAQ:FB). People even go as far as making tribute video's of the Super Olympian.
In comparison Justin Beeber "the beeb's" only took in 609 million image search hits, and 880K YouTube search hits. Oddly -- iPhone 5, which isn't even released yet -- received over 6 billion Google search hits, and 150k YouTube search hits. Who would of thought a smart phone that can't sing or dance nor swim, could reach 150k video search hits?
iPhone 5
Below is the latest rumored specs, courtesy of iMore, comparing the new Apple iPhone 5 to the older iPhone 4S. iMore has also started that "rumor-has-it", stating the new iPhone will be released September 21, 2012.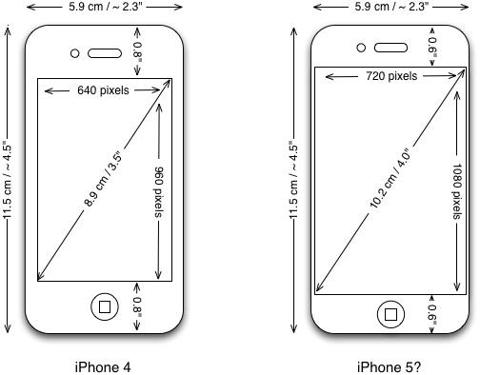 The iPhone 4S measures 76.65 mm long and 3.61 inches diagonally, the supposed iPhone 5 expands those dimensions; The front plate measures 90.25 mm long and 4.065 inches across. The Apple iPhone 5's width and the new height combined creates a resolution ratio of about 16:9. The heightened resolution allows for 1080p HD videos, TV shows and movies to be played in a beautiful wide screen format.
These new iPhone dimensions will vastly improve video/photo viewing and sharing. With the use of new iPhone 5 and Apple's video sharing apps, it will offer a necessary benefit allowing users to conveniently capture, edit and share videos on their mobile devices. As you can see below, the Photo & Video category has grown the most, by 89%, in minutes spent per active user.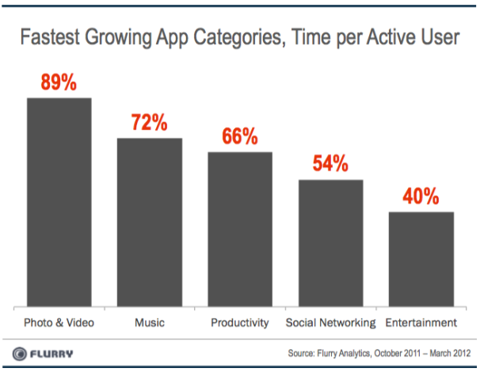 Facebook's Instagram, - available at Apple iTunes Store - is a photo-sharing service, also stands to benefit greatly with the expansion of the growing video/image mobile app market. Instagram allows users to give images different filters before posting them online.
One particular business, TD Ameritrade (NASDAQ:AMTD) will greatly benefit from the release of the iPhone 5. TD Ameritrade's SnapstockTM , a mobile stock trading application, uses a number of features usually found in modern-day smartphones to let you scan a product's bar code - tell you all about the company which makes that product - and then let you purchase that company's stock if you're so inclined. For investors this is a wonderful and much appreciated tool.
Another growing trend is the use of music on mobile apps. Spotify a music platform -- available at Apple iTunes Store -- Spotify is a music streaming service offering digitally restricted streaming of selected music from a range of major and independent record labels. Spotify also allows registered users to integrate their account with existing Facebook and Twitter accounts.
iPad mini
The rumors do not stop with the iPhone 5, Apple reportedly is planning the launch of other major products on the same day or time period including a newer, Apple iPad mini a new iPod nano, and a new iPod touch.
According to the rumored leak, courtesy of Twitters Think iOS's, Apple iPad-4 Mini will be 7.87 inches tall and 5.3 inches wide, the "mini" is significantly smaller than the current-generation iPad model which measures -- 9.5 inches by 7.31 inches -- And while the third-generation iPad is 9.3 millimeters thick, the iPad "mini" will supposedly feature a very thin design that only measures 7.4 millimeters in thickness. These new iPad mini dimensions will improve carry and traveling conveniences for video/gaming/photo viewing.
Also, it is important to point out, Apple's rumored iPad Mini would be a well received option for businesses. Mobile apps such as email, reviewing and editing documents, video conferencing, task lists and social media work just as well on a 7-inch screen as on the 9.7-inch iPad screen.
Apple iOS
A comparison was made between mobile app and Internet video consumption. Flurry combined data sets with publicly available comScore Video Metrix data. The chart below shows, in first quarter of 2012 online video consumption dropped by 10%, mobile app video consumption increased by 52%. This is significantly important because Apple iOS and Android are gaining share on Google's video dominance.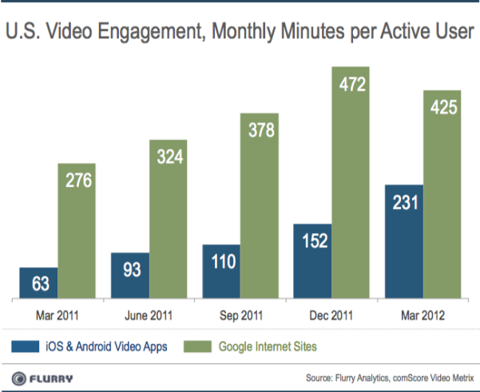 Zynga (NASDAQ:ZNGA), an iOS game maker, will surely benefit from the newer Apple iPad mini. Zynga benefits from increasing video engagement through its gaming applications. The company has also been on a mission of late to rapidly expand its mobile gaming business, the company's looking to release more games and better engage with its audience.
Apple iCloud
Apple's iCloud lets users to store and access music, movies and music. Utilizing iTunes, Apple has developed iTunes Match and iCloud so you can access your music from all your devices and listen to your entire library, wherever you are. The music you buy from the iTunes Store automatically appears on all your devices. And for music you haven't purchased from iTunes, iTunes Match is the perfect solution. iTunes Match is built right into iTunes on your computer and the Music app on your iOS devices. It lets you store your entire collection in iCloud, even music you've imported from CDs or purchased somewhere other than iTunes. When it's in iCloud, it's available on all your devices. So you can enjoy all your music anywhere, anytime - on your iPhone, iPad, iPod touch, Mac, PC, or Apple TV.
Apple iMatch cost 24.99 a year to subscribe. Apple iCloud is managed and secured by Apple Care. Apple Care is a network data center located in North Carolina.
Apple Twitter
Apple does have its disadvantage. For one, Apple lacks a social media outlet. Recently Apple CEO Timothy D. Cook stated this message to shareholders;
"Apple doesn't have to own a social network," "But does Apple need to be social? Yes."
The NY Times reported Apple has talked with Twitter in recent months about making a strategic investment. Apple has been considering investment of more than 100 millions of dollars in Twitter. Twitter is estimated to be worth more than $10 billion, up from an $8.4 billion valuation last year. The talks of a an investment in a strategic Apple-Twitter relationship is a sign that the two may form a strong pack amid intensifying competition from the Google-Facebook.
Apple Dividend
At last we have another generation of Apple products to watch every quarter, the new Apple iDivvy. Not only is Apple about to release new products, it's set to pay it's first $2.65-share dividend. Apple hasn't paid a dividend since 1995. And just to think of it, around that time Apple was bordering a collapse. Now Apple's decision to reboot the dividend, opens up the stock to a whole other class of investors.
Since the quarterly report a few weeks ago, expectations for the dividend and a -- $10 billion stock buyback -- have helped drive gains in the stock's share price. The dividend will cost roughly $10.60 billion the first year. Exxon Mobil Corp., (XOM) the world's second largest company by market capitalization -- currently $404 billion -- pays roughly $9 billion in dividends annually. Apple generated more than $31 billion in cash in the fiscal year that ended in September, 2011. Analysts expect Apple to add $70 billion to $85 billion this year.
Apple Inc. board of directors officially declared a $2.65 dividend on July 24, 2012. The dividend is payable on August 16, 2012, to stockholders of record as of the close of business on August 13, 2012. The ex-dividend date is Thursday, August 09, 2012.
Conclusion
For all of these reasons mentioned, is why Apple stock is the investment gold standard. Much like Michael Phelps Olympic greatness, the late great Steve Jobs Apple co-founder Steve Wozniak put there heart and soul into something that would forever make history. Apple Inc. will continue to develop new products that will reshape our lives.
Apple Inc. stock potential is incredible. I am a firm believer the stock could reach a price north of $1,000 a share before the end of 2013. --And -- I'm not the only one who believes a $1,000 Apple share price is unimaginable. Brian J. White, analyst at Topeka Captial Markets, has a price target of 1,111 before the end of 2013.