That is what we wrote on our May 24, 2016 analysis of Netflix.
"Netflix price trendline is above $100 and as always price is behind volume and momentum. If we see a break above the trendline at the OBV and MOM then we can expect (NASDAQ:NFLX) to test the trendline and break above."
Daily Chart - May 24, 2016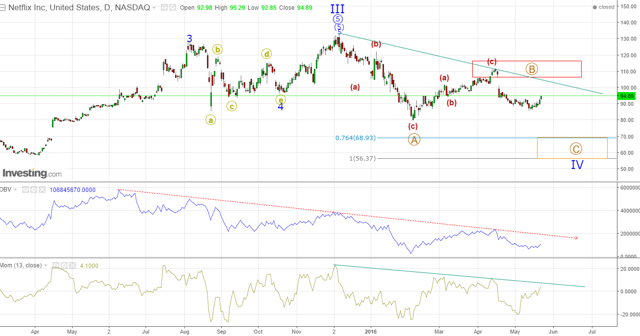 Even though price attempted to break the trendline, Netflix topped exactly at $104.00 with both indicators, OBV and MOM failing to break their respective trend lines. What followed afterwards is no mystery as the stock hit a lower low of $84.81 compared to the previously established low of May 12, 2016. That was the indication we were expecting to confirm us that is on a wave IV.
In this case, wave IV has two main possibilities to unfold.
Daily Chart, 30-06-2016 (Scenario 1)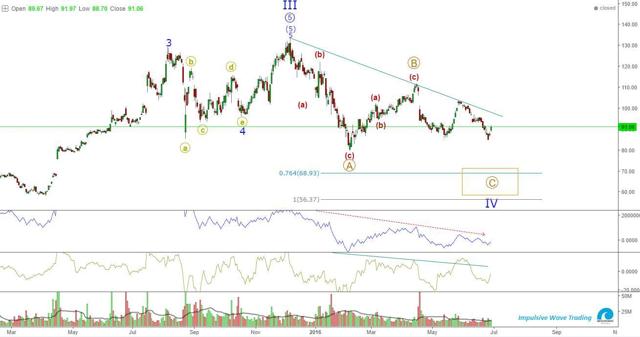 First Scenario: its wave C may continue down to $70.00 level. The issue with this scenario is that the wave count does not seem very likely. The down move from $104.00 to $84.81 was of an a-b-c form, a pattern which makes it impossible for that move to be considered a wave 3 of bigger wave . In addition the entire move from yellow B to previous week's low was quite messy to be considered an impulsive move, thus this leads us to the second and the most likely scenario.
Daily Chart, 30-06-2016 (Scenario 2)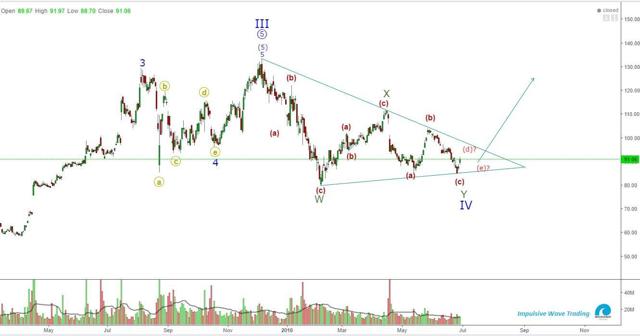 There is a very high probability that this wave IV has taken a W-X-Y pattern. In that case, considering the complexity of the move, wave Y may try to play on a consolidation mode towards the pointer of the triangle. Upon completion of this complex Y, NFLX should be good to start a new chapter aiming for its highest levels again.
Short Term Invalidation Level:
If is to reach $104.00 and $106.00 again according to our scenario 2, it should not breach below $90.00.
Disclosure: I/we have no positions in any stocks mentioned, and no plans to initiate any positions within the next 72 hours.
I wrote this article myself, and it expresses my own opinions. I am not receiving compensation for it. I have no business relationship with any company whose stock is mentioned in this article.