Intuitive Surgical (NASDAQ:ISRG) is one of the best performing stocks for 2011.
It is up 80% year-to-date as of 12/29.

The following weekly chart shows it launched the latest up move the
week of 8/15 and has been able to push through two resistance levels
and made a new high today (12/29) at a close of 466.03. From the
8/15 weekly close of $329.49 to today's close of $466.03, this is a
parabolic move of 41% in four months. For the same period, the market
as represented by S&P 500 is up only 12%.

The chart also shows IRSG's strong relative strength breakout (the
lower pane) since the week of 1/10 this year. It actually has been a
strong stock since the beginning of the year and remained so even
after the August market selloff.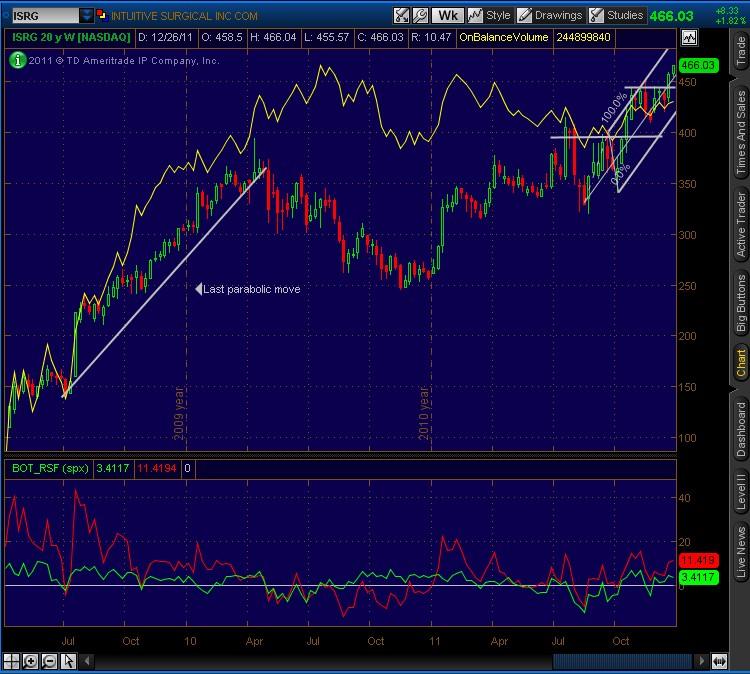 The last time ISRG made a large parabolic move was between the
week of 7/6/09 and the week of 4/19/2010 (the white line on the left
of the chart). That was an increase of 155% from 7/6/09 weekly
close !

Would history repeat itself for ISRG ? 

One major difference between the 09 move and this year's move
from 8/15 is the volume (the yellow on balance volume indicator).
This time the volume is not there and is not as impressive as the
09 move.

If you are not already long ISRG, I believe the prudent thing to do is
to pay close attention to the volume actions, especially when it is
approaching its earnings release date 1/19/2012 (notice I did not
confirm this date personally and therefore it may change).

Disclosure: I hold ISRG bullish options positions and may initiate new
bullish positions in the next 72 hours.