All three US market averages closed the week ending
2/3 with big gains. Dow Jones index even reached the
highest close since May 2008. In such strong market
environments, however, one still can find weak stocks.
BBY was down 1.81% on Friday, down 5.24% for the
week. The Dow Jones Specialty Retailers index which
includes BBY was up 0.26%.
The following weekly chart shows BBY's strength has
been weaker than the broader market S&P 500
index since the week of 12/12/2011. This week the
strength took a beating and turned down again.
The top pane also shows since 12/6/2010 the trend
has been down (the red bars) most of the time. In
August 2011, BBY became oversold (long white bars)
and bounced back from a support around $22 area.
It appears $26 and $28 areas are two key resistance
areas. BBY also appears to respect a downward
channel that started the week of 12/12/2011.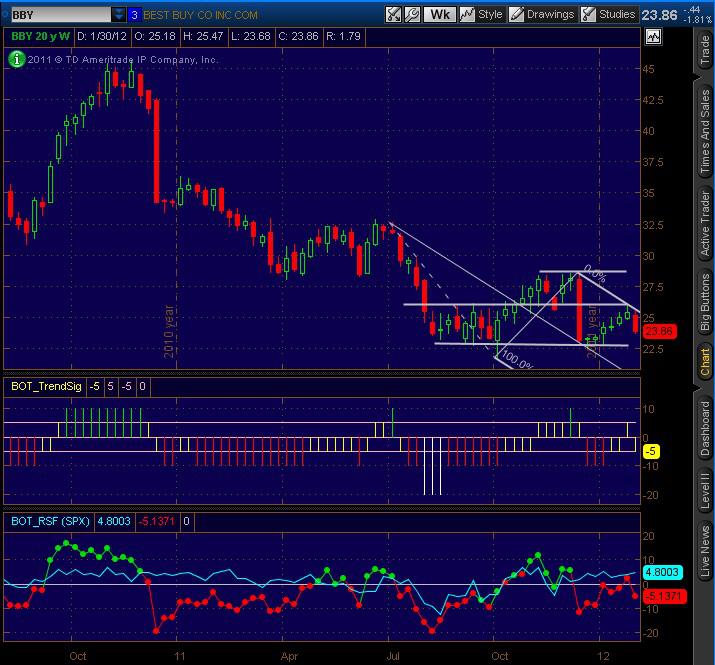 Technically speaking BBY is a weak stock. In the
generally bullish market tone, it appears no one
is interested in picking up BBY as a bargain this
week. This is clearly shown on daily chart below since
the gap that was created on Tuesday 1/31 has not
been filled and Wednesday and Thursday's recovery
has not been able to close the stock above Tuesday's
high.
Baring any external news events, BBY's pice actions
suggest that the most likely path for BBY is down or
flat at best.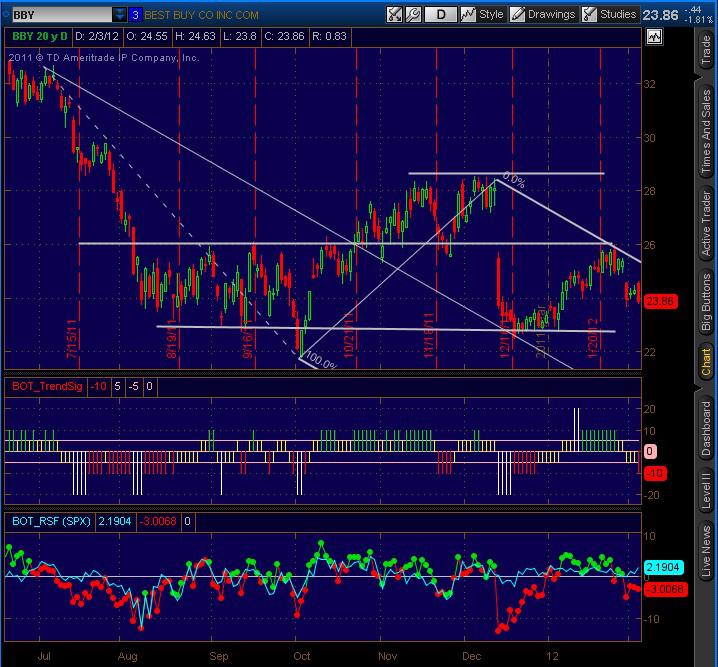 Disclosure: I have no positions in any stocks mentioned, but may initiate a short position in BBY over the next 72 hours.