I wrote about BIDU's intraday action and signs of weakness
yesterday after it came out with outlook and earnings that
were not so impressive. BIDU's stock continued to suffer today
with a big loss of 4.6% on heavy and above average volume.
So would BIDU continue to break down ?
The following daily chart shows BIDU at the bottom of
a rising channel, If it does not bounce back, it could follow
the red downtrend channel. Daily critical support and
resistance are: $136, $130 and $119 areas. BIDU closed
at $130.64, so it is stting on a critical support now.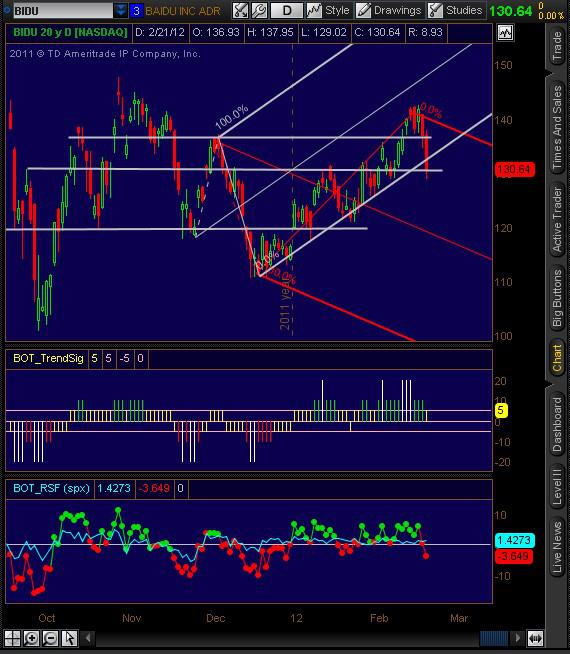 Our trend indicator on the first pane shows BIDU has
not reversed its trend yet, as indicated by an up yellow
bar. And obviously it has been underperforming the
market (red dots) since yesterday.
On the following intraday 1-hour chart, BIDU has reached
oversold (white down bars on first pane) state and
went below the downtrend channel drawn yesterday
and is near the $130 support area.
The relative strength (the red dots) continues to go down.
However, there were attempts to bounce back during
the last three hours with three rising red dots. Another
encourging sign is the last hour it closed above the
middle of the bar.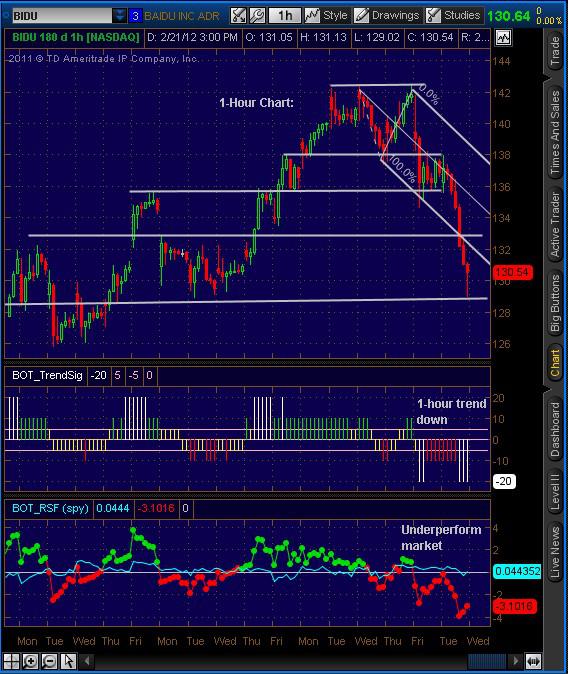 The following price-volume action chart shows heavy
and above average volume during the last three hours.
The last hour's price/volume indicator (red dots) went
down a little bit, signaling the possibility of a turning
point. This is confirmed by the last hour's close above
the middle of the bar.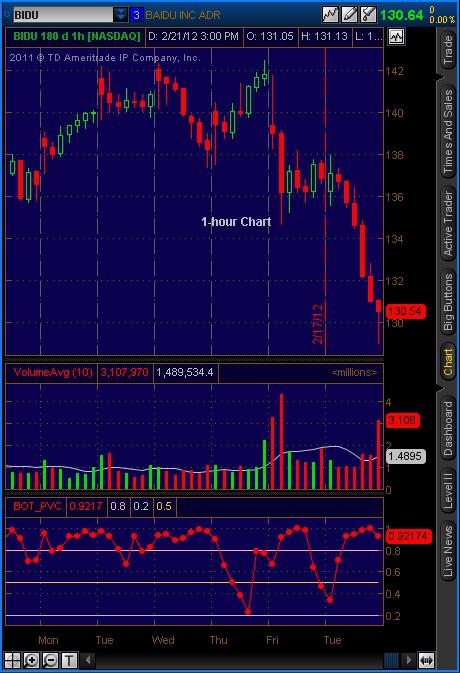 In summary, on an intraday basis, it appears BIDU
shows signs of attempting to bounce back. On a daily
basis, it has not really reversed the up trend, although
it is sitting at a critical support level.
Disclosure: I am short BIDU.