AAPL's stock price went above $600 land mark twice (3/15 and today 3/19) in recent days and closed at $601.1 today. What a historical day for AAPL !
The following daily chart shows AAPL finanlly made its way to
reach the upper channle line of the yellow channel I first discussed
here on 2/9. Now there are two possible paths for AAPL to
continue to move up: first, fall back toward the middle yellow
channel line and start another move up from there, or follow the new smaller pink uptrending channel. However, I must point out I am less confident for APPL to follow the pink channel, mainly due to its small base.
And of course one should keep an eye on the exit and watch
for signs of bears pulling the "Apple" down from the sky high
"tree". Never assume AAPL can not fall ...
Be nimble, objective, quantify your views/arguments, let the
emotionless charts tell you what to do, and manage your
risks ...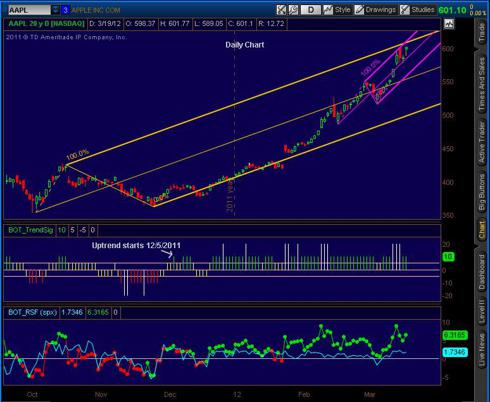 Disclosure: I am long AAPL.