Today we provide a snapshot of the demographic landscape of Vietnam, which looks in better shape demographically than many of it's emerging economic partners. Using a general 40-year consumer spending cycle demand in Vietnam should remain robust until 2029, suggesting that potential economic surprises should be to the upside.
Van Eck Global launched its new Market Vector's Vietnam Index ETF on Aug. 14, 2009. The index underlying VNM is made up of 28 companies, and is weighted most heavily towards financials (36.7%), energy (19.1%), and materials (12.3%). The Vietnam index ETF trades on a P/E ratio of about 20.3 versus the emerging market P/E of about 19.0 (China's index P/E is about 25).
To qualify for the Index ETF, companies must generate at least 50 percent of their revenues from Vietnam or hold a dominant position in the Vietnamese market. Sixty-eight percent of the index is composed of locally listed companies, with the other 32 percent being made up of companies from Singapore (7.5%), United Kingdom (6.0%), Malaysia (5.1%), India (4.7%), Canada (4.5%), and others. 
We believe that going into 2010 emerging market performance will be more mixed, much as the technology sector was from 2002 to 2008, when the quality companies (Apple, Research in Motion, and Amazon) recovered and rose to the surface, while the laggards (Microsoft, Intel and Dell) lagged. Therefore, on balance we are looking for buying opportunities in the smaller emerging markets rather than the "over owned" BRIC names.
In terms of Vietnam specifically, we like its long term demographic potential, but will wait on the sidelines for now and may look to add a position to our model Beacon Master Portfolio once the current correction has run its course. SEAF Blue Water's Keirn O'Connor summarized the country's risks and rewards wonderfully in his interview with Don Dion:
Although the Vietnamese economy's growth is very attractive, anyone who is investing in the market should realize that economic development is still in its early stages. This is a positive, because many changes will naturally come that will make the economy more efficient in coming years. However, there is a lack of transparency in many aspects of the economy. Company financial reports are often unreliable, corporate governance is often weak and the legal framework is often unclear. This introduces an elevated level of risk into any investment.
Economic Background: 113th in Forbes 2009 Best Countries for Business:
Vietnam is a densely-populated developing country that in the last 30 years has had to recover from the ravages of war, the loss of financial support from the old Soviet Bloc, and the rigidities of a centrally-planned economy. Since 2001, Vietnamese authorities have reaffirmed their commitment to economic liberalization and international integration. They have moved to implement the structural reforms needed to modernize the economy and to produce more competitive export-driven industries. Vietnam's membership in the ASEAN Free Trade Area (AFTA) and entry into force of the US-Vietnam Bilateral Trade Agreement in December 2001 have led to even more rapid changes in Vietnam's trade and economic regime. Vietnam's exports to the US increased 900% from 2001 to 2007. Vietnam joined the WTO in January 2007 following over a decade long negotiation process. WTO membership has provided Vietnam an anchor to the global market and reinforced the domestic economic reform process.
Among other benefits, accession allows Vietnam to take advantage of the phase-out of the Agreement on Textiles and Clothing, which eliminated quotas on textiles and clothing for WTO partners on 1 January 2005. Agriculture's share of economic output has continued to shrink from about 25% in 2000 to less than 20% in 2008. Deep poverty has declined significantly and is now smaller than that of China, India, and the Philippines. Vietnam is working to create jobs to meet the challenge of a labor force that is growing by more than one-and-a-half million people every year. The global financial crisis, however, will constrain Vietnam's ability to create jobs and further reduce poverty. As global growth sharply drops in 2009, Vietnam's export-oriented economy - exports were 68% of GDP in 2007 - will suffer from lower exports, higher unemployment and corporate bankruptcies, and decreased foreign investment. Real GDP growth for 2009 could fall between 4% and 5%. Inflation, which reached nearly 25% in 2008, will likely moderate to single digits in 2009. 
Demographic Landscape:
Vietnam Population
2009 Population: 89,693,700
2025 Estimated Population: 106,357,000 (Growth 18.5%)
Vietnam Generations
Generation X-1965 to 1984: 3,597,500
Generation Y-1985 to 2004: 3,817,600 (Growth 6.1%)
Generation Z-2005 to 2024 (Est.): 3,206,000 (Decline 16.0%)
Generation Blend-2025 to 2044 (Est.): 2,869,000 (Decline 10.3%)
Population over 65
Next year 5.6 percent of the Vietnam's population will be over 65 years of age, and this is set to rise to 16.7 percent by 2044. In comparison Japan, with the highest 65-years and older ratio in the developed world, is 22.5 percent rising to 36.4 percent by 2044.
Vietnam's birth numbers peaked in 1989 at 2,043,640 versus a 2010 estimate of 1,647,140 (a fall of 19.4%). The number of children per women has fallen from 7.3 in 1965 to a current 2.1, and is forecast to fall to 1.9, where it is expected to stay until 2044.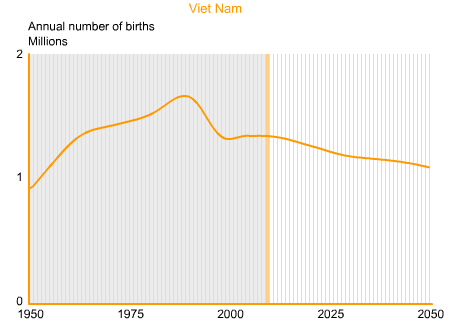 2025 Vietnam Population Pyramid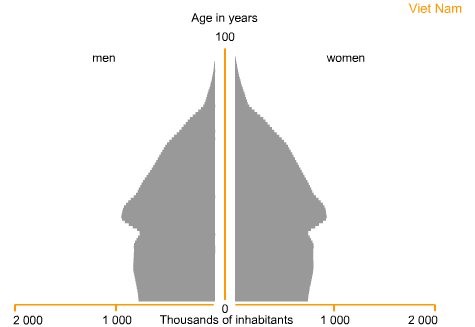 Source: UN 2007 and Insitut National d'Etudes Demographiques
Market Vectors Vietnam ETF (VNM) relative to the S&P Global ETF (NYSEARCA:IOO)
Index/Sector

Vietnam

S&P Global

Diff.

 

 

 

 

Financials

36.7

18.2

18.5

Energy

19.1

14.7

4.4

Consumer Staples

10.8

13.8

-3.0

Technology

0

13.4

-13.4

Healthcare

0

12.0

-12.0

Consumer Discretionary

0

7.3

-7.3

Industrials

12.2

7.4

4.8

Materials

12.3

5.1

7.2

Telecoms

0

5.0

-5.0

Utilities

Other

0

8.9

3.1

0

-3.1

-8.9
Disclosure: No Positions.