After plunging in Q4 2018, oil prices have roared back in 2019, catching the attention of many investors and traders. The Trump administration has recently made headlines in oil markets. On April 22, it said it would end waivers allowing countries to import Iranian oil. This was followed by Trump's tweet that he had engagements with Saudi Arabia and OPEC to discuss lowering oil prices. With oil in the spotlight and an innovative ETF landscape, commodity investors may want to consider different options to gain oil exposure.
Like many other commodity funds, most oil funds issue a Schedule K-1 tax form, which can add delays and complexities to tax time. But there is a fund strategy to gain oil exposure without issuing a K-1. Let's look under the hood of the ProShares K‑1 Free Crude Oil Strategy ETF (OILK).
What is the investment objective of OILK?
OILK seeks to provide total return through actively managed exposure to the West Texas Intermediate crude oil futures market.
Why doesn't OILK issue a Schedule K-1?
OILK is an investment company registered under the Investment Company Act of 1940, unlike other crude oil ETFs, which are taxed as commodities partnerships. Like other 1940 Act funds, OILK provides shareholder tax reporting on a Form 1099, not Schedule K-1 issued by partnerships.
The United States tax code requires partnerships to utilize pass-through taxation, which shifts the income tax liability from the entity earning the income to those who have a beneficial interest in it. The Schedule K-1 is the form that reports the amounts that are passed through to each party that has an interest in the entity. Investors in other crude oil funds are limited partners in those funds and have to wait to receive a Schedule K-1, which tends to arrive well after a Form 1099, before they can file their taxes. Investors and their advisors may also face additional complexities associated with a Schedule K-1.
What does OILK invest in?
OILK invests in the ProShares Cayman Crude Oil Strategy Portfolio, a wholly owned subsidiary of the fund, which invests directly in West Texas Intermediate ("WTI") crude oil futures. This gives the fund exposure to crude oil futures, although it generally does not invest directly in WTI crude oil futures contracts.
OILK does not invest in, or seek exposure to, the current "spot" or cash price of physical crude oil. A spot price is the price at which a physical commodity could be traded. In the case of crude oil, the spot price represents the price of oil at port, which is not a practical investment for a fund to make. A futures price is the price of a commodity for delivery on a future date. It is generally calculated based on its current spot price, time until delivery, the risk-free interest rate, and storage costs at a future date. Crude oil futures contracts typically perform very differently from the spot price of crude oil.
How is OILK's investment strategy executed?
OILK's strategy seeks to outperform certain other index-based crude oil strategies by actively managing the rolling of WTI crude oil futures contracts. Rolling means selling a futures contract as it nears its expiration date and replacing it with a new one that has a later expiration date. The fund seeks to remain fully exposed to WTI crude oil futures by selecting a futures contract from the three nearest expiration dates (known as the front-, second- and third-month contracts) based on ProShares Advisors' analysis of the liquidity and cost of establishing and maintaining such positions.
When does the roll occur and how do I know the futures contract the fund is rolling into?
As disclosed in the SAI, portfolio management will evaluate this strategy on or about the fifth business day of each month and may roll OILK's position from the fifth through ninth business day into the contract month, as determined by the fund's active investment strategy. Please refer to ProShares.com for any updates on the futures roll.
Comparing OILK to the United States Oil Fund (USO)
USO is the largest ETF ($1.5 billion) offering exposure to crude oil. Its investment objective is for daily changes in percentage terms of the shares' net asset value ("NAV") to reflect the daily changes in percentage terms of the spot price of light, sweet crude oil, as measured by the changes the price of the futures contract on light, sweet crude oil traded on the NYMEX (less USO's expenses).
USO's benchmark is the near month crude oil futures contract traded on the NYMEX. If the near month futures contract is within two weeks of expiration, the benchmark will be the next month contract to expire. The crude oil contract is WTI light, sweet crude oil delivered to Cushing, Oklahoma. USO invests primarily in listed crude oil futures contracts and other oil-related futures contracts and may invest in forwards and swap contracts. These investments are collateralized by cash, cash equivalents, and US government obligations with remaining maturities of two year or less.
Since its inception in September 2016, OILK has closely tracked the performance of USO. However, USO issues a K-1 tax form.
Trading activity in OILK has picked up in the past year. While there have been a host of factors contributing to the swings in oil prices, a big catalyst has been the Iran sanctions stemming from U.S. withdrawal from the Iran nuclear deal in May 2018. As a part of the withdrawal from the deal, the U.S. sought to increase economic pressure on Iran by encouraging countries to cut off oil imports from the country. The Trump administration granted oil sanction waivers to select countries, including China, India, Japan, South Korea and Turkey, to avoid shocking global oil markets. However, on April 22 the administration announced those countries would no longer be exempt from U.S. sanctions if they continued to import oil from Iran after the waivers end in early May. The geopolitical implications from this announcement could be significant, and investors will likely have a close eye on their oil-related investments.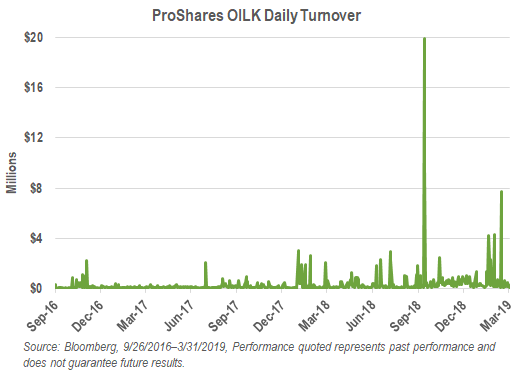 Conclusion
Investing in oil is becoming more interesting as prices head upwards in 2019. For many commodity investors who don't want to deal with a Schedule K-1 come tax time, ProShares OILK offers investors another way to get crude oil exposure in a liquid transparent and cost-effective ETF wrapper.
Investment comparisons are for illustrative purposes only and not meant to be all-inclusive. To better understand the similarities and differences between investments, including investment objectives, risks, fees, and expenses, it is important to read the products' offering documents.
A Note About Risk
Investing involves risk, including the possible loss of principal. ProShares ETFs are generally non-diversified and each entails certain risks, including risks associated with the use of derivatives (swap agreements, futures contracts and similar instruments), leverage and market price variance, all of which can increase volatility and decrease performance. Investing in the energy industry is prone to significant volatility resulting from dramatic changes in commodities prices. There are additional risks related to large institutional purchases or sales, changes in exchange rates, government regulation, world events, economic and political conditions in the countries where energy companies are located or do business, and risks for environmental damage claims. Certain derivative instruments will subject the fund to counterparty risk and credit risk, which could result in significant losses for the fund. Please see their summary and full prospectuses for a more complete description of risks.
OILK seeks to provide total return through actively managed exposure to the West Texas Intermediate ("WTI") crude oil futures markets. The fund does not invest in nor seek exposure to the current "spot" or cash price of physical crude oil. The fund's strategy seeks to outperform certain index-based strategies by actively managing the rolling of WTI crude oil futures contracts to (NYSE:A) mitigate the negative impact of contango, or (NYSE:B) benefit from the backwardation present in the WTI crude oil futures markets, but there can be no guarantee that it will be successful in doing so. The fund seeks to remain fully exposed to WTI crude oil futures, even during adverse market conditions. As such, the fund should be expected to decrease in value when WTI crude oil futures markets deteriorate. During adverse conditions, the fund seeks to lose less than index-based strategies that formulaically roll contracts. However, there can be no assurance that the fund will outperform index-based or other actively managed strategies that invest in WTI crude oil futures markets. Active management may also increase transaction costs. Investors should actively manage and monitor their investments. This ETF may not be suitable for all investors.
Carefully consider the investment objectives, risks, charges and expenses of ProShares before investing. This and other information can be found in their summary and full prospectuses. Read them carefully before investing. There is no guarantee any ProShares ETF will achieve its investment objective. Shares of any ETF are generally bought and sold at market price (not NAV) and are not individually redeemed from the fund. Brokerage commissions will reduce returns. ProShares are distributed by SEI Investments Distribution Co., which is not affiliated with the funds' advisor or sponsor.
Disclosure: I/we have no positions in any stocks mentioned, and no plans to initiate any positions within the next 72 hours.
Additional disclosure: Leks Gerlak has been an Investment Strategist with ProShares since 2015. His responsibilities include portfolio analysis, education, product research and development, and the presentation of investment strategies using the company's leveraged and inverse (tactical) ETFs. This information is not meant to be investment advice.