Clark's Gate Timing System ©
Wednesday 1 July 2009

We looked at underlying momentum yesterday.  We'll look at it a bit again today. 

Our M5 indicator is our best indicator, and is a very useful long-term momentum indicator.  Today we show it with its 40 day moving average.  Note how the momentum indicator is the leader in both a rally and a decline.  The momentum indicator moves before the price moves -- so it tends to be a leading indicator.
Home Depot (NYSE:HD) is our first chart -- and this chart shows pretty clearly how these two indicators work together.  The current configuration makes us negative on the stock in the near future.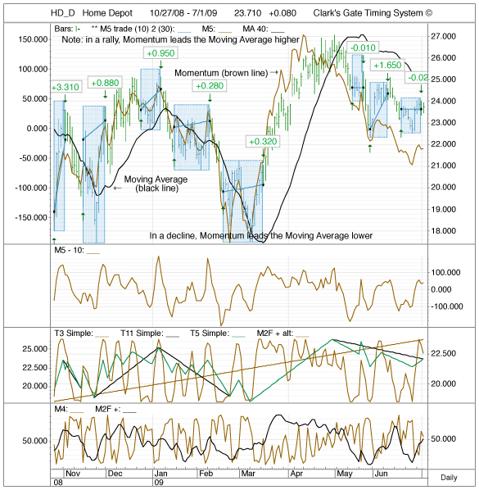 Inverse ETFs that profit when stocks and indexes and commodities decline have been under pressure for the past three months, as the market has rallied.  The short ETFs are showing positive momentum now, indicating the market is turning against this rally.  EUM, Short Emerging Markets, has rebounding momentum, finally.  DUG, short Oil and Gas ETF, is also reversing.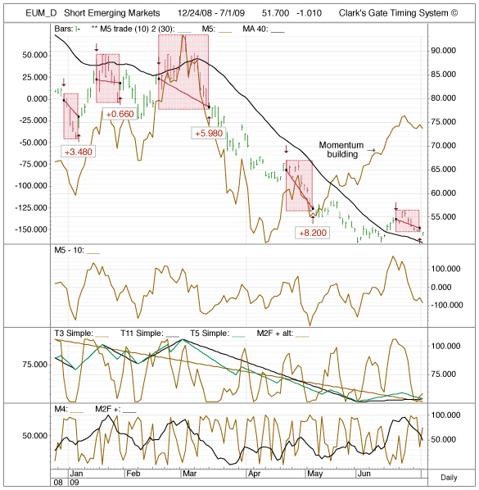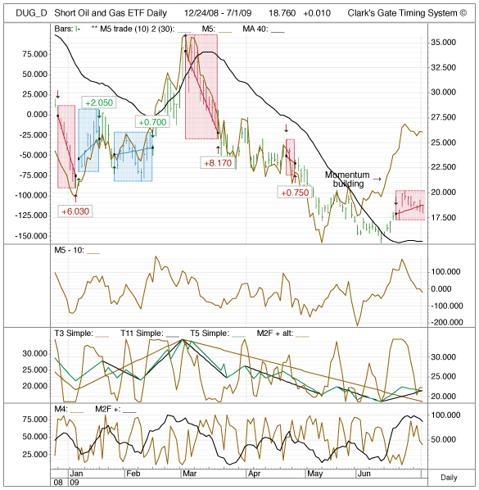 These reversals are forming -- they are not in place yet.  But investors should be preparing for a reversal in the markets.
Our Seeking Alpha portfolio has some currenty trades today.  We closed a flaccid USDollar/Vietnamese Dong trade with a small loss.  It looks like the Japanese Yen is primed for a positive move.  We are going long the Yen vs. the Swiss Franc; and we are short the US Dollar vs. the Yen.
Our Seeking Alpha portfolio is up 2.2%, with our first trade being on 19 June 2009.
Our CGTS portfolio, with first trade on 23 March 2009, is up 48.72%.  We took profits in Merkel, MKL, today (up 4.39% in 9 trading days); and we took profits in Ford, F, (up 6.34% in 7 days).  We have added a link for our CGTS Portfolio below.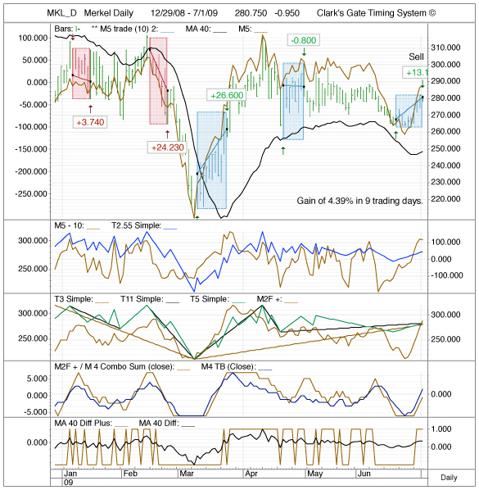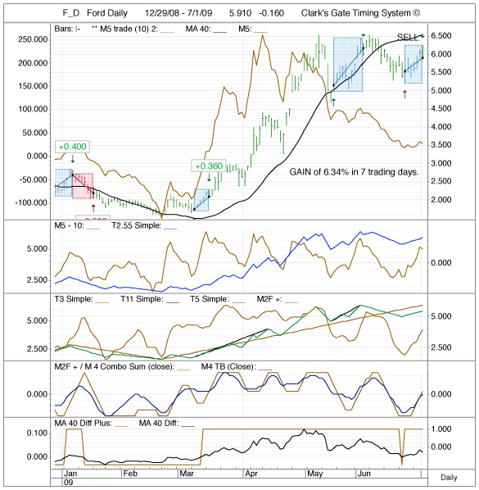 More information on this system can be found at

home.mindspring.com/~mclark7/CGTS09.htm

Portfolio of current 'Seeking Alpha" trades at

home.mindspring.com/~mclark7/seekingalphaportfolio.htm

Portfolio of CGTS Trades for 09 can be found at:

home.mindspring.com/~mclark7/cgtsportfolio09.htm



MJ Clark
Clark's Gate Timing System
Hanoi, Vietnam
84 4 221 92210