Clark's Gate Timing System
Thursday 2 July 2009

Is this the end of the rally?  The charts we've been looking at over the last few days seem to indicate it is.  We are going to look at the momentum of some major players (financial, tech, etc.) to see where they are heading.
The financials look like they are just about played out.  The credit card problem is now coming in to focus as potentially the next strike against the economy (along with commercial mortgage collapse, the re-setting of residential junk mortgages, and the coming collapse of the insurance industry...am I missing any other commercial death scenarios?).
The charts of both Mastercard (NYSE:MA) and American Express (NYSE:AXP) show a pretty astornishing level of lost momentum.  Lost momentum is almost always an indicator of a coming price correction.  MA has also broken most recent support AND failed to take out most recent resistance.  AXP has just broken support.
IBM, the old bellweather, has held up pretty well over the last few months; but its lost momentum rather dramatically as of late and just took out an important support level.  Nike, another kind of consumer bellweather, also shows a major loss of momentum and is currently trading right at support.  I think this support will break, given the momentum picture.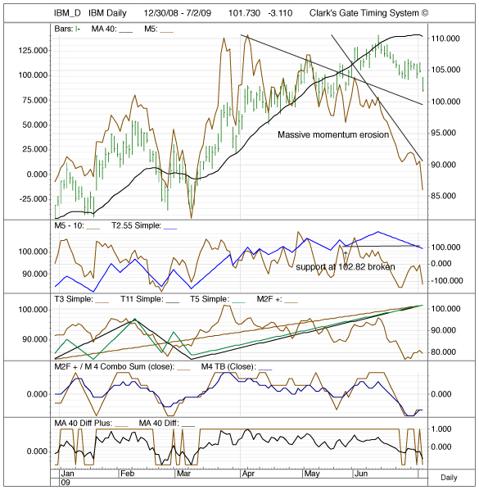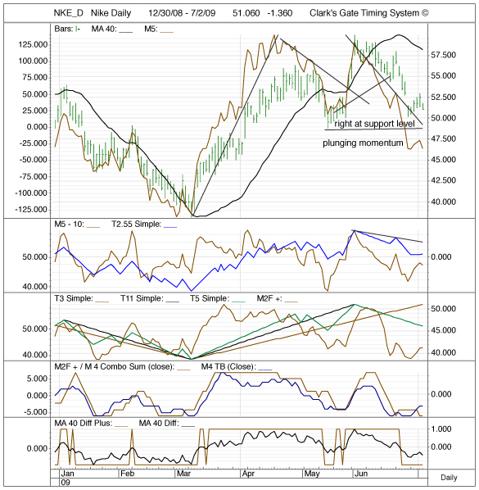 The U.S. Dollar, on the other hand, as portrayed in UPP, the Bullish U.S. Dollar ETF, seems to be stabilized, relative to momentum, and looks to be turning up.  A rally in the dollar, of late, has been negative for global stock indexes -- and negative for commodities.  The S&P 500 Index (Pending:GSPC) shows a very clear rounding top of momentum.  This index shows currently a lack of buyers; and it seems certain to head lower.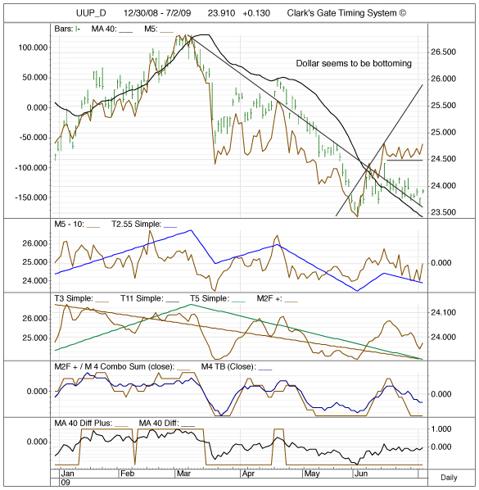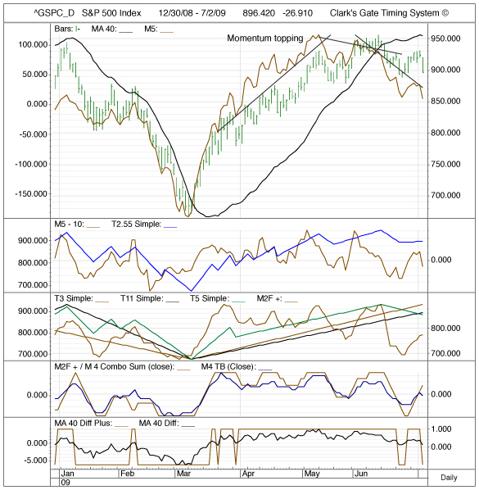 A couple more consumer stocks are also showing lagging momentum: Starbucks (NASDAQ:SBUX) has completed its rally and looks certain to test lows of March 2009.  It has broken support and failed to break most recent resistance, which both have bearish implications.  Haliburton (NYSE:HAL), President Bush's old friends, looks as bad as Starbucks, or even worse -- this stock seems heading back to March lows as well.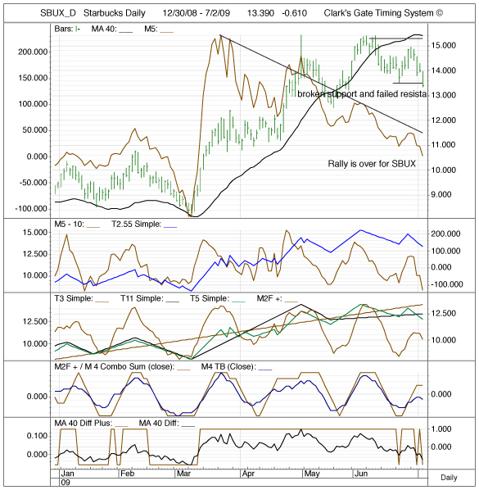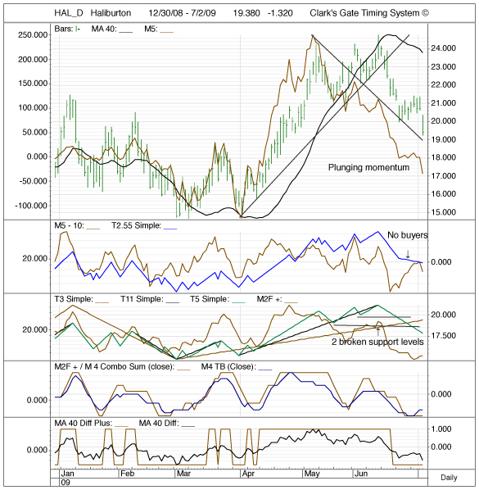 Not all the stocks in our database look so feeble.  But I'd say 70-80% do.  (For those who are interested GE and Berkshire Hathaway are both going lower, as are Banco Brandesco and Caterpillar.  Home Depot is toast.  Goldman-Sachs and Harley Davidson are also heading lower.  Amgen and EMC seem pretty stable in terms of momentum.) This makes me think we are at the end of the rally.  How far we will sink will depend upon how much the economy deteriorates in the coming month and how much more money the Obama administration (and the midget, Ben Bernanke) are willing to give to bankers to throw at the stock market.  A test of March lows seem inevitable.  This rally, in my mind, has been nothing more than a professionals' rally, with investment houses and banks (and hedge funds) using borrowed or bailout money to try to re-inflate the stock bubble as one last attempt to deny reality, that the Roaring Nineties and the Soaring Bubble Days are over -- the free lunch is gone -- and any economic headway now will come the old fashioned, hard way...with blood, sweat and tears.
Some ways these charts are reminiscent of the charts before the collapse of the stock markets globally last year.  So grab your hat and prayerbook.
Today we closed long positions in the Nikkei with a fractional loss (.6%) and in the Korean Index with a gain of 1.6%.  No new trades for the weekend.
More information on this system can be

home.mindspring.com/~mclark7/CGTS09.htm

Portfolio of current 'Seeking Alpha" trades at

home.mindspring.com/~mclark7/seekingalphaportfolio.htm

Portfolio of CGTS Trades for 09 can be found at:

home.mindspring.com/~mclark7/cgtsportfolio09.htm



MJ Clark
Clark's Gate Timing System
Hanoi, Vietnam
84 4 221 92210


Disclosure: no current positions in any issues mentioned in this article.