IS IT TIME TO SELL?
Maybe it is. Today we show charts that suggest it is time to sell.
First Chart: NDX
Looks like the NDX is making a top. The red line in the top pane, overlaying the chart price, has been very accurate is 'predicting' price moves. This CGTS indicator is telling us that the NDX has not been able to generate price momentum in making new CGTS highs. Now it has broken through CGTS support.
The second pane blue line (M4 21) has also broken down. Historically, a breakdown of M4 21 combined with a breakdown of the black line short trend (T5, second pane) is the sign of a top.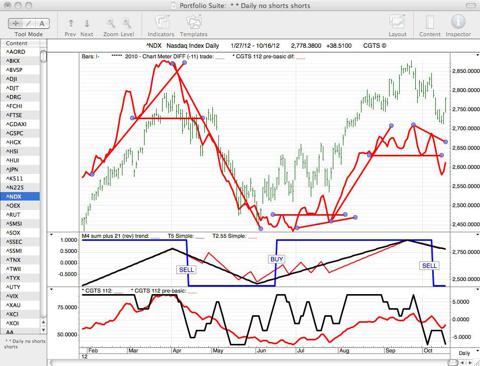 Second Chart: XOI.
Similar chart for XOI, the Oil and Gas Stock Index, with the CGTS momentum breaking down and M4 21 going negative along with the short trend. The bottom pane shows a normalized view of the CGTS indicator that moves between extremes of 7 and -7 (black line) -- the most recent rally was VERY WEAK.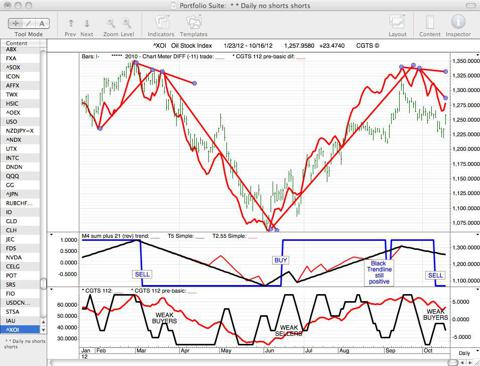 Chart Three: JPN
The Japan Index shows a very similar picture, with CGTS momentum turning down. Since the top of the housing bubble in Japan in 1989, the Japan Index (and the Nissei) are off almost 80%. This suggests where American and European stocks (and Chinese stocks) are headed over the next decade.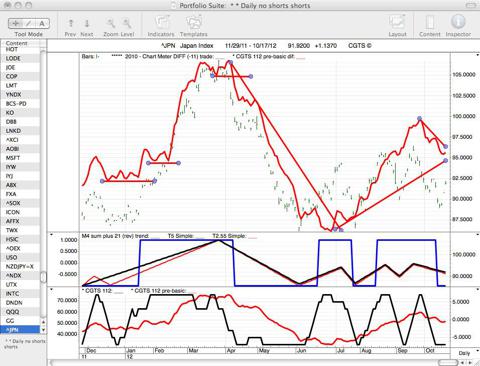 Chart Four: VIX.
The VIX is the anti-stock index (CRB Volatility Index). When the VIX rises, stocks go down. Look what the CGTS momentum is telling us, even as the VIX pretty much sits at the bottom of a trading range. Note the same kind of pattern earlier in the chart, with CGTS moving up before the VIX moved.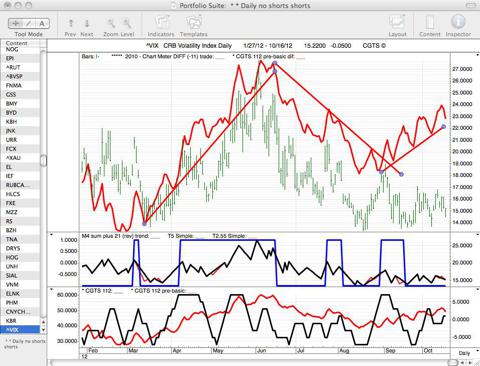 Chart V: XAU
Gold stocks had a nice rally, and then prepared to pull back. But look what the CGTS momentum is saying. No loss of momentum yet. M4 21 in the Second Pane has turned negative, along with the T5 Short Term Trend Indicator (black line, pane 2). But CGTS is stubbornly refusing to come down.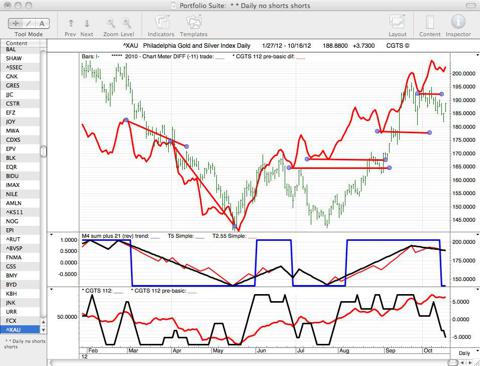 The fact that the VIX and the Gold Stock Index seem to be pointing for more gains, while the global stock indices seem to be topping is saying something. If an investor has good gains from this most recent rally, he might want to consider locking in his gain.
Best,
Michael J. Clark
Hanoi, Vietnam