Clark's Gate Timing System ©
Wednesday 7 July 2009
So, is this a Bull Market Rally or a Bear Market Rally?  We have more evidence that the deterioration of equities markets will continue for a time: inverse ETFS, those that appreciate when stocks generally, or specific commodiities and indexes, decline, are now starting to give buy signals for the first time since February 2009.  We have a couple of charts to illustrate this: DUG, Short Oil and Gas ETF, and SMN, Short Basic Materials ETF, are giving trading signals today to take profits on their long positions.
This means that the trend is changing to bearish for stocks.
We are also getting buy signals on stock indexes (French, German, S&P 500) that we are NOT following because long-term momentum is deteriorating, indicating to us a substantial probability that the long trades will not be especially lucrative.  We might make short-term money on the trade -- but not all indicators are positive.  We illustrate this in charts below: GSPC, S&P 500; FCHI, French CAC Index.
Anyone still long the market and wondering what to do next might consider taking profits now.  In our own portfolio we are testing our trading systems so we are waiting for sell signals.  But we are convinced we are at a turning point that will lead stocks lower from here.
We are getting one buy signal today that we are following.  Long HUI, Gold and  Silver Stock Index.  The long-term momentum on this issue seems to be bottoming; this might offer a very good short-term trading opportunity.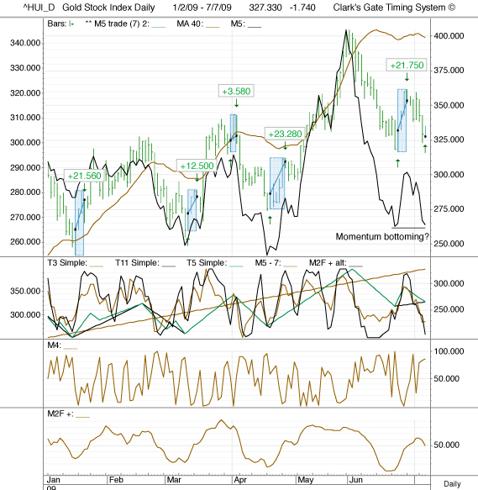 NEW CGTS POSITIONS
Long HUI @ 327.33.


More information on this system can be found at

http://home.mindspring.com/~mclark7/CGTS09.htm


Portfolio of current 'Seeking Alpha" trades at (updated weekly):

http://home.mindspring.com/~mclark7/seekingalphaportfolio.htm


Portfolio of CGTS Trades for 09 (updarted weekly) can be found at:

http://home.mindspring.com/~mclark7/cgtsportfolio09.htm

Disclosure: author owns none of the issues mentioned in this newsletter.


MJ Clark
Clark's Gate Timing System
Hanoi, Vietnam
84 4 221 92210