OPTIONS CORNER
Short-Term Trading in Options.
Wednesday, 22 December 2010
Today's First Trade
: NEM, Newmont Mining -- buy NEM January 2011 60 calls @ 1.67.
Trading System: M5 3 Average Diff ASP Sum.
We have been developing many new short-term trading instruments.  One of the most promising is the one working with the Momentum Indicator we call "M5 3 Average Diff ASP Sum", seen in the Middle Pane, black line in the charts below.  When this indicator ticks up from oversold (-1) with trend positive, we buy -- and we sell when the indicator returns to -1.
Note the solid gains in the trades of HD, VVUS, and VRX posted below.
Today, buy signals were given using this trading system for: NEM, UNH, and ELNK.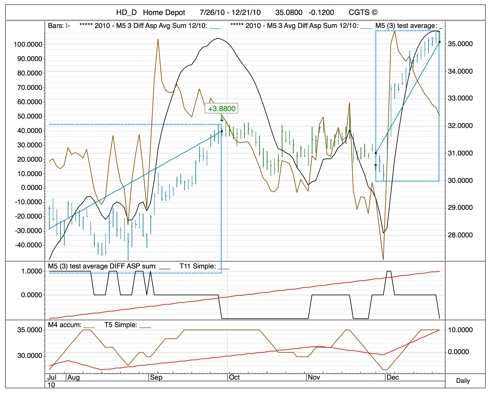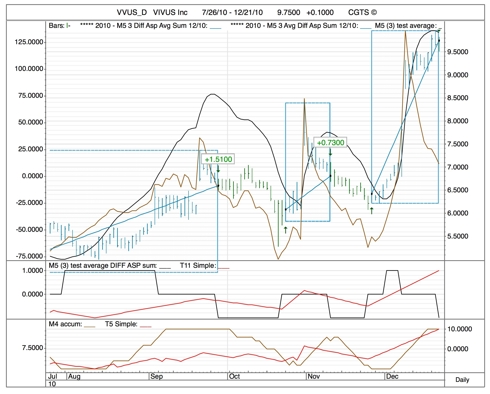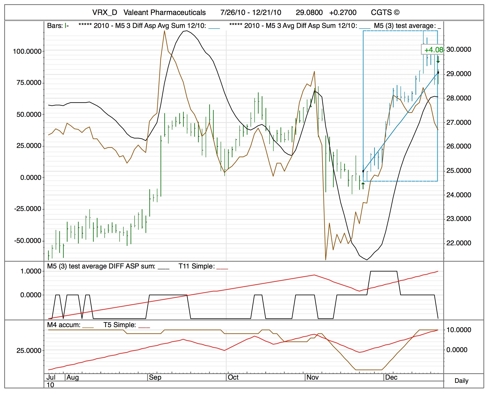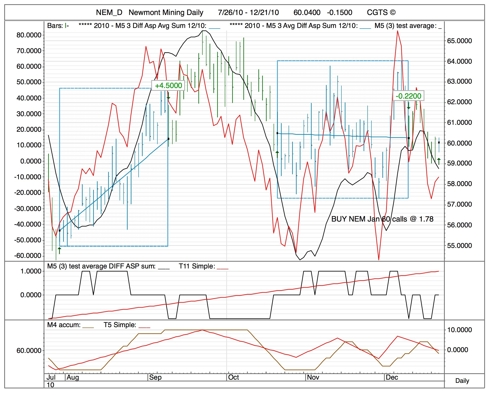 Today's Second Trade:
ANV, Allied Nevada Goldcorp March 2011 30 calls @ 1.14.
Trading System: M5 3 ASP ALT LT2a.


This trading system
is, in fact, not a long-term trading system (as the name implies, "LT"), but an intermediate-term trading system.  We expect trades with this indicator to last a month or two, so we opted for the longer-term call maturity.  At some point we will look at methods to try to determine if options are overprice (most are).  To break even, ANV will have to trade as high as (roughly) 31.14, so we are paying 4 points for the Time Value (3 months approximately, Dec 22 to expiration in March 2011).  The underlying stock will have to appreciate 15% just to break even.  So, this option does 'feel' too expensive.  However, our plan is not to hold until expiration, but to see once a strong upward move comes in -- thus, we hope to retain much of the Time Value pricing that is inherent in this option price.  Can this underlying stock appreciate 15% in three months to break even?  The first move shown on the chart -- late July 2010 to mid-September 2010 -- using this trading system, resulted in a 60% gain in the underlying stock.  The second move -- late October to early December 2010 -- resulted in a gain of only 6% -- this in about six weeks.  This six week trade would leave about half the Time Value still alive in a three-month trade.
Today
,
buy
signals
were
given using this trading system
for
:
ANV and HSI, the Hang Seng China Index
.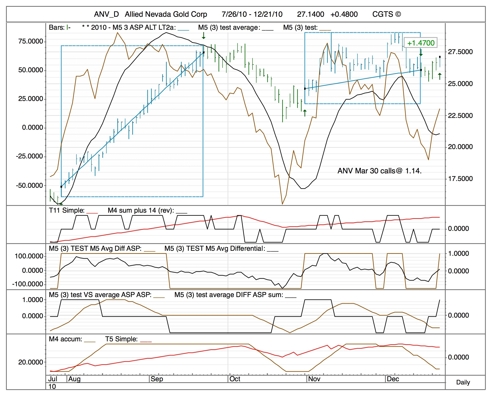 Today's

Third

Trade

:
AKAM, AKAMI Jan 2011 50 calls @ 2.28.  PCLN, Priceline, Jan 140 calls @ 12.2.
Trading

System

: M4 Accumulation 00.
This is our most successful new trading system.  I hate to mention that, fearing the 'kiss of death' syndrome might result.  This system has gained 8.61% since 10/25/10. We have completed 153 trades in that time, with 124 winning trades and 29 losing trades
.
This system works with a primary trigger of the M4 Accumulation momentum indicator shown at the black line in the Top Pane.  Again, trades ALWAYS flow in the direction of the three primary trends (long-term, intermediate-term, and short-term).
Today
,
buy
signals
were
given using this trading system
for
:
NEM, Newmont Mining; WMT, Warmart; CSTR, Coinstar; PCLN, Priceline; IDX, Indonesian Index ETF; RGR, Sturm Ruger; AKAM, Akami; all long.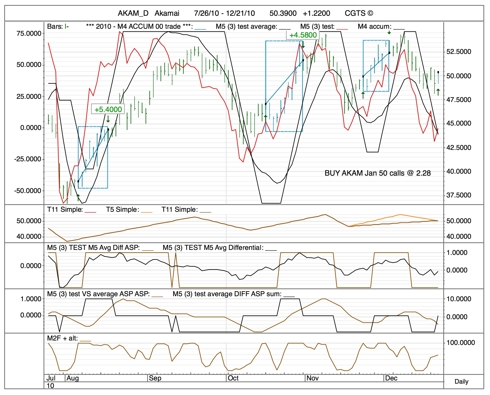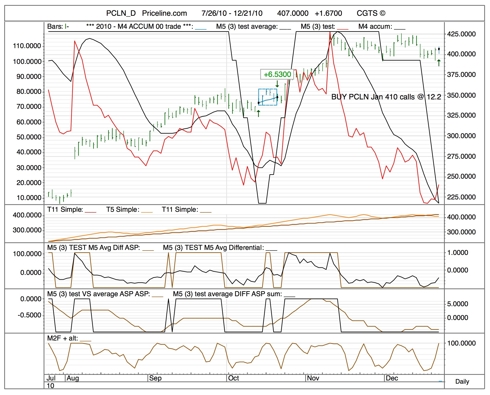 Today's

Fourth

Trade

:
UNH, January 2011 38 calls @ .21.
Trading

System

: M4 Accumulation 00 14.
A modification of the M4 Accumulation 00 System above, with a shorter run-time.
UNH seems to have made a trading bottom and seems poised to try to challenge the 40-41 peak during its next move up.
Today
,
buy
signals
were
given using this trading system
(NASDAQ:LONG)
UNH, United Healthcare; GDXJ, Junior Gold Miners ETF, RIMM, Research In Motion; TXN, Texas Instruments; KSU, Kansas City Southern; WPRT, Westport Innovations; SEA, Global Shipping ETF; BAP, Credicorp LTD; INTC, Intel; NEM, Newmont Mining; PCLN, Priceline; IDX, Indonesian Index ETF.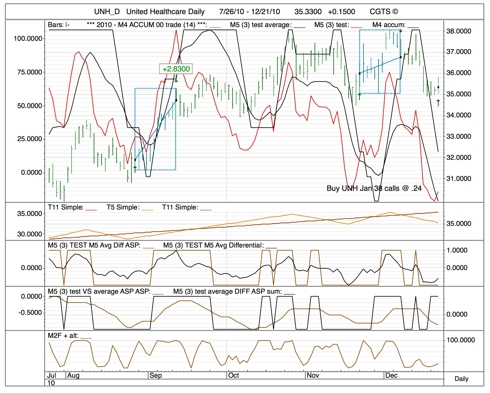 The trading system we introduced yesterday, M5 3 Chart Trade, is givng the following buy signals today, all three of which look very interesting to us: TSLA, Tesla; SNE, Sony; VTAL, Vital Images.  All three of these stocks seem to be ready to pop up again and make another run higher.
______________________________________________________________
A Disclaimer of sorts:
I
will update these positions regularly, so we can all see how we are doing with our short-term speculating.
I am bullish on gold long-term (until Bernanke is fired, and more generally until about 2019, the end of the deflation cycle) -- and I'm relatively bullish on stocks until QE is abandoned.  QE does many things, one of which is to try to make sure that stocks and bonds don't decline.  The Fed, quite likely, has guaranteed to bankers the advance of stock prices.  As long as the Fed is willing and is allowed to backstop stock prices, short positions are very dangerous, except in isolated cases.  Bond vigilantes are showing Mr. Benanke that his designs may not be able to proceed without resistance however.  Rising rates are a slap in the face of American power; the slap is welcomed by those of us who think debt is the problem that needs to be addressed, destroyed, rather than expanded and extended.
Trading options is highly speculative and can be dangerous.  Pricing of options is never very clear; buying options is almost always less prefereable than selling options, in terms of likely profits.  But buying options gives an investor a HUGE BANG FOR THE BUCK.  Getting accurate price data on options (especially those thinly-traded) is also often a problem, with which we'll have to work.
If one knows what direction a stock is moving, short-term options can be profitable.  The problem with options, of course, is that they, like ourselves, decay with time.
The cheaper options expire more quickly (one can always buy long-term options is one wishes to speculate on long-term stock or market moves).  I like short-term expirations, cheap options, and getting in and out (with profits).
I have many short-term trading systems.  I will use several in this Options Corner.  The first I start with I call "M5 3 Chart Trade" which really relies on the M5 3 Momentum Indicator to trigger the trade, always in the same direction of the major trends.
Successful trading!  We know the game is fixed; but let's ride on the back of the dragon for as long as we can.
More information on the CGTS systems can be found at:
home.mindspring.com
/~mclark7/CGTS09.htm
MICHAEL J CLARK
Clark's Gate Timing System
Hanoi, Vietnam
84 4 221 92210
Disclosure:
I have no positions in any stocks mentioned, and no plans to initiate any positions within the next 72 hours.