OPTIONS CORNER
Short-Term Trading in Options.
Thursday, 23 December 2010
Today's First Trade
: CAB, CABELA INC -- buy CABI Jan 2011 20 calls @ 2.8.
Trading System: M4 Accumulation 00 14.
Today's best looking chart of the bunch seems to be CAB, Cabela Inc,  which had a tiny non-event correction and seems ready now to make a new high.  We chose the Jan expiration because we expect the move to happen pretty quickly now -- if it doesn't we will be in for a surprise.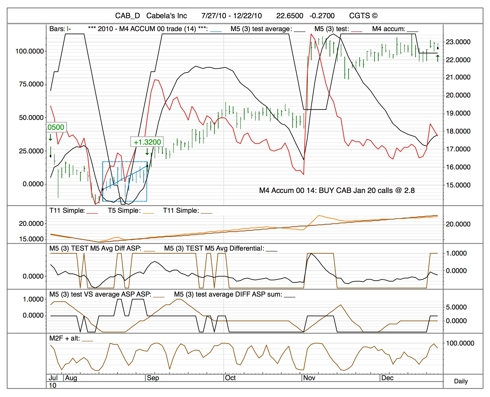 Today's Second Trade
: SSRI, Silver Standard Resources -- buy SSRI Jan 2011 25 calls @ 2.8.
Trading System: M4 Accumulation 00 14.
Today's second-best looking chart of those giving buy signals seems to be SSRI, Silver Standard Resources, which had a small correction and seems ready now to move back up.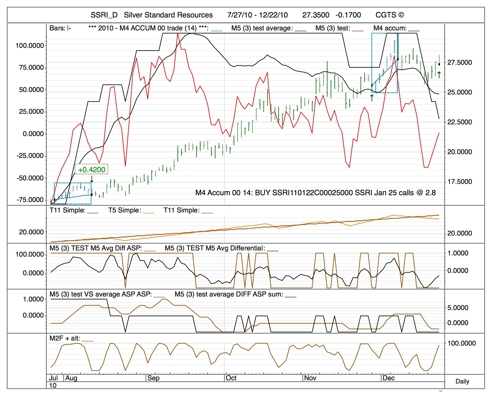 Today, buy signals were given using this trading system for: EWS, Singapore Index ETF*, VCI, Valassis Communications; SLW, Silver Wheaton; EOC Expressa Nationale, Chile*; ABX American Barricks Gold, CAB, Cabela Inc; KGN, Keegan Gold;  AHGP, Alliance Holdings Mining; BEN, Ben Franklin.
If we had to rank the top three here, based on charts, we'd rank 1) CAB; 2) SSRI; 3) AHGP.
*An interesting picture in the charts is showing some real deterioration in the foreign stocks and ETFs.  EWS has pulled back and is looking a bit weak at the moment, having broken its small- and intermediate-term trends; EOC has held up pretty well until the last two days, during which time it has taken a nose-dive; THD, Thailand ETF, not in our group, made a lower high in a rally back from some selling; HSI, Hang Seng Index, is really struggling to try to turn back up amid selling (SSEC, the Shanghai Index is also struggling); BVSP, Bovespa, Brazilian Index, is the same story, looking anemic and seeming to want to go lower; EPI, Indian Index ETF, looks even worse, having fallen back and seeming to have trouble getting back up.  European stock indexes are not showing the same weakness as the emerging stock indexes are.
Those of you who are invested in emerging nations may want to begin worrying (or taking profits) as there is a new sluggishness creeping in to these issues.  They were the leaders not long ago -- now they seem to be quite listless.
Long-term US bonds and notes seem to be continuing recent weakness.  TBond shorts or yield ETFs look to be ready to go higher.
The US Dollar rally seems to have hit a lid and is now moving sideways.  FXE, the Euro vs Dollar ETF, is still negative and wants to go lower.
The Japanese Yen is getting ready for another move up.
______________________________________________________________
A Disclaimer of sorts:
I
will update these positions regularly, so we can all see how we are doing with our short-term speculating.
I am bullish on gold long-term (until Bernanke is fired, and more generally until about 2019, the end of the deflation cycle) -- and I'm relatively bullish on stocks until QE is abandoned.  QE does many things, one of which is to try to make sure that stocks and bonds don't decline.  The Fed, quite likely, has guaranteed to bankers the advance of stock prices.  As long as the Fed is willing and is allowed to backstop stock prices, short positions are very dangerous, except in isolated cases.  Bond vigilantes are showing Mr. Benanke that his designs may not be able to proceed without resistance however.  Rising rates are a slap in the face of American power; the slap is welcomed by those of us who think debt is the problem that needs to be addressed, destroyed, rather than expanded and extended.
Trading options is highly speculative and can be dangerous.  Pricing of options is never very clear; buying options is almost always less prefereable than selling options, in terms of likely profits.  But buying options gives an investor a HUGE BANG FOR THE BUCK.  Getting accurate price data on options (especially those thinly-traded) is also often a problem, with which we'll have to work.
If one knows what direction a stock is moving, short-term options can be profitable.  The problem with options, of course, is that they, like ourselves, decay with time.
The cheaper options expire more quickly (one can always buy long-term options is one wishes to speculate on long-term stock or market moves).  I like short-term expirations, cheap options, and getting in and out (with profits).
I have many short-term trading systems.  I will use several in this Options Corner.  The first I start with I call "M5 3 Chart Trade" which really relies on the M5 3 Momentum Indicator to trigger the trade, always in the same direction of the major trends.
Successful trading!  We know the game is fixed; but let's ride on the back of the dragon for as long as we can.
More information on the CGTS systems can be found at:
home.mindspring.com
/~mclark7/CGTS09.htm
MICHAEL J CLARK
Clark's Gate Timing System
Hanoi, Vietnam
84 4 221 92210
Disclosure:
I have no positions in any stocks mentioned, and no plans to initiate any positions within the next 72 hours.