OPTIONS CORNER
Short-Term Trading in Options.
Thursday Jan 6 2011
Our over-weighting in precious metals-related call options has been painful the last few days.  But we're buying more of the same here, as we think the correction has only a few more days left in it.  We think the rally is still on and we look at why we think this a bit below.  We're up 7.57% since 20 December 2010.
Options Trading Scorecard (since 12/20/10):
CGTS OPTIONS

 

PORTFOLIO (Since 12/20/10)
Active
% Gain
1/5/11
 
Profit
Trades
7.57%
Options
 
$59,049
78
SALES TODAY
: None
PURCHASES TODAY:
| | | | |
| --- | --- | --- | --- |
| WED | CGTS NEW TRADES |   |   |
| 5-Jan |   |   |   |
| ISSUE | TRADING | CLOSE | SIGNAL |
|   | SYSTEM |   |   |
| AXP | M5 3 ASP LT 2a | 45.04 | Long |
| AXP FEB 42 calls |   | 5.4 | Long |
| JCI | M5 3 ASP LT 2a | 40.6 | Long |
| JCI FEB 40 calls |   | 1.95 | Long |
| RIMM | M5 3 ASP LT 2a | 61.92 | Long |
| RIMM FEB 55 calls |   | 7.85 | Long |
| BMO | M5 3 ASP LT 2a | 57.89 | Long |
| BMO FEB 55 calls |   | 3.4 | Long |
| SLGLF.OB | M2F 14% Trade | 0.0033 | SHORT |
| GDXJ | M4 Accum 00 | 37.67 | Long |
| GDXJ FEB 35 calls |   | 3.8 | Long |
| MO | M4 ACCUM 00 14 | 24.48 | Long |
| MO FEB 22 calls |   | 2.51 | Long |
| UUP | M4 Blank 2 | 23.11 | SHORT |
| UUP Feb 25 puts |   | 2.3 | SHORT |
| CPA | M5 3 Chart Trade | 58.39 | Long |
| CPA FEB 55 calls |   | 5 | Long |
| ELY | M5 3 Chart Trade | 8.26 | Long |
| ELY FEB 7.5 calls |   | 0.7 | Long |
| KGN | M5 3 Avg ASP Diff Sum | 8.72 | Long |
| KGN FEB 7.5 CALLS |   | 1.1 | Long |
| HLF | M5 3 Avg ASP Diff Sum | 68.72 | Long |
| HLF FEB 65 CALLS |   | 4.6 | Long |
| LAVA | M5 3 Test Combo | 4.83 | Long |
| LAVA JAN 4 CALLS |   | 0.3 | Long |
| IBB | M5 3 Test Combo | 94.65 | Long |
| IBB FEB 92 CALLS |   | 3.6 | Long |
| ITMN | M5 3 Test Combo | 39.08 | Long |
| ITMN FEB 38 CALLS |   | 4.1 | Long |
| RGLD | M5 3 Test Combo | 50.8 | Long |
| RGLD FEB 50 CALLS |   | 2.85 | Long |
| HL | M5 3 Test Combo | 10.43 | Long |
| BSX | M5 3 Test Combo | 7.53 | Long |
| BSX Feb 7 calls |   | 0.68 | Long |
| HMY | M5 3 Test Combo | 11.97 | Long |
| HMY Feb 11 calls |   | 1.2 | Long |
IS THE RALLY GOING TO CONTINUE?


Yes, we think it will.  We are not crazy about the rally, which we think is ignoring a big black hole in reality -- but as long as Ben B is stoking the fire with paper, the steam engine continues to burn.  For how long?  That is anybody's guess.
We look at our charts and see that the rally is still intact.  Look at the chart of the Dow Jones Transports below, and specifically at the indicator in the bottom pane: CHART METER (black line).  Note how the indicator made a very strong vertical jump up in July and has been trading in the Buy Zone ever since.  A few pullbacks have not been significant.  A strong vertical jump down is an indication of a change in trend.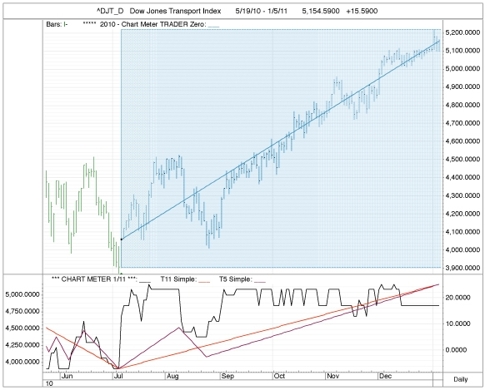 See the strong vertical downmoves in the same chart in 2008.  Moves out of the Sell Zone were tentative at that time, and short-lived.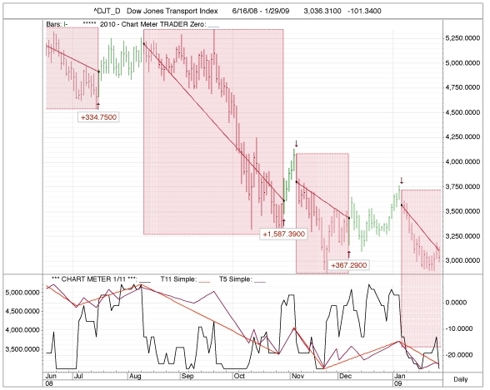 There are only a few indexes today that have made that strong vertical move down.  Surprisingly, one of them is the XCI, Amex Computer Index.  Can stocks continue to rally with only a weak participation of the tech index?  Good question.  Other sectors will have to pick up the slack if the rally is to continue.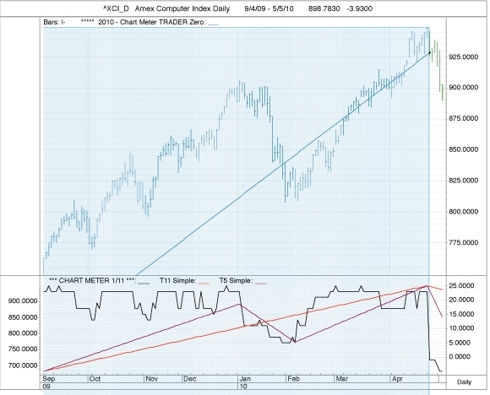 As one might expect, Housing is NOT in the Buy Zone and has not been in the Buy Zone for a long time.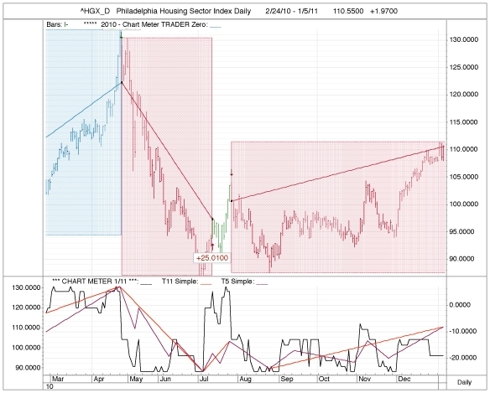 HGX has been rallying along with the market in general.  But it is still firmly fixed in the Sell Zone, sticking its head into the Buy Zone a few times in the past few months, but not with much vigor.
The Bovespa (BVSP) Index has had a bit of a correction of late.  Is it the end of the rally?  Note how the dip is restraiined (in terms of the Chart Meter below) -- and holds pretty much at support established earlier in the move up.  My expectation is that the new move up will take hold and continue.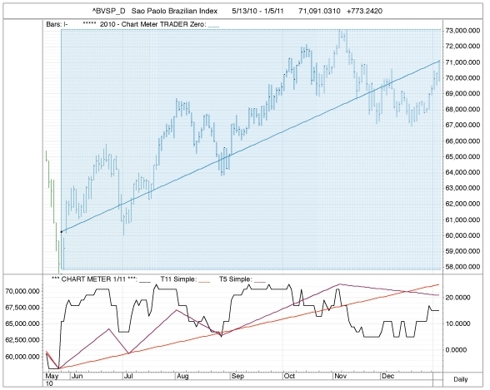 So what is the VIX doing, the anti-stock market indicator?  A few weak forays into the Buy Zone, but not much vertical upsurge at the moment.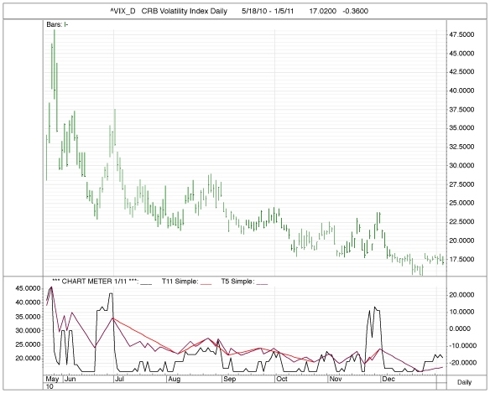 Here are a couple of individual issues that show very clearly what it means to "Be in the Buy Zone".  Vivus broke upward in August, ending a long decline -- and, despite volatility, it still looks to be ready to move higher.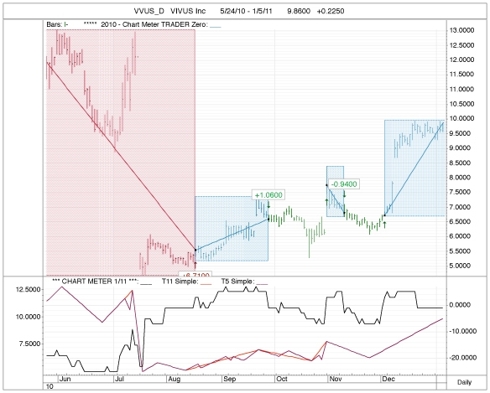 And a junior gold stock, LODE.OB (Comstock Mining, which used to be Goldspring): Bear controll ended in late August with a terrific vertical move up.  Is the gold rally over?  LODE suggests it is not, even though the price chart shows a very clear consolidation sideways.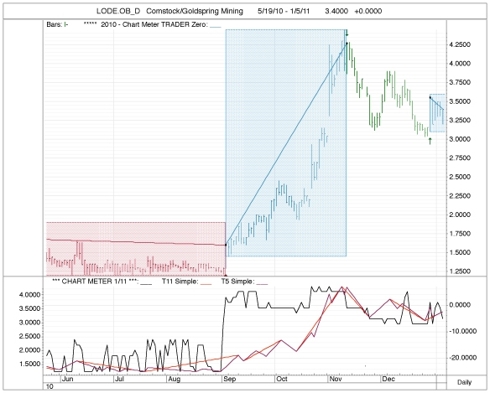 SELECTED CHARTS OF TODAY'S TRADES: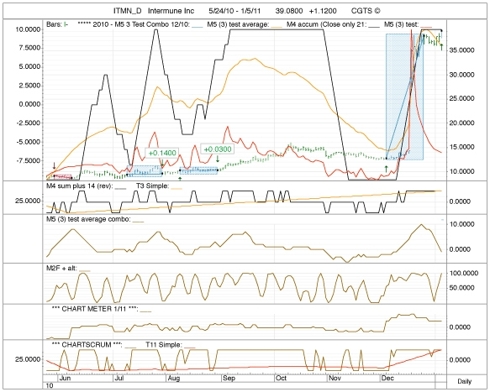 Favorite chart of the night for our new option buy signals.  Has rallied, like VVUS -- but wants to keep going.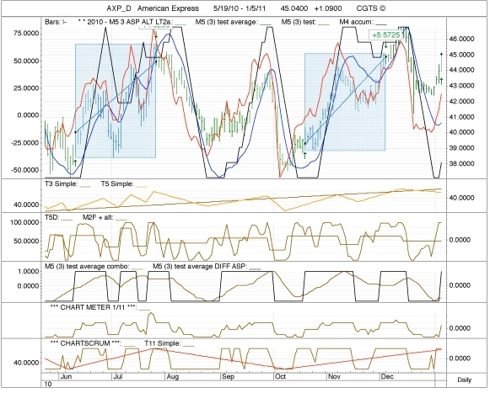 American Express seems to want to blow the lid off the old high.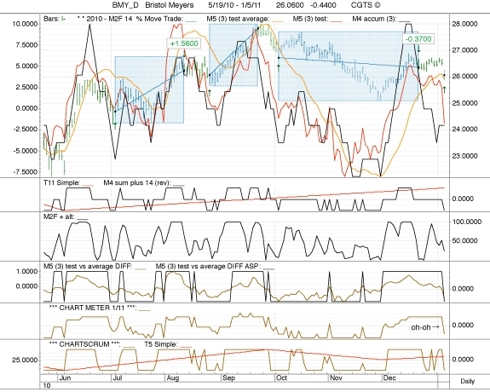 BMY has given us a buy signal, after a lackluster rally, and a gap-down.  But look at out Chart Meter indicator.  It ticked down hard.  This does not mean that BMY is necessarily going lower.  But we don't want to waste powder on a stock that is having trouble keeping it up.  Avoid this one.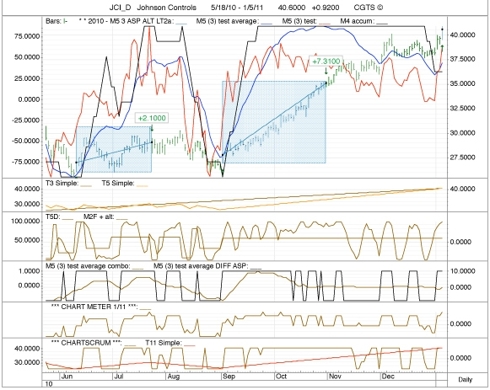 Johnson Controlls looks ready to rumble.  It is short-term overbought (M2F Alt, 2nd pane, brown line) -- but the Chart Meter is ticking up, and this is usually a positive sign.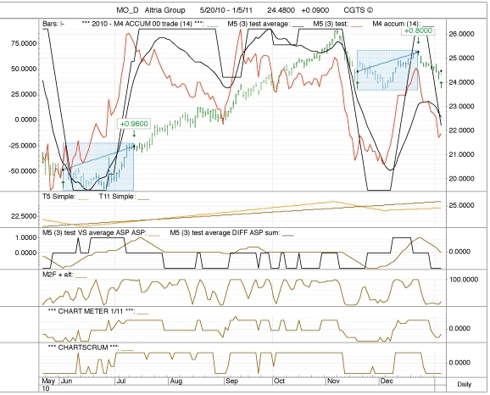 MO is not a perfect chart: but the Chart Meter has bottomed and has turned up.  And we're getting a buy signal and expect higher MO prices.
I wanted to run a RIMM, Research in Motion, chart tonight.  It didn't come up for me when I started writing.  RIMM is very enticing here -- and one of the best charts of the night.  I wish I could share it with you.
___________________________________________________
A Disclaimer of sorts:
I
will update these positions regularly, so we can all see how we are doing with our short-term speculating.
I am bullish on gold long-term (until Bernanke is fired, and more generally until about 2019, the end of the deflation cycle) -- and I'm relatively bullish on stocks until QE is abandoned.  QE does many things, one of which is to try to make sure that stocks and bonds don't decline.  The Fed, quite likely, has guaranteed to bankers the advance of stock prices.  As long as the Fed is willing and is allowed to backstop stock prices, short positions are very dangerous, except in isolated cases.  Bond vigilantes are showing Mr. Benanke that his designs may not be able to proceed without resistance however.  Rising rates are a slap in the face of American power; the slap is welcomed by those of us who think debt is the problem that needs to be addressed, destroyed, rather than expanded and extended.
Trading options is highly speculative and can be dangerous.  Pricing of options is never very clear; buying options is almost always less prefereable than selling options, in terms of likely profits.  But buying options gives an investor a HUGE BANG FOR THE BUCK.  Getting accurate price data on options (especially those thinly-traded) is also often a problem, with which we'll have to work.  Typically we work with the last close, if it falls between bid and offer.  If it does not, then we average the bid/offer.
If one knows what direction a stock is moving, short-term options can be profitable.  The problem with options, of course, is that they, like ourselves, decay with time.
The cheaper options expire more quickly (one can always buy long-term options is one wishes to speculate on long-term stock or market moves).  I like short-term expirations, cheap options, and getting in and out (with profits).
I have many short-term trading systems.  I will use several in this Options Corner.  The first I start with I call "M5 3 Chart Trade" which really relies on the M5 3 Momentum Indicator to trigger the trade, always in the same direction of the major trends.
Successful trading!  We know the game is fixed; but let's ride on the back of the dragon for as long as we can.
More information on the CGTS systems can be found at:
home.mindspring.com
/~mclark7/CGTS09.htm
MICHAEL J CLARK
Clark's Gate Timing System
Hanoi, Vietnam
84 4 221 92210