I have been watching housing stocks, which I feel to be grossly overvalued. Anyone who thinks housing has bottomed or will bottom soon, should read this article with Gary Schilling.
www.businessinsider.com/gary-shilling-no...
Schilling pretty much agrees with my time-frame that housing will turn back down and head lower. Remember, a real bottom in an oversold market finds NO BUYERS, certainly not a high speculative participation between the fast money players trying to rekindle an appetite for quick profits. I've been targeting 2019 for the real bottom in housing for many years now.
The real bottom of housing will happen when the government and the Fed have forgotten about housing, given up, have wrung their hands of the 'housing problem'.
Anyway, we have charts tonight -- and we recommend short positions on three more housing stocks (after BZH, Beazer Homes, last night): KBH, KB Homes; PHM, Pulte Homes, and TOL, Toll Brothers.
We are looking at the indicator we call CGTS PB Sum Trend, which appears as the red line in the fourth pane down from the top in most charts tonight (if not all).
This indicator generally signals intermediate-term directions of an issue. Of course, we do not follow any one indicator to the detriment of the whole. We want to see trends breaking down (short-term trends break down first, so we look at short-term trends more closely): green line in the top pane; red line in the second pane down. We look at short-term overbought/oversold readings (M2F ALT), red line, second pane from the bottom -- although we look at this less. This helps us determine when to sell -- and sometimes, when we are patient enough -- when to buy. Of tonight's signals, VRX, Valeant Pharmaceuticals has the best M2F ALT timing reading for a short position -- relatively overbought -- it is probably our most well-liked new short position tonight because of this, and other readings.
We also always looks at the two primary momentum indicators: CGTS, red line, top pane; and M5, blue line, top pane. When these indicators are making new lows, and trends are decaying, short-selling opportunities abound.
US Housing Stocks to Short
KBH, KB Homes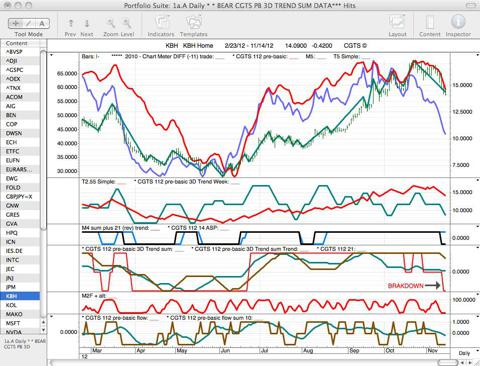 PHM, Pulte Group Housing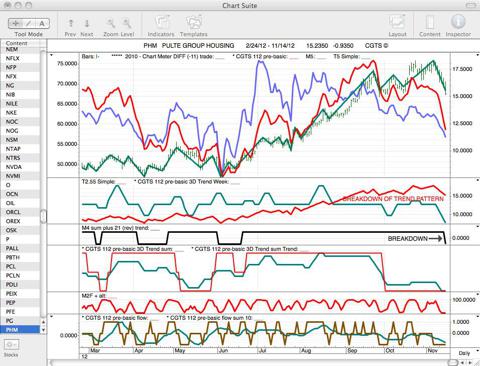 TOL, Toll Brothers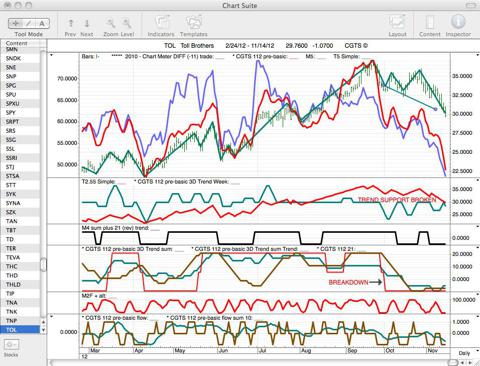 More Index Deterioration.
In looking at the CGTS PB Trend Sum Indicator, we are getting a sell signal on both the DJIA, Dow Jones Industrial Average, and the BVSP, the Bovespa, the Brazil Index.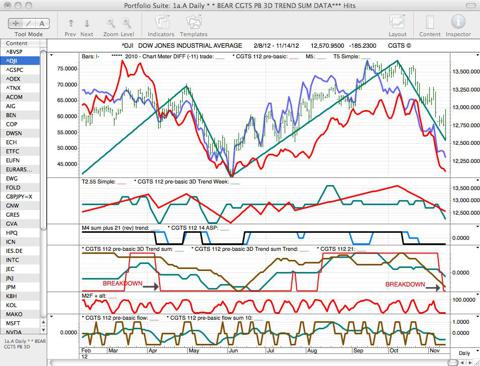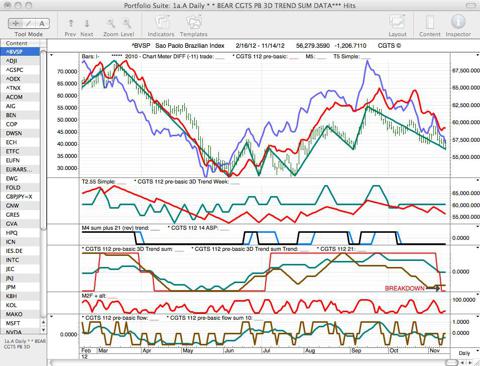 We ran a screen of issues for those making new CGTS PB Trend Sum Highs (+1) and Lows (-1). The list below is culled from this screen -- and shows some positions we would feel comfortable making tonight. It is very hard to make long trades in a down market -- unless with issues such as TBonds long and long positions in Inverse ETFs, which profit from stock declines.
Some of our short position list have put options prices includes as well, as our attempt to find out the 'real' cost of put options of differing strike prices. Options in-the-money are (almost) always cheaper than out-of-the money options.
For instance, a Jan 32.5 put on OCN sells for 2.2 points but it is out of the money so it is costing a buyer the 2.2 plus -.65 difference between the current price and the strike price, meaning the cost is actually 2.725 points. The Jan 35 put sells for 3.6 points but it is already worth 1.85 by being in-the-money meaning the actual cost is 1.1 points.
One can't really compare prices between options for two different stocks, without taking into account volatility. We may look at that later at some point. For tonight, we want to make sure we are considering the cheaper options between different strikes.
LONG
IEF
109.01
T BOND
CGTS TR SUM
LONG
RWM
36.82
SHORT RUSSELL
CGTS TR SUM
LONG
RXD
59.72
SHORT HLTHCARE
CGTS TR SUM
LONG
TIP
122.84
BARCL TIPS
CGTS TR SUM
LONG
TSU
19.17
TIM ELEE CELLULAR
CGTS TR SUM
LONG
TUR
59.5
TURKEY ETF
CGTS TR SUM
LONG
USDEUR
0.7852
USDEUR
CGTS TR SUM
LONG
USDRUB
31.71
USD/RUBLE
CGTS TR SUM
 
 
 
 
 
 
SHORT
OCN
33.15
OCWEN FIN
CGTS TR SUM
<---1
32.5
1.95
2.2
2.075
-0.65
2.725
35
2.3
3.6
2.95
1.85
1.1
SHORT
PPS
46.8
POST PROR REIT
CGTS TR SUM
<---1
45
1.4
1.4
1.4
-1.8
3.2
50
1.05
5.5
3.275
3.2
0.075
SHORT
NTRS
48.09
NORTH TRUST
CGTS TR SUM
<---?
45
1.45
1.55
1.5
-1.09
2.59
50
4.4
4.7
4.55
3.91
0.64
SHORT
DWSN
22.59
DAWSON
CGTS TR SUM
<---1
22.5
0.4
1.75
1.075
-0.09
1.165
25
1.8
4.4
3.1
2.41
0.69
SHORT
ECH
59.74
ECH ENCANA
CGTS TR SUM
<---1
59
0.95
1.3
1.125
-0.74
1.865
60
1.45
1.8
1.625
0.26
1.365
SHORT
EUFN
17.54
EURO FIN IND
CGTS TR SUM
SHORT
ETFC
7.74
ETRADE
CGTS TR SUM
<---
7.5
0.4
0.41
0.405
-0.24
0.645
9
1.38
1.42
1.4
1.26
0.14
SHORT
KBH
14.09
KB HOUSING
CGTS TR SUM
<---1
14
1.35
1.39
1.37
-0.09
1.46
15
1.93
1.98
1.955
0.91
1.045
SHORT
ICN
20.871
IND RUPPEE
CGTS TR SUM
SHORT
JEC
38.79
JACOBS ENG
CGTS TR SUM
SHORT
JPM
39.29
JP MORGAN
CGTS TR SUM
SHORT
SNP
101.78
CHINA PETROL
CGTS TR SUM
100
2.95
3.6
3.275
-1.78
5.055
105
5.4
6.4
5.9
3.22
2.68
SHORT
TBT
58.81
SHORT TBOND
CGTS TR SUM
58
2.38
2.43
2.405
-0.81
3.215
59
2.9
2.95
2.925
0.19
2.735
SHORT
TYO
22.36
SHOT TBOND
CGTS TR SUM
SHORT
VRX
53.56
VRX
CGTS TR SUM
50
2.05
2.25
2.15
-3.56
5.71
52.5
3
3.2
3.1
-1.06
4.16
55
4.2
4.4
4.3
1.44
2.86
SHORT
VVUS
10.66
VIVUS
CGTS TR SUM
SHORT
XME
41.435
SPIDER MIN
CGTS TR SUM
SHORT
XOM
86.07
EXXON MOB
CGTS TR SUM
 
 
 
 
 
 
SHORT
PHM
15.235
PULTE
M4 21
<---1
15
0.96
0.99
0.975
-0.235
1.21
16
1.49
1.53
1.51
0.765
0.745
We like short positions on each of the issues with option data attached above. Charts will show one why.
VRX, Valeant Pharmaceuticals.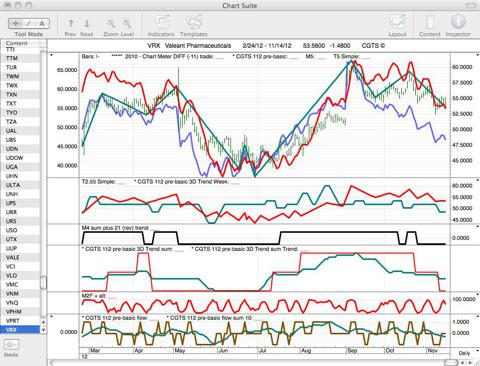 DWSN, Dawson Geophysical.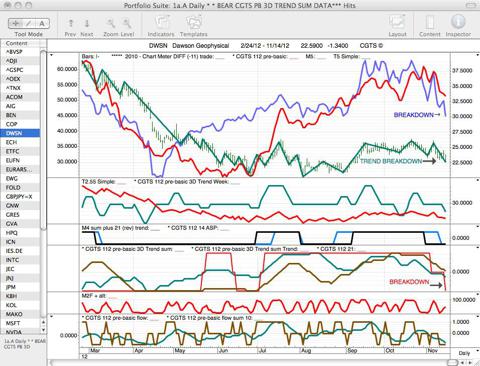 ETFC, E-Trade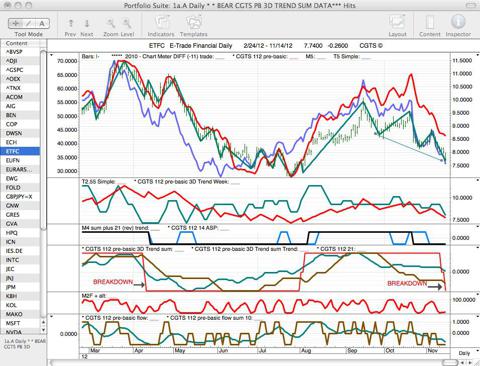 ECH, Echana Corp.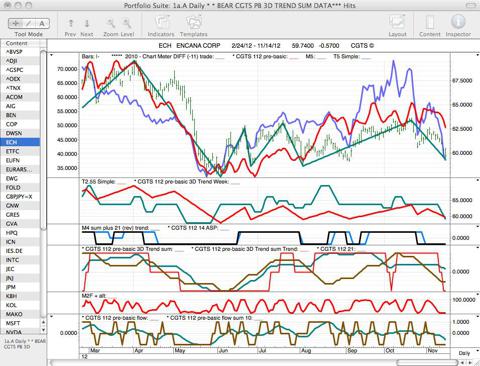 The next three charts, all considered short candidates, all appeared first on our list of possible long positons, because the CGTS BP Sum Trend turned positive. But each is clearly experiencing a failed rally, with trends in the middle of a current breakdown (see trends in top pane).
OCN, Ocwen Financial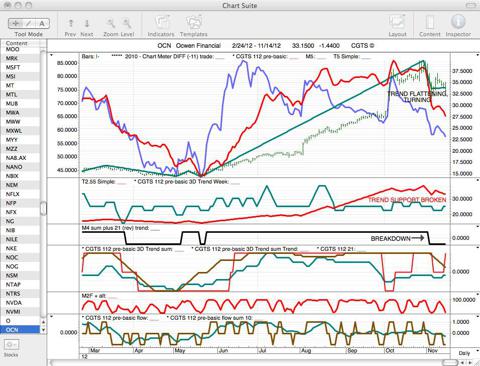 PPS, Post Properties REIT Retail. Many REIT's have collapsed since the Fed entered the mortgage business under Ben Bernanke's QE IV morgage broth buying spree. We may talk about the reasons for this in a later letter.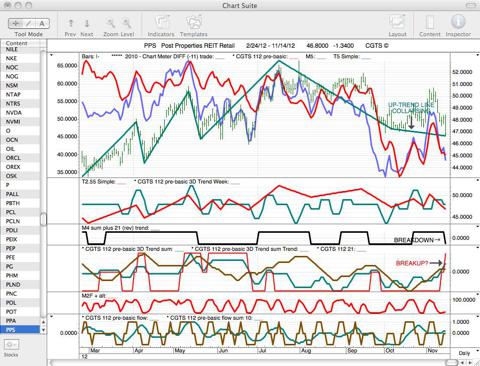 NTRS, Norther Trust Corp. Note how all of these last three charts illustrated bull rallies that have been suddenly torpedoed by sellers and which are all three attempting to turn down.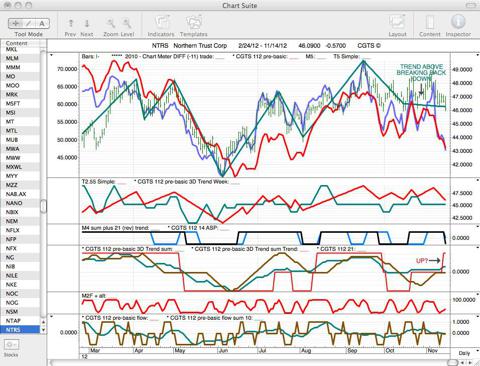 Best fortune to all my readers.
Michael J. Clark
CGTS, Hanoi, Vietnam
15 Novenber 2012