OPTIONS CORNER
Short-Term Trading in Options.
4 February 2011, Friday
Super Bowl Weekend.  I'd like Green Bay here, although I've never been a Green Bay fan, at least not back in the Classical Period.  Hard not to like them now.
Indexes look like they are going to go up no matter what happens, and we think this will probably be true as long as Bernanke is running the show and backstopping losses in the equities markets.
We should not forget that this is NOT an organic market run, subject to selling during periods of disquiet.  This is a MANIPULATED market.  Profits still taste good; however, when the money runs out at the FED be ready for things to change.
********************************
Our options trades since 20 December 2010 are up just about 31%.
Our pick for tonight: Long UAL, UNITED/CONTINENTAL HOLDINGS.  We're buying March 25 calls.
OPTIONS TRADING SCORECARD:
CGTS OPTION

 

PORTFOLIO (Since 12/20/10)
Active
% Gain
39105
Profit
Trades
30.76%
Option Trades
$529,132.49
172
 
DAILY TRADES PLUS
 
 
37.44%
MJCF Close Medium 2
$116,049.00
31
7.71%
MJC CM Simple Sum 2
$16,183.25
21
146.54%
MJC M53 Simple 2/11
$14,654.00
1
36.65%
MJC Char Meter Diff Tr 1/11b
$69,634.54
19
14.68%
MJC M2F M53 Combo
$30,823.00
21
 
 
 
 
 
WEEKLY TRADES
 
 
35.49%
M2F 14% Trade
$106,465.00
30
264.06%
M2F AVG ALT DIFF ASP (NYSE:W)
$105,625.00
4
43.72%
M4 ACCUM 00 14
$96,186.00
22
0.08%
M5 3 ASP LT 2a (W)
$251.50
33
54.58%
M5 3 Avg Diff ASP Sum (W)
$54,579.70
10
31.57%
M5 3 Test Double Combo (W)
$34,730.50
11

NEW PURCHASES

Best chart of all our buy signals today: UAL, United/Continental Holdings.  Get ready to ride this one up.  We bought March 25 calls for 2.52 points.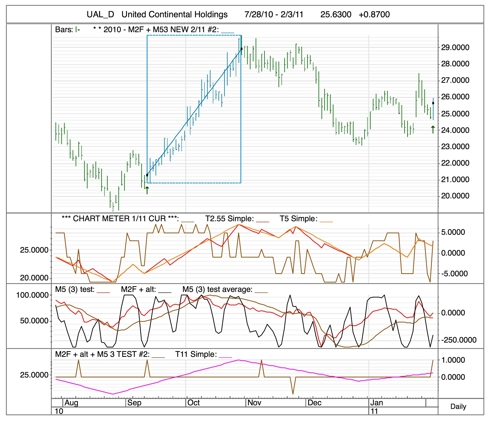 NEW SALES
Bought KLAC Feb 37 calls @ 2.6 1/12/11.  SOLD 2/3/11 @ 7.9.  Gain: 204%.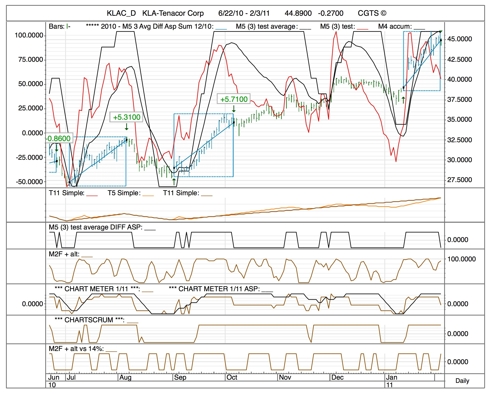 Bought: UUP Feb 25 puts @ 1.95 1/12/11.  SOLD: 2/3/11 @ 2.65.  Gain of 36%.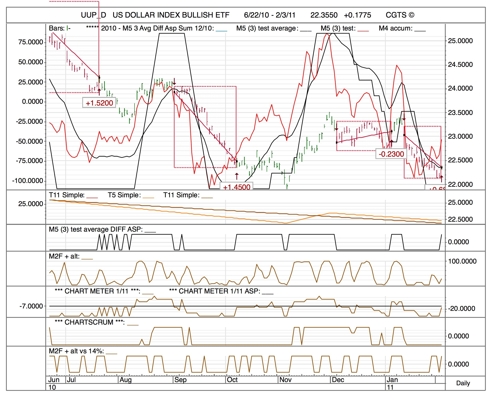 A Disclaimer of sorts:
I
will update these positions regularly, so we can all see how we are doing with our short-term speculating.
I am bullish on gold long-term (until Bernanke is fired, and more generally until about 2019, the end of the deflation cycle) -- and I'm relatively bullish on stocks until QE is abandoned.  QE does many things, one of which is to try to make sure that stocks and bonds don't decline.  The Fed, quite likely, has guaranteed to bankers the advance of stock prices.  As long as the Fed is willing and is allowed to backstop stock prices, short positions are very dangerous, except in isolated cases.  Bond vigilantes are showing Mr. Benanke that his designs may not be able to proceed without resistance however.  Rising rates are a slap in the face of American power; the slap is welcomed by those of us who think debt is the problem that needs to be addressed, destroyed, rather than expanded and extended.
Trading options is highly speculative and can be dangerous.  Pricing of options is never very clear; buying options is almost always less prefereable than selling options, in terms of likely profits.  But buying options gives an investor a HUGE BANG FOR THE BUCK.  Getting accurate price data on options (especially those thinly-traded) is also often a problem, with which we'll have to work.  Typically we work with the last close, if it falls between bid and offer.  If it does not, then we average the bid/offer.
If one knows what direction a stock is moving, short-term options can be profitable.  The problem with options, of course, is that they, like ourselves, decay with time.
The cheaper options expire more quickly (one can always buy long-term options is one wishes to speculate on long-term stock or market moves).  I like short-term expirations, cheap options, and getting in and out (with profits).
I have many short-term trading systems.  I will use several in this Options Corner.  The first I start with I call "M5 3 Chart Trade" which really relies on the M5 3 Momentum Indicator to trigger the trade, always in the same direction of the major trends.
Successful trading!  We know the game is fixed; but let's ride on the back of the dragon for as long as we can.
More information on the CGTS systems can be found at:
home.mindspring.com
/~mclark7/CGTS09.htm
MICHAEL J CLARK
Clark's Gate Timing System
Hanoi, Vietnam
84 4 221 92210
Long AHGP Feb 50 calls.