Clark's Gate Timing System ©
Thursday 16 July 2009

So what has the Goldman-Sachs Rally done for the rest of the markets?  Has it disrupted the top-reading that many commentators (including myself) were predicting for stocks?  Well, maybe.  The head-and-shouders top seemingly being put in by the S&P 500 is all but gone now.  This does not mean that the index will continue to rally.  Its short-term M2 Alternate momentum indicator reading is overbought.  This means sellers should come in -- but I never predict how strong the selling will be -- except to say that most trendlines are still positive, which makes me think the selling may be muted.  A negative for stocks in the short-term is that the VIX, CRB Volatility Index, is bottoming and looks ready to rally.  The VIX generally moves contrary to the stock indexes.  The Dollar Index is also oversold short-term -- indicating there should be some stock selling.
So, if stock indexes look a bit better after this rally, what about housing stocks?  Is it time to jump in to get ready for the big win?  Not really.  The HGX, Housing Index, looks very dismal at the moment.  It tried to put together a trading rally; but there were no buyers (see chart below).
Case-Schiller Macroshares were just introduced on the exchange to allow investors to bet on housing: DMM for when an investor is bearish on housing stocks, and UMM when an investor is bullish.  We just got a bull signal on the bearish issue; and a shortsell signal on the bullish issue.
We also include a chart of KBH, KB Housing, which also looks ready to fall some more.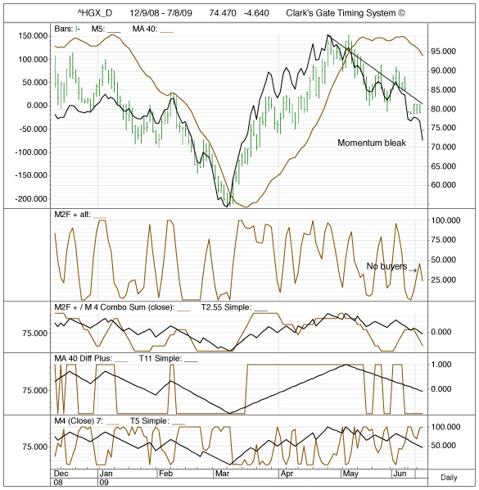 Ok, so stocks have been rallying, boosted by Goldman-Sachs blow-out quarter.  It becomes even more clear that the stock market is not related to reality at all.  Some say the market leads.  Well, stocks bottomed in 1934; and the economy didn't bottom, really, until after World War II, in 1946 or 1947.  Is the stock market anticipating the re-inflation of the global economy -- or is it just short-term traders with cheap or free government money attempting to make headlines with trading gains to try to lure small investors back intot he fray?
In line with the out of touch with reality theme, HOG, Harley Davidson, announced further losses this week, and plans to lay off more workers (11% more of its work force).  And the stock rises almost 9% after the news, and about 19% for the week so far.  Profits for HOG sank 91%.  Of course, that is a spur for buying!  Why wouldn't it be?
Of course the good banking news this week is Goldman-Sachs and JP Morgan.  But the news is not all good.  Citicorp is heading toward bankruptcy.  What about Bank of America.  The headlines scream: "Bank of America Posts Second Quarter Profit, Beating Street Estimages".  But looking closer, BOA's profit was down 54% from last year's second quarter; and its provisions for failed loans was $13.4 billion for the quarter.  So is this just financial press cheerleading?  It was a bad quarter but not as bad as the 'experts' expected?  How did BOA earn a profit?  By increasing fees on already strapped bank customers.  Increasing fees.  Making it more expensive to borrow in other words.  Making it more expensive to use their services.  Great.  Good job, BOA.
I saw on Boomberg today that 70% of earnings reported so far are beating the street -- and some 70% are also lower than last year.  Is that good news or bad news?  Does that tell us that the experts in the financial press don't really know what they are talking about?  'Beating the Street' means nothing, in fact.  Beating the Street is like Jerry Quarry going 6 rounds with Muhammed Ali -- Quarry beat the estimates: but he was counted out in the 7th round on a TKO.  That is, he lost.
I've never seen such a round of cheer-leading by market enthusiasts.  Of course, these cheerleaders NEED the small investor to come back in to the stock markets -- because most of these people, analysts, brokers, television personalities, make their living off of the small investor -- and by increasing fees on the small investor when they do come back in.  Something to think about.
Cramer and the other cheerleaders should be forced to wear a sign: "I am an equities cheerleader.  Everything I say is, of course, laced with self-interest."
New CGTS positons:
Thursday       
7/17/09       
M5 3       
AIG    12.75    ent long
M5 7       
DMM    35.65    ent long
KUSMX    8.6    ent long
SGINX    15.07    ent long
UMM    141    ent short
M5 10       
DMM    35.65    ent long
KUSMX    8.6    ent long
SGINX    15.07    ent long
M2F Alt 2 09       
KUSMX    8.6    ent long
SGINX    15.07    ent long
More information on this system can be found at

home.mindspring.com/~mclark7/CGTS09.htm


Portfolio of current 'Seeking Alpha" trades at (updated weekly):

home.mindspring.com/~mclark7/seekingalphaportfolio.htm


Portfolio of CGTS Trades for 09 (updarted weekly) can be found at:

home.mindspring.com/~mclark7/cgtsportfolio09.htm




MJ Clark
Clark's Gate Timing System
Hanoi, Vietnam
84 4 221 92210