We're all curious about Apple Computer. It's been the heart of the stock market for the last two years, the darling stock, the replacement heart that once was Intel or IBM.
Apple fell on hard times last October and has been falling every since.
Is Apple's decline about over? 'About' being the key word. Maybe.
Is Apple's decline over? No.
We have three charts today to show what we call the T11D Sunmarry Round Turn Trading System. This system essentially becomes positive when the T11D Sunmarry (bottom page) hits the top of the chart, + 10; it goes negative when it hits the bottom of the chart (- 10). We do not work with this indicator in isolation however. All the panes give us information. The second pane down is quite important, CGTS 112 Pre-Basic 50. It gives us long-term directions of buying or selling strength.
Also, our Trends, especially T11, red, bottom pane, tell us if the trends are making new highs or new lows. A bullish trend is making higher highs and higher lows; a bearish trend is making lower highs and lower lows.
The first chart we show is Apple Computer. It is still a shortsell. We are also expecting a turn-around. We are not seeing it yet however.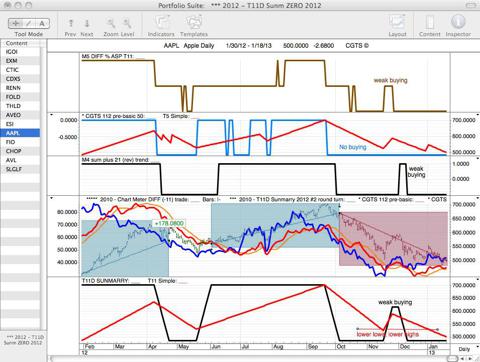 ESI has been in decline since March. It is giving another shortsell signal today. Note how the (Pane 2 down) indicator has not given any signal of buyer strength since March and continues to say seller's are dominating.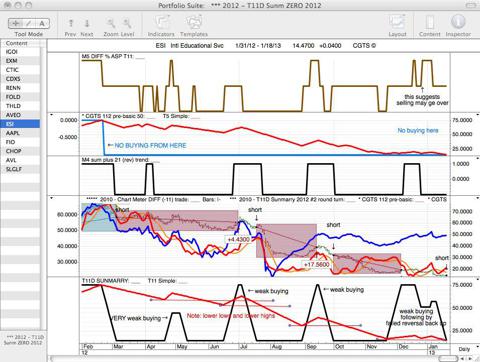 Our third chart is for those who feel I am unduly negative. I am not. VALE is a buy. We look for all our indicators to show buy strength increasing. VALE clearly showed that in December.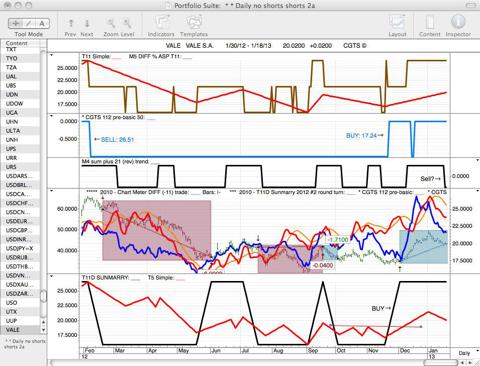 Hope everyone is well. Happy Chinese New Year (coming up soon).
Michael J. Clark, Hanoi
CGTS
Disclosure: I am long VALE.
Additional disclosure: Long Vale March call options.