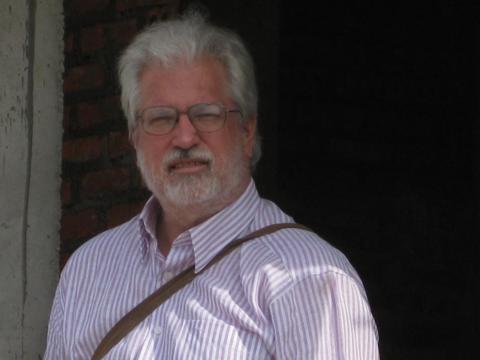 APPLE COMPUTER WANTS TO BOTTOM. BUT IS IT BOTTOMING?
I have been engaging with Bret Jensen on the Seeking Alpha website about the wisdom in buying Apple Computer. On November 17, 2012, Bret wrote the following article: "Did Apple Bottom on Friday?"
https://seekingalpha.com/article/1015611-did-apple-bottom-friday
I wrote back that it did not bottom.
Bret responded with all sorts of 'fundamental' reasons for Apple's ridiculous oversold condition. Apple closed on November 16 trading at 527. Today Apple is trading at 443.56. Note the 'failed rally marked on my chart below', bottom pane.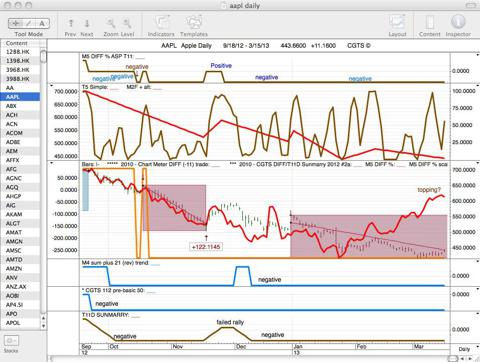 In the last several months Bret wrote many positive articles about Apple, suggesting their prospects as a company were being underrated. He pulled out earnings reports, suppliers' earnings reports, sales momentum, IPhone implications, IWatch implications.
I kept responding that 'technically' nothing had changed for Apple. My most effective long- and intermediate-term technical indicators were and are still negative on Apple. Some of these did a head-fake last November, when Apple tried to bottom (Bret's first article); notice CGTS 112 pre-basic 50 turned negative September 2012 and is still negative -- second pane from the bottom. Note also that M5Diff Scale, orange line, fourth pane up, turned negative in October 2012, and has not turned back up. The M5Diff Scale is simply a visual gauge showing when the red line in the same pane (M5Diff%) breaks up through 0. This would be a positive. And the M5Diff% has tried to bottom since later January 2013 -- but it is struggling to get up above zero, and seems to be topping now.
Fundamental analysis does not work in a vacuum.
The red line in the second pane from the top is a short-term trend reading (T5 Simple). Note its pattern: lower lows and lower highs, which are the perfect description of a continuing bear market. The bottom will be put in when T5 Simple is making higher lows and higher highs.
M5Diff% almost always 'predicts' a rally when it rises and breaks up past zero. Let us look at an earlier segment of our Apple chart, back in 2008. The same indicators show a much healthier Apple chart; and show an M5Diff% that moves inexorably higher, through zero (note orange line showing this) -- but the price refuses to budge. As I say, this is a rare situation -- a rising M5Diff% and a flat price. Note the T5 Trend line (red line, second pane from the top) begins a breakout in December 2008 -- but then falls back. Also note that our most accurate indicator, CGTS 12 pre-basic 50 (blue line, second pane from the bottom), refuses to break back up, remaining negative throughout the life of this chart.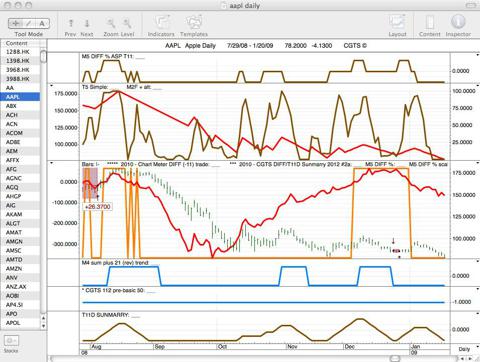 I received an email from one of Brett's readers who wanted to see my technical indicators that I mentioned in one of my posts, so I'm running this chart mostly for him.
Keep your powder dry. Apple isn't ready yet. What else isn't ready yet? Gold stocks. Looking for something to short? Chinese bank stocks. Chinese stocks generally look to be getting ready to implode. This makes me very suspicious that China is getting ready to lead the world down into the very deep water of UNDENIABLE global depression. Currency wars and trade wars generally lead to shooting wars.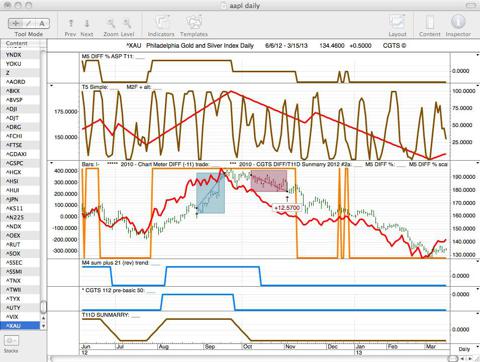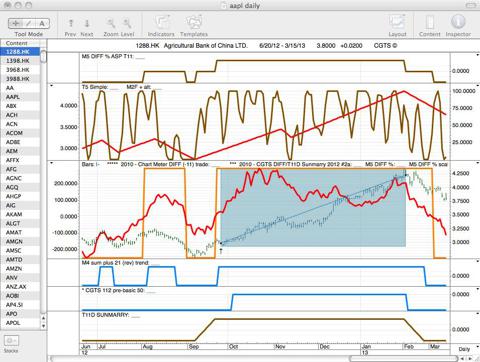 Very hard to comment on anything today without mentioning the debacle in Europe, in Cyrpus. The government of Cyprus is apparently willing to go along with the European Bank plan to soak Cypriot savers for a chuck of their money to give to European banks as a part of the Cyprus bailout process. This plan has not been approved by the Cypriot government -- but they seem to say that they need to pass this bill, raise this money, or the two largest banks in Cyprus will go bankrupt in two days. The current plan is to 'tax' savers with deposits less than 100,000 Euros in the Cyrpus banks nearly 7%; and tax depositors holding more than 100,000 Euros about 10%. This is theft by government. This is the lowest 'Bank Robbery' on record. They try to justify this by reports that Russian mafia holds billions in Cyprus banks -- so why tax those with less than 100,000 Euros at all? Russian mafiosos do not have Cypriot bank accounts holding 100,000 Euros of less.
A vote on this bill was delayed today. There is talk about scaling back the lower end of the tax to 3 or 4% and scaling up the top end of the tax to 15%. Either way it is outright theft of money to give directly to the banks and bankers who caused this crisis through their greed and lack of insight.
My thesis is that a continuing US dollar rally will kill Bernanke's plan, will torpedo asset prices around the world, sink stocks, sink banks, sink commodities, sink economies, and sink housing prices, which caused all this trouble. I say: yes, sink asset prices. If you drive them up with inflation of salaries OR DEBT, then you have to be prepared to let them come back down again. They have to come back down or we will never be able to afford to buy them again. Destroy the debt. Destroy those who made their living by issuing bad debt; destroy those who became over-indebted. By destroy I mean, make them admit their mistakes, declare bankruptcy, or default. We have to clear the books of our debts. Robbing the public to save the banks is no longer an option. Or it should not be.
Do the people in power understand how close the world is coming to open civil war?
Today's Cyprus news punished the Euro, down some 1.32% against the Dollar, before rallying a bit: down more than 1%. America let the currency devaluation process, with QE, ZIRP, continuing QE, more money for banks...print as much money as you can. Britain joined in; then Switzerland; now Japan; apparently China is also devaluing surreptitiously. If everyone is pushing their currencies down, then some currencies must go up, such as the US Dollar, especially now that the Fed is arguing among members about stopping QE this year.
Look at a USDollar/Euro chart: technically its hard not to see that the Dollar is rallying, and wants to keep going higher. A bull market (a REAL bull market) sees the US Dollar appreciate and stocks appreciate. A fake bull market (a bear market) sees the dollar go down, and stocks rise, move sideways or fall a bit nominally. Of course, when you factor in the Dollar devaluation into the US stock market move, stocks ALWAYS lose during a Bear Market. If you don't believe me, look at the Gold-Stock ratio, which has historically marked Bull and Bear Markets quite accurately.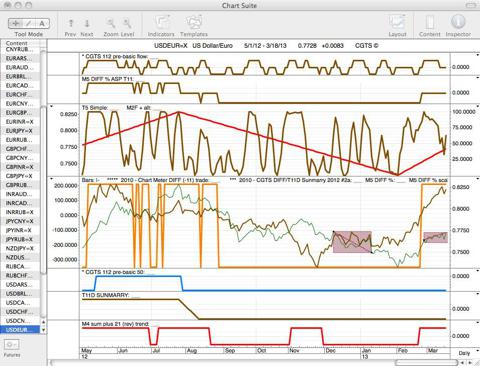 DOW/XAU INDEX, 1950-2013

DOW/GOLD RATIO, HISTORICAL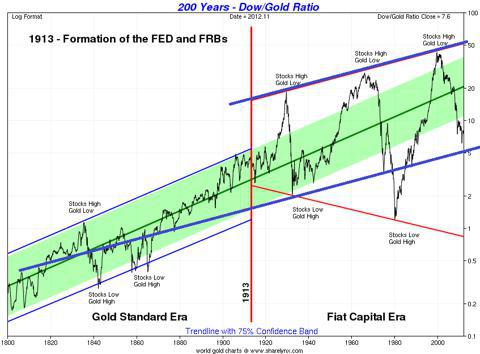 In this last chart, this centuries Dow/Gold Ratio tops and bottoms:
Bottom: 1911
Top: 1929
Bottom: 1947
Top: 1965
Bottom: 1983
Top: 2001
Bottom: 2019
Best of fortune.
Michael J. Clark, CGTS
Hanoi
cgts@mindspring.com