CGTS
Tuesday, 19 April 2011

So, is this a 'real' correction?  It sure looks like it.  The S&P threatening to downgrade USA debt yesterday sent a shock-wave through the markets -- now we are getting all the con-men yea-sayers diminishing the impact of the warning from the S&P.  Geithner appears on CNBC and says: America is in better shape than anyone realizes.  Who has this guy been talking with -- Bernie Bernanke.

The real fear of the markets, as I see it, is that QE2 is coming to an end and this has everyone wondering if the end of the automatic buying of junk treasuries will negatively impact the markets -- that is, if the resulting rise in yields will sink stocks.

Let's look at a chart of the OEX, the S&P 100 Index.  Note three main elements in this chart: 1) M4 Accumulation, the black line in the top pane: when this indicator starts down, prices come down, guaranteed; 2) Chart Meter ASP, black line middle pane: both times shown on this chart show a decline in this indicator also indicated selling was coming in; 3) M5 3 Test Average Sum, brown line bottom pane: when this indicator falls to -2, selling is almost always guaranteed, especially when the earlier indicators have turned down.  Currently all three of these 'market top' readings are in place, leaving us to believe that selling is coming.  How much selling?  It's hard to tell.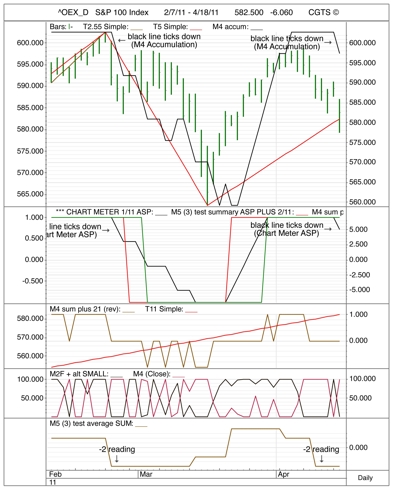 Goldman Sachs reported that trading income was off about 72% this quarter, compared with last.  Of course, this news was spun in terms of earnings to get an early bounce -- but selling came in later in the day.

Bank stocks look horrible, with GS, JP Morgan and Bank of America all looking like good shorts at this point.  BLK, Blackrock, also looks to be breaking down to become a short.  Using the same major three indicators, look how the Bank Index looks now.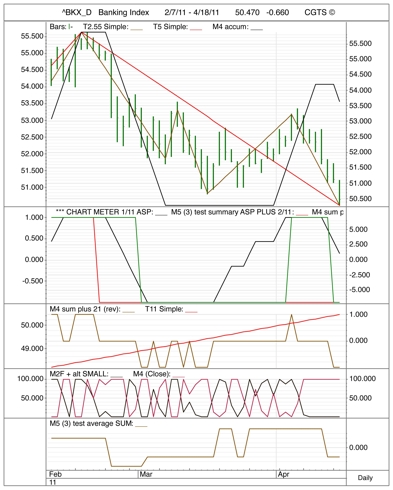 European stocks also look to be entering corrections.  As does the Russell Small Cap Index and the Oil Stock Index.

In April, we added a lot of put-buying to our portfolio in an attempt to balance our exposure as the bull run was getting a bit exhausted.  Now we are beginning to overweight with puts: VCI, HPQ, KBH, CSCO, UAL, SCCO, MWW.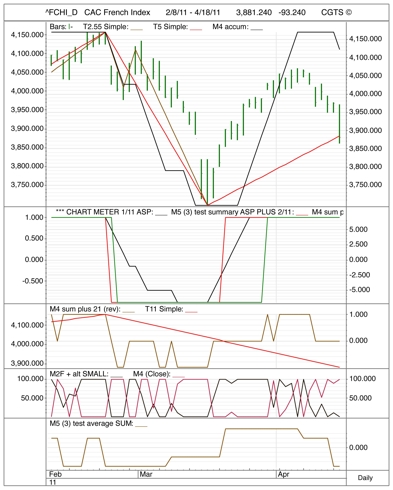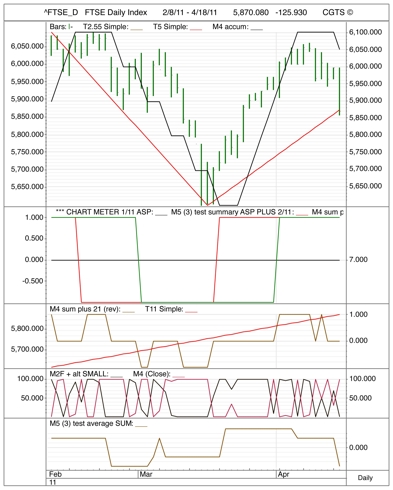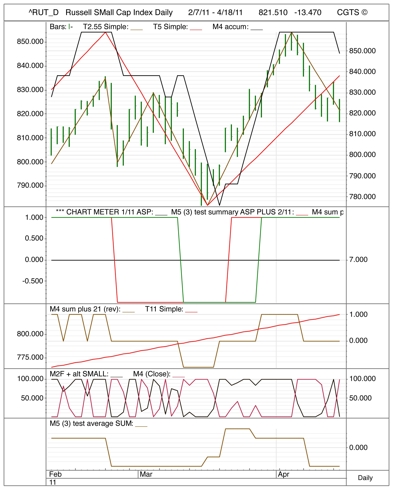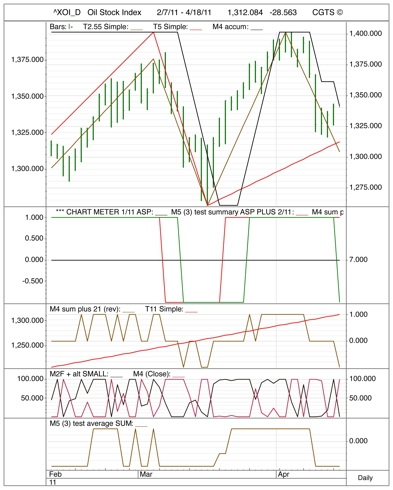 Happy hunting.

MJClark
Hanoi, Vietnam