HAL LOOKS VULNERABLE TO A PULLBACK HERE.
I am running this chart for a friend. HAL, Haliburton, posted excellent earnings and rallied two days ago. But will the rally have feet? I'm not sure.
In the First Pane of the chart we see Buyers/Sellers struggling, and sellers winning at the minute: the Green Line (buyers) are weakening; the Red Line (sellers) are immovable. And the BLUE LINE (the rope in this tug of war) is down. As the Green Line falls, the sellers gain the advantage.
Second Pane: M2F Alt: short-term momentum. HAL is approaching overbought short-term.
Pane Three: short- and intermediate-term trends. Both are trending down, making lower lows and lower highs. This is bearish short-term. And the brown line is the Moving Average of the longer trend and it is hanging out over the precipice.
Pane Four: price bars plus a black line that is our CGTS main indicator, and the red line which is that indicator's moving average. Everything here is trending down.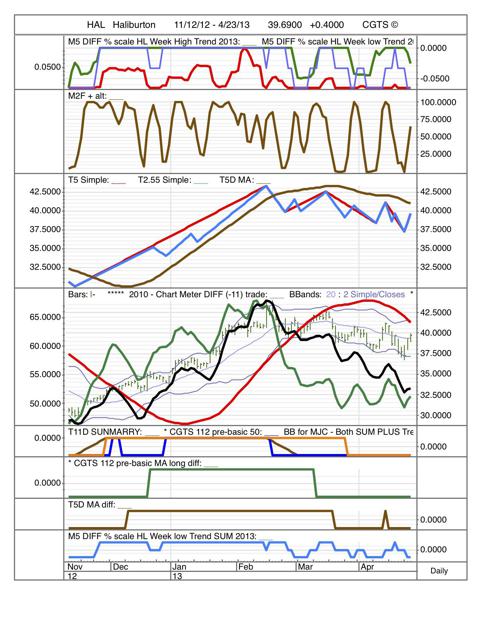 Pane Five shows my three best intermediate-term momentum indicators all embedded in the same pane, one blue, one orange, and one brown. All are negative.
Panes Six and Seven shows in graphic form if the two moving averages above are declining or rising. The Green line in the Moving Average of the CGTS indicator in Pane 4 (black line): it is declining. The brown line in Pane Seven shows whether the moving average of the intermediate term trend in Pane Two is up or down. The last pane is merely a repetition of the blue line from Pane One, showing the winner of the struggle between Buyers and Sellers.
We've developed a very simple trading system that trades the two indicators (M5D% Trend Sum, bottom pane and T11Sunmarry, one of our intermediate indicators in Pane 5. Here is a picture of it, very simple: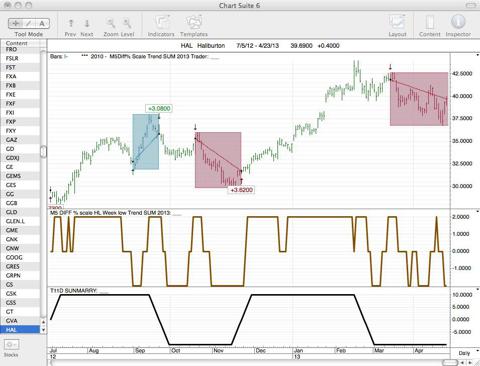 This system goes long when the M5D indicator (brown line) is negative and hits -1 and the T11Summary indicator (black line) is postive at +10. We short when the reverse is true: M5D is up at +1 and T11 Sunmarry is negative at -10. We cover when T11 Sunmarry reverses.
This shows we are negative now trading HAL also.
Everybody is talking about Apple Computer. What do our charts say? Pane 1, Buyers vs. Sellers = Sellers still on top.
Pane 2: Short-term oversold. This suggests an attempt at a rally here. But Pane 1 says Sellers are still stronger than Buyers.
Pane 3. Key Intermediate Term Trend has been making lower highs and lower lows since Apple first began dropping -- and still is. No bottom in Apple yet.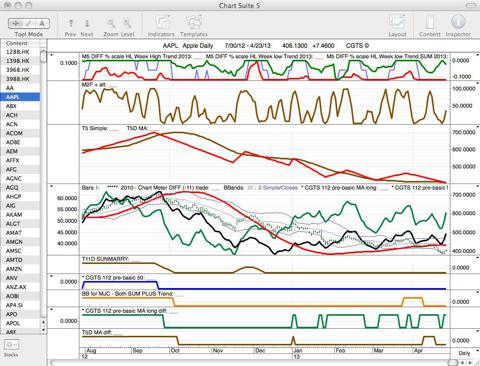 Pane Four shows the price bars and Indicators that all want to reverse. Typically, when the green line crosses the black line it begins a rally. Not so far however.
Pane Five: T11 Sunmarry: still negative.
Pane Six: CGTS Pre-basic 50: has been negative since Apple collapsed, no tick up. Still negative.
The bottom three panes show indicators that have been ticking up, and want to announce a bottom. But no bottom yet.
WE NEED TO SEE THE PANE 3 TREND PUT IN A HIGHER BOTTOM AND THEN BREAK RESISTANCE ON THE WAY UP. So, still negative on Apple. Expecting to see a test of 363 on the way down.
Stocks are funny. They do what they want to do -- and then we try to rationalize them.
Good luck trading.
Michael J. Clark, CGTS
Hanoi
cgts@mindspring.com