CGTS DAILY TRADING SIGNALS
FOR Tuesday 16 August 2011
MASSIVE CURRENCY MANIPULATION: IS THIS WHAT PROTECTIONISM SMELLLS LIKE?


I have never seen anything like this.  Currency manipulation on a massive scale -- led by big money?  Well, yes.  By the biggest of all moneys: governments themselves.
The whole idea that the currency markets were free capitalistic markets should have been put to bed many years ago.  Of course, the die-hard traditionalists who insist we have a free market system and that manipulation of the markets on a large scale doesn't happen or is illegal -- they are probably still chanting their mantra.  The truth is, the currency markets are mostly manipulated for political reasons, especially during a global depression, where the fiscal and economic surival of nations is at stake.
What?  Is this protectionism?  Of course it is.
Where did it start?  When did it start?  I can't answer the second part.  I don't think it ever stops, in truth.  But the most recent example of currency manipulation came from America and Ben Bernanke, whose Quantatative Easing ('bailout' is such a trite, overused word) was designed to slaughter the US Dollar.  Did it work?
The chart below, the USDollar/Canadian Dollar, seems to show it worked like a charm.  It worked especially well against resource rich nations and currencies like Canada, Australia and Russia because QE not only destroyed the US Dollar by 'printing' too many dollars (remember, scarcity is value), it also fueled a bubble in assets like oil and raw materials -- so Bernanke added value to Canada, Australia and Russia as he subtracted value from American citizens.  Oh, yes, he did help American exports by slaughtering the Dollar -- he also helped US banks to rebuild their balance sheets.
QE was 'massive intervention' that exported inflation to all the world in terms of commodity and food price escalation.  Markets traded in US Dollars seem to rise when the Dollar depreciates.  Also, with a Dollar being sacrificed, big money needs to find a place to store investment money: stocks and commodities (and often real estate) benefit from this.  So a lot of very rich people have Ben Bernanke to thank for telegraphing his moves so clearly, and then following his own announced wisdom to a Tee.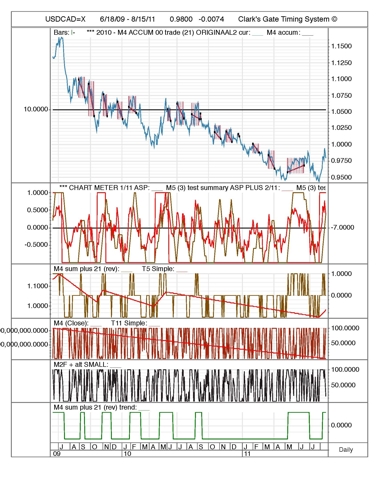 What came next?  Post-apocalypse Japan decided they had been pushed around long enough and could not survive economically with a strong yen any longer.  The Japanese government began selling Yen and buying other currencies, especially US Dollars and Euros.  Some non-traders argue that this is insignificant, since the moves only involve a couple percentage moves at the most.  However, a currency move of 3% (at 300% leverage) could result in a loss of $90,000 on a $10,000 investment.  For traders like us, this is a significant issue.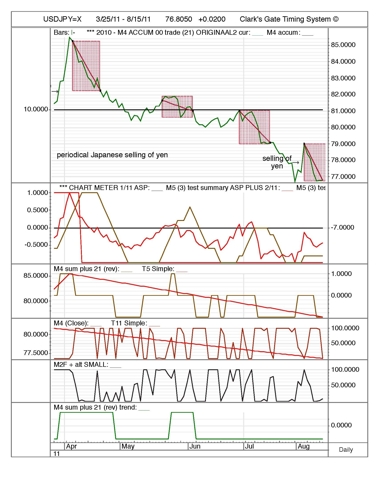 Who is next?  Switzerland.  The Swiss began to scream over the weekend that the strong Swiss France was ruining their tourist trade and destroying the fragile local manufacturing industry.  The Swiss sold Swiss Franc and bought the Euro, US Dollar, Japanese Yen.  The Swiss are now threatening to peg the Swiss Franc to the Euro -- talking about lashing oneself to the titanic -- in order to mute currency appreciation.  It seems that frightened traders over the last few weeks, pulling out of stocks, looking for 'safe haven' investments had only three options: US Treasury Bonds (which had just been downgraded), gold, and the Swiss Franc.  A tone of money poured into the Swiss Franc.  The Swiss are angry about this -- and now they are also practicing protectionism.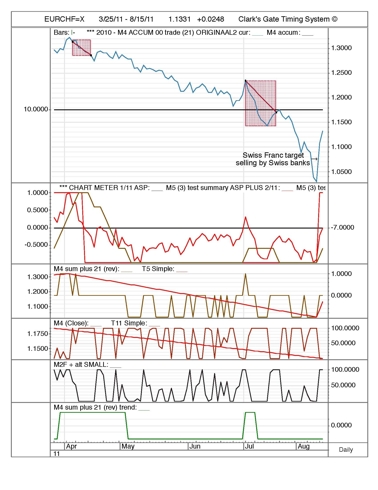 Currency markets are becoming a whirlpool of panic and political intrigue now, the vanguard of protectionist sentiment.  A cesspool, some might call it, some concerned with a level playing field.  Imagine doing your homework, placing your bets on reasonable assumptions, and then having national governments step in and give you a $100,000 loss in your $10,000 portfolio.
More such fun is certainly on the way
On August 15, Bloomberg news explained the turmoil this way:
The Swiss franc fell against the euro and headed for its biggest three-day decline since the European currency's 1999 debut on speculation Switzerland will take further action to counter recent gains.

The franc slid for a fourth day versus the dollar after the SonntagsZeitung newspaper said the Swiss government and the central bank are in "intense" talks over setting a target for their currency. The yen dropped the most in a week against the euro after Japan's Finance Minister Yoshihiko Noda indicated he's ready to intervene in foreign-exchange markets again.

"The market is rightly nervous about what's likely to come from the Swiss authorities as they have a track record of going down more unconventional policy steps," said Lee Hardman, a currency strategist at Bank of Tokyo-Mitsubishi UFJ Ltd. in London. "If the steps will be enough to reverse the Swiss franc's strengthening trend remains to be seen, but at these levels of overvaluation, which are very extreme, the risk-reward is more favorable in their way."

 

The franc tumbled 1.6 percent to 1.12642 per euro at 7:12 a.m. in New York, from 1.10857 on Aug. 12, after rallying to a record 1.00749 on Aug. 9. The Swiss currency has slid 8.7 percent over the past three days, the most in 12 years. The franc declined 1.3 percent to 78.81 centimes per dollar after advancing to a record 70.71 centimes on Aug. 9.

The yen declined 0.4 percent to 109.78 per euro and depreciated 0.1 percent to 76.79 per dollar after climbing to 76.31 on Aug. 1, approaching its post-World War II record of 76.25 set on March 17. The 17-nation euro increased 0.3 percent to $1.4279.

The franc has soared 12 percent in the past three months and the yen added 3.5 percent, according to Bloomberg Correlation-Weighted Indexes. The currencies have gained as debt crises in Europe and the U.S. boosted demand for safety.

The Swiss National Bank may set a target for the currency in "coming days," SonntagsZeitung reported. Talks are focusing on the role of the government and an "appropriate plan" may be adopted Aug. 17, the newspaper said.

SNB policy makers, led by Philipp Hildebrand, have been seeking ways to stop the franc's ascent to almost parity with the euro. While the central bank boosted liquidity in money markets and cut borrowing costs to zero, lawmakers have signaled their support for tougher measures to protect the economy.

"The market is paying much more respect towards the idea that there's some sort of shock-and-awe tactic being put together in Switzerland," said Robert Rennie, chief currency strategist in Sydney at Westpac Banking Corp., Australia's second-largest lender. "It's this fear of the unknown that has sparked a significant move" in the franc.

Gains have left the franc 41 percent too strong against the euro, according to an index developed by the Organization for Economic Cooperation and Development in Paris that uses relative costs of goods and services. It's also the most overvalued currency against the dollar, at 49 percent.

The yen has risen beyond the level that prompted Japan to sell the currency on Aug. 4, its first intervention in foreign-exchange markets since March. A stronger yen reduces the value of overseas income at Japanese companies when converted into their home currency.

"An unstable situation is continuing," Noda said yesterday during a television talk show on the public broadcaster NHK. "As foreign-exchange market matters are my prerogative, I will continue to closely watch the markets and take bold action if it becomes necessary."

Japan's economy shrank at a 1.3 percent annual pace in the three months through June, the third quarter of contraction, government data showed today. The median forecast of economists surveyed by Bloomberg News was for a 2.5 percent drop.
If you trade the currency markets, you had better wear a hard-hat.
More information on the CGTS systems can be found at:
home.mindspring.com/~mclark7/CGTS09.htm  
MICHAEL J CLARK
Clark's Gate Timing System
Hanoi, Vietnam
cgts@mindspring.com                   
Disclosure:
I have no positions in any stocks mentioned, and no plans to initiate any positions within the next 72 hours.