CGTS DAILY TRADING SIGNALS
FOR Monday 22 August 2011
LONG RANGE CURRENCY TRADING

We received two 'BUY SIGNALS' from one of our long-term trading instruments today in the currency market.

Both signals are essentially telling us to short the Swiss Franc.  This would have bee a murderous trade over the last year or so, as the Swiss Franc, along with gold and US TBonds, have been the place to put your money for 'safe haven' status in a volatile market-place, made insane by massive amounts of governmental interference.

But the Swiss have seen their tourist trade trickle to nothing (so have a lot of other countries for that matter), and they have also seen their manufacturing sector go belly-up and Swiss goods for export have become more and more expensive.  So the Swiss are talking about either massive Swiss Franc selling (like the Japanese -- how effective has that been -- which the Swiss have already begun) or even pegging the Swiss Franc to the Euro, a move that is guaranteed to neutralize excitement for their home currency. Either way, the Swiss want the Swiss Franc to move lower.

Our two signals today indicate that is the play to make.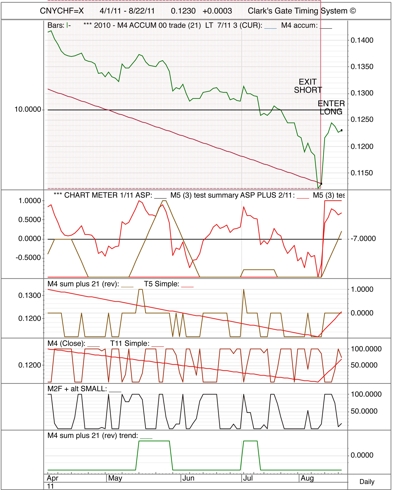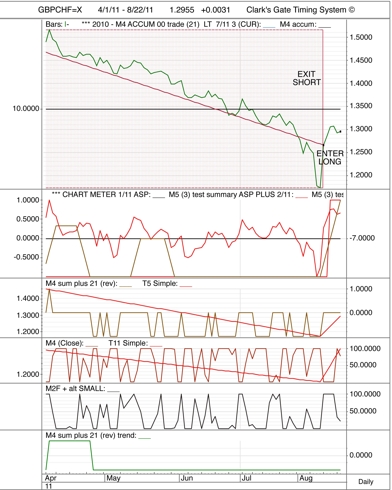 If you trade the currency markets, you had better wear a hard-hat.
More information on the CGTS systems can be found at:
home.mindspring.com/~mclark7/CGTS09.htm  
MICHAEL J CLARK
Clark's Gate Timing System
Hanoi, Vietnam
cgts@mindspring.com