CGTS TRADING SYSTEMS
5 September 2011
European stocks were hammered last night.  German stocks fell almost 5%.  How much further do they have to fall?
Looking at the monthly chart, near-term support has been breached.  Next support is at 3589, which means, if it comes true, a drop of another 30%.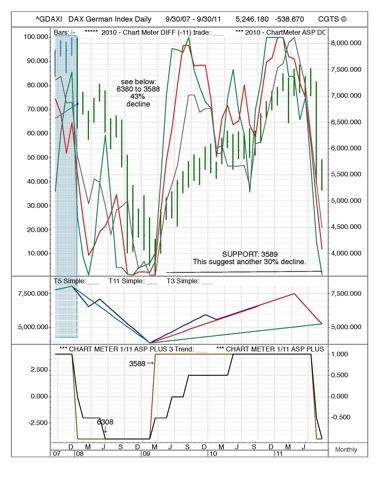 How does this translate to the S&P 500 Index.  American stock markets were closed on Monday, so we'll see how they hold up tonight.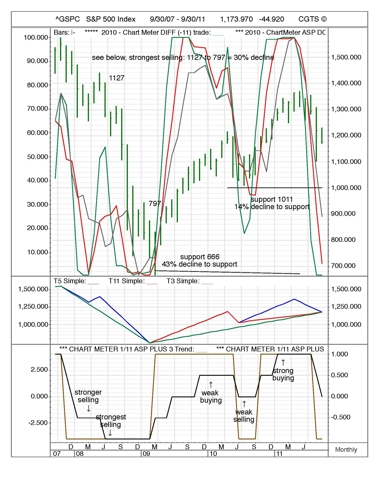 GSPC has near-term support at 1011.  Could this be taken out today?  Next support is at the highly symbolic number 666.  A return to this level would be a 43% decline from Friday's close.  If the GSPC and the DAX are related in any way, this suggests about a 14% loss for today for the GSPC -- which seems unlikely.
Note in the bottom pane the graphic description of strong/weak selling and strong/weak buying.  If the black line (Chart Meter 1/11 ASP PLUS) breaks down to the lowest level (-3), then we can expect the worst.  There should be some buying at 1011 -- but we'll see how much there is.
More information on the CGTS systems can be found at: home.mindspring.com/~mclark7/CGTS09.htm
MICHAEL J CLARK
Clark's Gate Timing System
Hanoi, Vietnam
cgts@mindspring.com