CLARK'S GATE TRADING SYSTEM
Daily Trade: for Monday 17 August 2009
Short-Term Trading Emphasis.
CGTS  Daily Trading is dedicated to short-term gains and accuracy of trading.  CGTS Weekly Trading is dedicated to longer-term trading and investing with (we hope) similar accuracy.

The Shanghai Index continues to fall.  Is this the bubble popping?  The SSEC is down 17% in five days; and it looks like there is more to come.  It looks like a freefall to me.

HSI is now following the Shanghai index down.  And the Taiwan Index, TWII, shows a pretty remarkable divergence between momentum and price, which suggests lower prices in Taiwan (as if the typhoon and earthquake weren't enough).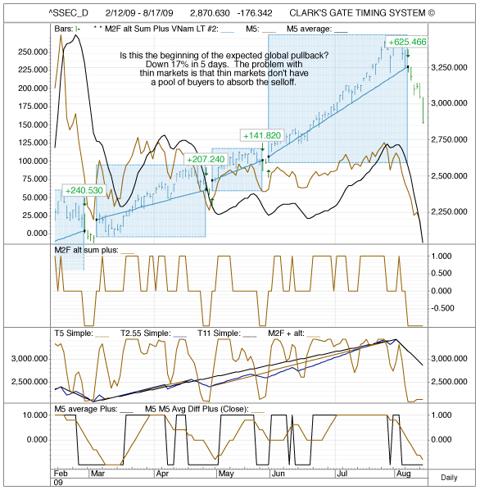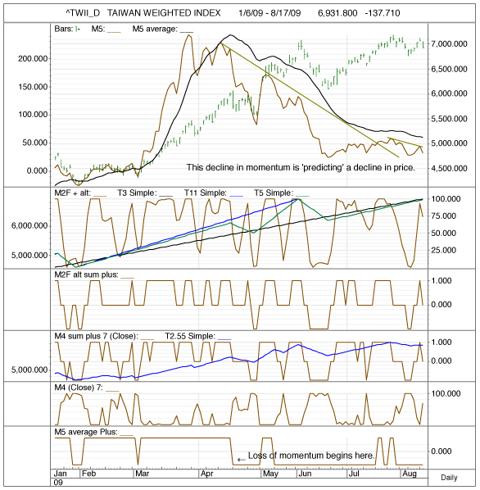 More information on this system can be found at

www.home.mindspring.com/~mclark7/CGTS09.htm


Those interested in reading a draft of 'Turn Out the Lights', my description of the metaphysical causes of the financial collapse, can find it at:

www.hoalantrangallery.com/Turnoutlights.htm


 

Michael J. Clark
Clark's Gate Timing System
Hanoi, Vietnam
84 4 221 92210

The author owns none of the issues mentioned in this letter.