CLARK'S GATE TRADING SYSTEM -- WEEKLY UPDATE PART ONE
WEEK OF 21 AUGUST 2009
CGTS Weekly Trading is dedicated to longer-term trading and investing.
So where did all that selling go?  A lot of us were expecting selling to come in with the downpour of selling on the Chinese indices.  I've always said: Asian markets don't lead; Asian markets follow Europe to some extent, and America markets to a great extent; European markets follow American markets; American markets follow European markets to some extent, and Asian markets not at all.
It seemed to many market commentators that all these 'truisms' were suddenly changing, with Chinese markets leading the way -- Chinese economies leading the way -- Chinese hot money advocates leading the way.  Then came the selling, with the Shanghai Index down 17% in a week.  Wouldn't the Western markets follow the Chinese, like good little shadows?  Apparently not.  The French CAC index shot up more than 3% on Friday and broke through overhead resistance.  What does that mean?  Well, it means these markets don't want to go down.
Asian markets seem to be sinking.  We will look at Asian charts and see that ALL Asian charts are having selling come in.  But all the European and American charts we've looked at suggest that selling is not yet coming in where one might expect it.  Perhaps that's where all that government spending comes in -- it was all to provide an artificial buoy for the stock markets, so that governments could continue to blow bubbles and continue to avoid the truth about what debt does to a country.  Clearly, global governments have decided that bubbles are the way they survive...and they are going to blow bubbles until they die.
Let's look at the French index first.  This one is pretty much substitutable for ALL Western markets.  New highs which indicate the potential sellers are just potential at the moment.  FCHI is short-term overbought and should start finding its way down.  But a new high is a new high.  We have support at 3396.6.
In contrast, the SSEC, Shanghai Index, has taken a major hit.  It has hit oversold territory and is bouncing up, a bounce that should last a few more days.  But technically, the nearly 20% decline has done some damage.  Momentum has turned negative; and the trend pattern is also negative, with lover lows and lower highs.
Nearly all Asian market charts look fragile short-term.  The Australian All Ordinaries Index looks to be heading into a spate of selling.  Our M4/M4 Sum Plus 7 indicators has just inverted to selling mode.
The Hang Seng Index (HSI - Hong Kong) did not suffer the kind of damage that the SSEC Index did last week.  It should have some continued buying early this coming week -- but both the trend and the momentum have turned negative.  So this index will need to have significant buying to turn both back to positive.
The Nikkei Index (N225) also appears to be breaking down.  Our M4/M4 Sum Plus 7 has inverted to a selling mode.  Both momentum and trend has turned negative.
The index most likely to break down this week might be the Taiwan Index (TSII).  Although it is short-term oversold already, M4/M4 Sun Plus 7 has inverted to a selling mode; and momentum and trend are now both negative.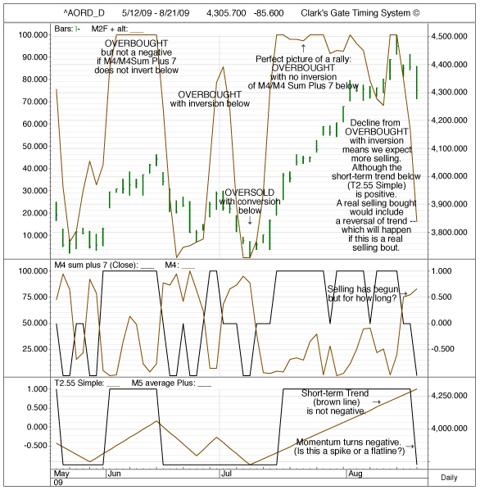 GSPC
), the Oil and Gas Index (XOI), and the Madrid Index (NASDAQ:
SMSI
), we see a much more positive picture.
This picture can change quickly -- but the deterioration I expected, following China's collapse, does not seem to be happening.
Can one imagine reasons for the Madrid Index to be climbing?
Spain is a Europ basket-case, along with Ireland.
There is not much positive in the near future of Spain; still, it is rising along with all other markets.
Fundamentals don't seem to matter any longer.
So much water (cheap money) has been pumped into the system, that all boats seem to float, whether they have a bottom or not.
Is this a picture of a rational market?
We also wondered what some of these indexes might look like in monthly charts..  In almost all indexes, looking at monthly charts, this entire rally since March has been discounted -- in terms of momentum.  That is, momentum has remained negative.  The FCHI Monthly shows an index that is overbought, that tried to correct but did not find many sellers (M4/M4 Sum Plus 7), but which still remain momentum-negative.
SSEC monthly shows an index that is just turning M4/M4 Sum Plus 7 negative -- and one that is showing that this entire Shanghai Index rally (some 80% gain) is just an upward spike in the indicator, something to be disregarded -- and is now back down.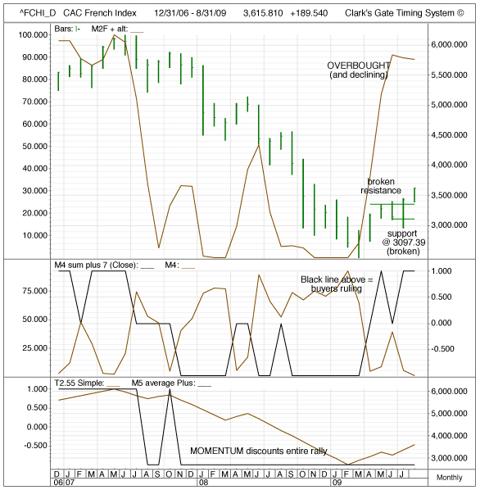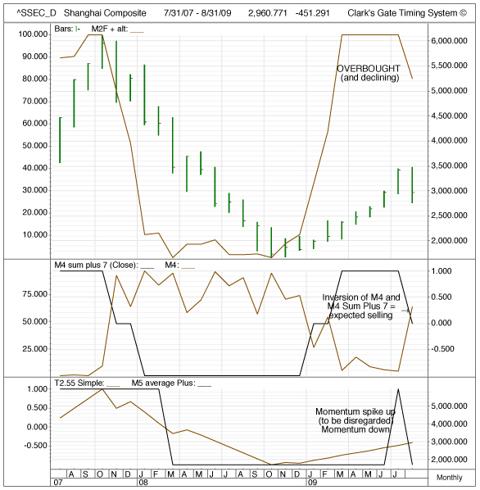 The monthly charts are indicating that this recent rally IS a bear trap, an insignificant blip, in the larger picture.
In Part II of our weekly letter, we will look at our regular features -- Top 30 and Bottom 30 Momentum Leaders -- New Trades -- Weekly Portfolio -- and some changes in positions for this week.
More information on this system can be found at
www.home.mindspring.com/~mclark7/CGTS09.htm
Those interested in reading a draft of 'Turn Out the Lights', my description of the metaphysical causes of the financial collapse, can find it at:
www.hoalantrangallery.com/Turnoutlights.htm
Michael J. Clark
Clark's Gate Timing System
Hanoi, Vietnam
84 4 221 92210
DISCLOSURE: The author owns none of the issues mentioned in this letter.