Clark's Gate Timing System ©
Monday, 31 August 2009
Monday was not kind to Asian investors.
It was not very kind to the ruling party in Japan either -- Japanese voters threw  'the bums' out.  The LDP has ruled Japan almost continually since 1955.  But impatient Japanese voters opted to try another soluton, after 18 years of deflation.  The opposition DPJ (Democratic Party of Japan) advertises itself as a 'left-of-center' party.  The Yen gained today; and Japanese stocks pulled back.  Japan's retail sales fell for the eleventh consecutive month.  We remember that exports continued to fall in Japan in July, leading some to suggest that the massive stumulus-spending Japan had coordinated with Western nations was not doing much good.
The conservatives in Germany also lost votes in state elections, as the left may have gained enough power to keep Angel Merkel from forming the center-right government she wants to form after next month's national elections.
How do Asian indexes look today?
Australia (AORD): looks fine.  Nothing negative so far.
South Korea (KS11): In a bit of a quandry: wants to see if it should be going down.
Japan (N225): Initial pop up on election news (ALL news is GOOD news to this market apparently), followed by sell off.  Bias is still positive -- but we have a lot of spikes in our Buyer/Seller Momentum indicator, indicating uncertainty.  Longer term Momentum (M5 Sum) is negative.
Hong Kong (HSI): SELL SIGNAL TODAY.  This one has further to fall.
Shanghai (SSEC): More selling ahead as the SSEC lost over 6% today.  Next support level is 2538.  No way this support holds.
Taiwan (TWII): This is a confused index.  Spiked up in price today.  A second sustained day of buying would help this index -- but longer term momentum is negative and the trend patternn is also negative, lower lows and lower highs.  Support for TWII is at 6100.   TWII is currently trading at 6825.  That's a long fall to support.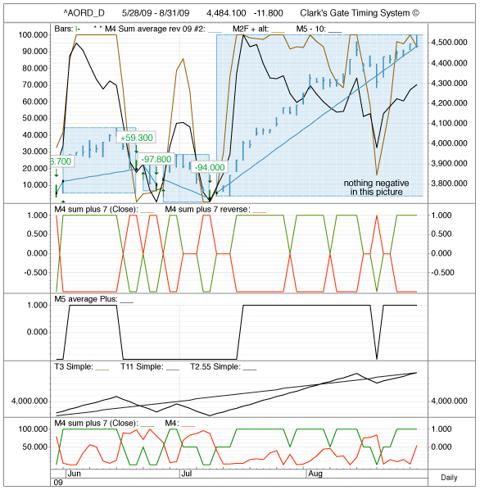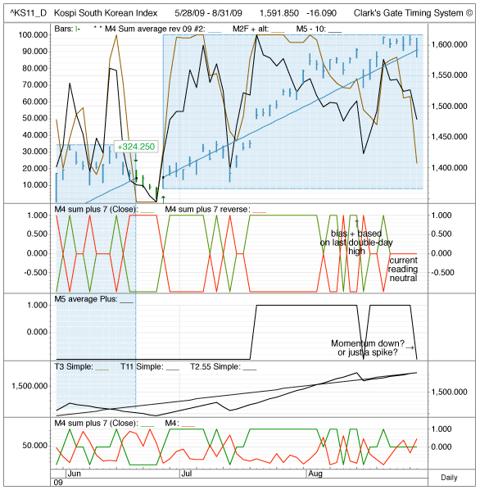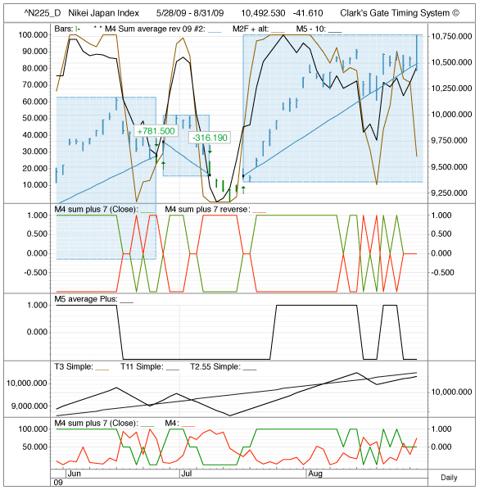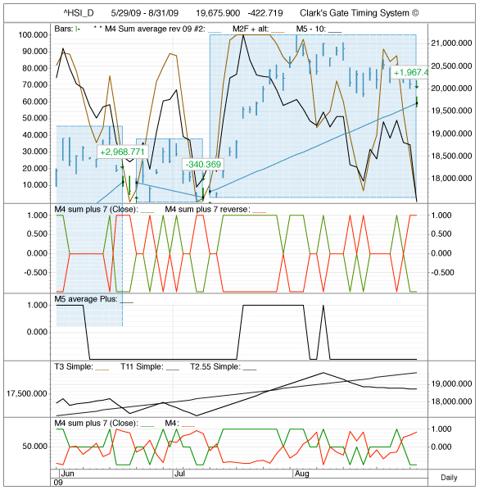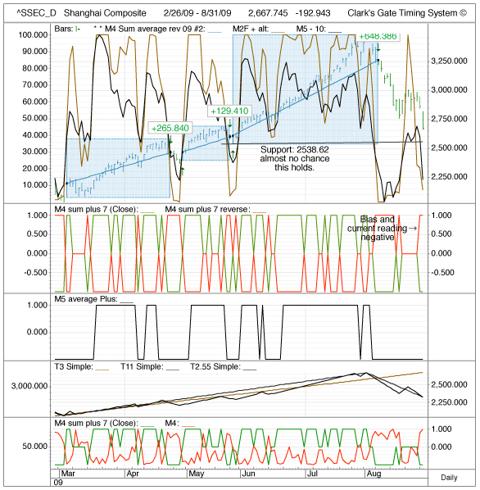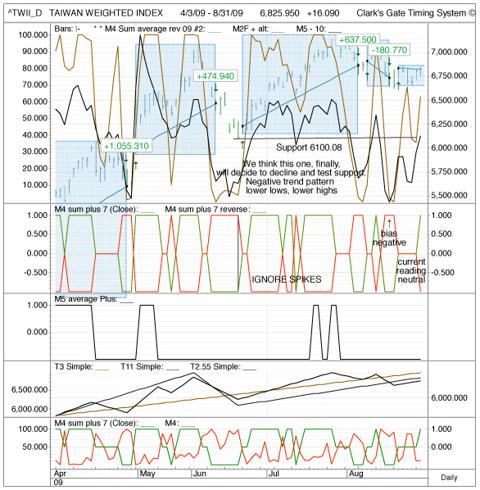 Version:1.0 StartHTML:0000000208 EndHTML:0000003779 StartFragment:0000002669 EndFragment:0000003743 SourceURL:file://localhost/Users/michaelclark/Desktop/CGTS%20Daily%2009/CGTS%20Thursday%206-25-09.doc
More information on this system can be found at
home.mindspring.com/~mclark7/CGTS09.htm
Portfolio of current 'Seeking Alpha" trades at
http://home.mindspring.com/~mclark7/seekingalphaportfolio.htm
MJ Clark's Gate Timing System
24 June 2009
Hanoi, Vietnam
84 4 221 92210