Clark's Gate Timing System ©
Thursday 3 September 2009
STOCK REVIEW
I'm looking at stocks to short.  My system will not give a formal short-sell signal until our long-term trend collapses -- this will take some concerted downside effort to effect.
But we can look ahead, and be prepared.  Is GE overvalued?  Forward PE is about 15. 
Charles Ortel, managing director with Newport Value Partners, says GE is a mess, worth, maybe $2/share.  It is currently trading aroung $13, after the Ben Bernanke rally.  GE recently agreed to pay the SEC $50 million in fraud charges.  According to Ortel's research report, GE Capital is 'massively overleveraged' -- and said a rise in nominal interest rates could trigger a second wave of the credit crisis.
Ortel said: "You have a total amount of debt at GE Capital that is $498 billion."  To put that number in perspective, the total external debt of the country of Brazil is $160 billion.
How does the GE chart look?  Not very good.  GE has just broken short-term support, after having failed to break through overhead support.  GE is giving a short-term sell signal.  And logner-term momentum has broken down.
I'm not shorting this stock yet -- but I'm adding it to a list of stocks to watch very closely as a possible short-sell candidate.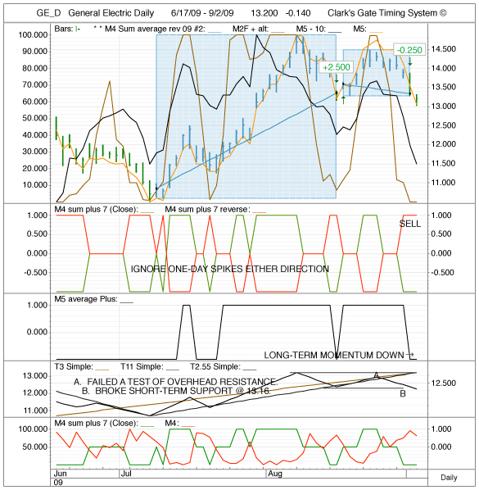 More information on this system can be found at
http://home.mindspring.com/~mclark7/CGTS09.htm
Portfolio of current 'Seeking Alpha" trades at
http://home.mindspring.com/~mclark7/seekingalphaportfolio.htm
MJ Clark's Gate Timing System
Hanoi, Vietnam
84 4 221 92210