Clark's Gate Timing System
Monday 14 September 2009 -- Tuesday in Asia
 
"This is deflation in action: falling prices that are, in effect, a transfer of wealth from landlords, goods producers and retailers to consumers."
Tom Petruno 

INDEX VIEW

Price action in the Nikkei Index today was decidedly negative.  Asian stocks declined generally (all but the Shanghai Index) -- probably because of the U.S. tarrif on Chinese tire imports has sent a protectionist pall over the markets.  I have argued in my articles that protectionism is inevitable, as natural to depression as debt accumulation is to inflation (as in, 'inflation of the debt bubble', and 'deflation of the debt bubble').  Protectionism is to depression as frozen water is to declining temperature: frozen water does not 'cause' the declining temperature but is a symptom of the declining temperature.  So, there will be more protectionism, not less.  All nations are doing it.  Blaming Obama for protectionism is like blaming George Bush for the Housing Bubble.

•The Nikkei has been trying to correct a negative trend pattern (see red line in first pane of chart).  To do this it needed to successfully test overhead resistance (see "A." in chart) at 10,767.  It  began this test on 9/7/09 at 10,320.  The test ended today, after having advanced to 10,522 on last Friday.  Note how the anger of the advance trendline has flattened out after today's trade.  It is, in fact, ready to turn negative.  Current support is at 10,143. Once this goes, the next support level is 9,116.63.  That implies a loss of 11% in this leg is very possible.

Pane Two of the chart: the Nikkei has not been in a position of buyer strength (green line at one for at least two days) since 8/14/09.

Pane Three of the Chart: Intermediate-Term Momentum turned negative on 8/14/09.  (Again, here, we ignore spikes.)

Pane Four of the chart: a longer-term picture of Pane Two.  This is also now in the hands of sellers: red on top.

Other index issues (charts not show):

•Shanghai Index (SSEC): right at upside overhead resistance.  If it can sustain its rally here, it will negate some of the negative implications of its recent decline.

•Drug Index (DRG): Also at overhead resistance, with a negative trend.  Has to take out 287 to continue this rally now.  Intermediate-term momentum turned negative on 8/28/09.

•Banking Index (BKX): This one is trying to turn negative.  (See Chart.) 

Pane One: BKX is trying to correct and fail its test of Overhead Resistance (OTC:OR) 48.16.  The index is currently at 45.52.  Support is at 43.45. 

Pane Two: Selling Strength has been in the ascendant since 9/2/09.

Pane Three: Intermediate-Term Momentum turned negative on 9/1/09. 

Pane Four: Longer-Term Selling Strength is not yet been confirmed.

Pane Five: Long-Term Momentum is still positive.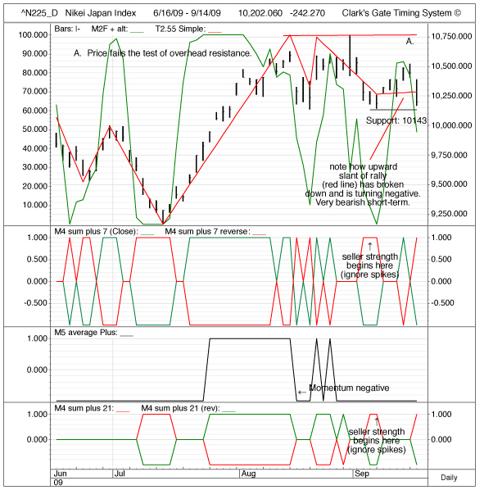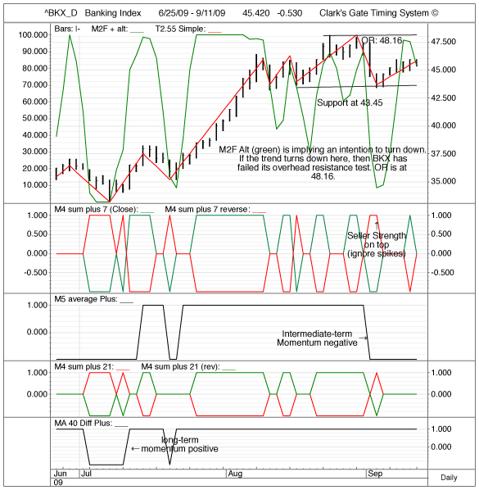 More information on this system can be found at
 home.mindspring.com/~mclark7/CGTS09.htm
A draft of the book Turn Out the Lights can be found at the website below.  This book is a description of the metaphysical causes of the economic cycles of expansion (Day) and contraction (Night).
www.hoalantrangallery.com/Turnoutlights.htm
MJ Clark's Gate Timing System
Hanoi, Vietnam
84 4 221 92210